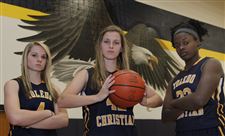 Toledo Christian finished 20-4 last season and looks to repeat as Toldeo Area Athletic Conference champion with top players, from left, Darian Westmeyer, Faith Johnson, and Camille Gist.
THE BLADE/LORI KING
Enlarge | Buy This Image
When the Toledo Christian girls basketball team was picked to win the Toledo Area Athletic Conference before last season, Eagles coach Tandy Bradford was confident but also knew unseating Ottawa Hills wouldn't be easy.
Toledo Christian (20-4, 14-0 TAAC) passed that test, and now hopes to make the next step — repeating as champion.
"The girls have worked really hard and have dedicated themselves to making the program a perennial program that's known in the district and the region," Bradford said. "They have high standards, and they are not just known for basketball. They play multiple sports here and are successful at all sports. That translates well into basketball."
The Eagles received seven of the eight first-place votes in a preseason coaches poll.
Ottawa Hills is tabbed to place second, and Cardinal Stritch and Danbury were tied for third.
"We are going to have to play hard every night," Bradford said. "I think everybody in the TAAC has improved. Everybody had young players last year, and they all have gotten better.
"We're going to have to be really solid defensively. We are going to have to play smarter and be very consistent offensively."
Here is a look at all the teams in predicted order of finish.
TOLEDO CHRISTIAN
Coach: Tandy Bradford, fifth season
Last season: 20-4 overall, 14-0 TAAC
Top players: Seniors Darian Westmeyer, 5-8, G; Faith Johnson, 5-8, G; Camille Gist, 5-8, G. Juniors Bethany Kollmorgan, 5-11, F; Megan Draper, 5-4, G.
Outlook: With three starters plus four other letter winners back from last year's TAAC championship team, the Eagles were a clear-cut choice to repeat their title. Westmeyer (16 points, 7 rebounds), last year's TAAC player of the year, Johnson (13 points, 3 rebounds), and Gist (10 points), provide a solid nucleus offensively.
Bradford likes her team's experience level, quickness, and ability to create defensive pressure. Lacking a true post player, the Eagles will have to compensate with their athleticism and by executing good team defense.
"We are hoping to have another big year with this group of seniors," Bradford said. "They have their sights set on going deep into the postseason, but know they are going to have to play one opponent at a time and give 100 percent on the court to achieve the goals they have set."
OTTAWA HILLS
Coach: Sean Mercer, 13th season
Last season: 12-11, 9-5
Top players: Seniors Abby Lyon, 5-8, F; Gaby Guilliod, 5-7, G. Juniors Allie Dewire, 5-6, G; Michelle Healy, 5-6, G; Foster Smith, 5-11, F-P. Sophomore Olivia VanSlooten, 6-1, F-P.
Outlook: After having their string of TAAC titles broken by Toledo Christian last season, the Green Bears embark on the objective of regaining prominence in the conference behind three returning starters, and three other letter winners.
Dewire (13 points, 4.1 assists) will be counted on for leadership and triggering the offense, and Mercer expects strong contributions from Healy (7.3 points) and VanSlooten (6.1 points, 6.9 rebounds).
The Green Bears return eight players with some level of varsity experience, so Mercer likes his team's experience in the starting lineup and his players' collective willingness to compete hard. But the team will need some players to step up in the areas of scoring, rebounding, and playing solid defense to be successful.
"We are excited about improving on last year's record," Mercer said. "We remain a young and inexperienced team, but we do have some young talent that we are very excited about. Several of our players put in a great deal of extra work this summer, and that will make us stronger."
CARDINAL STRITCH
Coach: John Free, first season
Last season: 12-11, 10-4
Top players: Seniors Caty Rieker, 5-7, G-F; Kirsten Zalewski, 5-8, G-F. Junior CeCe Gozdowski, 5-8, F. Sophomores Kali Hardy, 5-5, G; Maggie Merren, 5-6, G-F; Kama Hardy, 5-8, G.
Outlook: Free, a former assistant at Clay, got the position not long before the preseason, so he is playing catch-up, and the players are adapting to a new approach.
Free likes his team's speed and defensive potential, but the Cardinals lack size overall and must fill a scoring void left by graduation.
Gozdowski (10 points, 10 rebounds) should lead the way with help from Rieker (5 points, 3 rebounds).
"We must play hard, scrappy defense, play uptempo, and still take care of the basketball," Free said. "We must use the whole floor."
DANBURY
Coach: Joe Fetzer, 12th season
Last season: 10-13, 9-5
Top players: Seniors Erin Lavelle, 5-8, G; Tori Wright, 5-10, F; Cassidy Rhodes, 5-4, G; Katie Almendinger, 5-4, G; Alyssa Almendinger, 5-7, G. Juniors Megan Stephens, 5-8, F; Stephanie Kukay, 6-0, F.
Outlook: The Lakers return all five starters, plus two other letter winners, and seem to have the experience and size to challenge the top half of the TAAC.
Lavelle (8 points, 3.7 rebounds) and Stephens (5.7 points, 5.8 rebounds) provide the top potential for scoring, and Danbury will need some other significant offensive sources to materialize after averaging just 37 points per game in 2012-13.
Fetzer is comfortable with his team's experience, depth, and collective understanding of the team's offensive and defensive systems. Perimeter shooting must improve, however, and the Lakers will need to cut down on turnovers to maximize their potential.
"We believe we can finish in the top half of the conference and continue to build upon the positives for last season," Fetzer said. "The keys to our success will be staying healthy and improving our scoring ability."
GIBSONBURG
Coach: John Ernsthausen, third season
Last season: 9-14, 7-7
Top players: Seniors Marisa Alvarado, 5-6, W; Dani Fork, 5-6, W; Amanda Shammo, 5-4, G; Brittney Holcomb, 5-10, P. Juniors Lyndsey Perales, 5-5, G; Hannah Ernsthausen, 5-7, F; Leann Widmer, 5-6, W; Nina Mancha, 5-5, F.
Outlook: The Golden Bears have four returning starters, plus two other letter winners back as they attempt to improve their lot in the TAAC standings. Shammo (7.6 points), Alvarado (6.9 points, 4.5 rebounds), and Holcomb (5.4 points, 4.1 rebounds) will be relied upon for both court production and leadership.
A deep bench and good overall quickness are team strengths, according to coach Ernsthausen, who points to a lack of overall size as creating a potential rebounding dilemma.
"We are working hard and improving every day," Ernsthausen said. "We look to be very competitive and improve for game to game. I believe the league is going to be very good. Everyone has a lot of experience."
NORTHWOOD
Coach: Bill Hamilton, third season
Last season: 5-18, 4-10
Top players: Senior Doma Cruz, 5-4, G. Junior Lissy Wojcinski, 5-10, F. Sophomores Alex Rable, 5-8, G; Dara Artino, 5-7, G; Kristi Sawmiller, 5-11, F.
Outlook: The Rangers return two starters and have three other letter winners back as they bid to climb in the standings. Cruz (4.6 points) and Rable (5.4 points) have shown some scoring potential, but the Rangers will need those averages to improve and find additional offensive support to remain competitive.
Hamilton is pushing a more aggressive style of play this season and is hoping his players' improved quickness and strength will help in that pursuit. Overall inexperience may stifle any significant gain in wins, unless the Rangers succeed in improving their ability to handle pressure defense.
"Although we are a young team, our girls this year are working hard to improve," Hamilton said, "and they understand what needs to be done. They strive every day to make that happen."
EMMANUEL CHRISTIAN
Coach: Kelly Harrington, third season
Last season: 7-13, 3-11
Top players: Seniors Lizzie Harrington, 5-4, G; Chelsea Graham, 5-5, G. Juniors Mackenzie McCauley, 5-9, F; Cassidy Daniels, 5-5, G; Ceonna Simon, 5-2, G.
Outlook: The Warriors have four starters returning plus three additional letter winners back. They are hoping this experience leads to improved play and at least a slight rise in the TAAC standings.
Coach Harrington likes her team's ability to run the floor and is impressed with her players' positive attitudes. But EC is still a young and inexperienced team, and a lack of overall size is likely to hinder rebounding production and post defense.
"We are looking to be an aggressive team which uses its speed to push the ball," Harrington said. "We hope to be competitive with all teams in our conference. We are excited to be returning most of the starters for last season, and are looking forward to a great year."

MAUMEE VALLEY
Coach: Olivia Terry, first season
Last season: 1-21, 0-14
Top players: Senior Cammie Lonsway, 5-7, G. Juniors Kennedie Jackson, 5-5, G; Katharine Stoddard, 5-8, F; Catherine Martin, 5-4, G; SuKanya Dayal, 5-11, C; Ashley Taylor, 5-7, F.
Outlook: There is no place to go but up for the Hawks, who return seven letter winners for a first-year coach after a difficult 2012-13 season.
Jackson (7.9 points) and Lonsway (3.8 points) will be counted on for scoring as the season begins. If the Hawks are to make any significant strides, other consistent scoring sources must emerge.
Terry sees team defense, rebounding, and court communication as potential strengths heading into the season, but realizes she is in a true rebuilding situation.
"Our potential looks very high because of a different mindset," Terry said. "We are changing the culture of the program, and have a determination to bring pride back to this basketball team. Our keys will be defense, and keeping a positive attitude."
Contact Steve Junga at: sjunga@theblade.com, or 419-724-6461 or on Twitter@JungaBlade.
Guidelines: Please keep your comments smart and civil. Don't attack other readers personally, and keep your language decent. Comments that violate these standards, or our privacy statement or visitor's agreement, are subject to being removed and commenters are subject to being banned. To post comments, you must be a registered user on toledoblade.com. To find out more, please visit the FAQ.