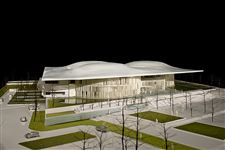 A model of the proposed new federal courthouse for Toledo.
Your Jan. 12 editorial "Joy in Mudville" mentions exciting projects that, as you suggest, deserve the backing of state lawmakers. The improvements and plans around Fifth Third Field have been a welcome boost to downtown revival.
I propose a supplement to your editorial. Highlights include: a $100 million downtown project that has been designed by an award-winning architect, land purchased long ago to anchor the Civic Center Mall along Cherry Street, a project that has been shovel-ready for several years, and an initiative that creates jobs and boosts civic spirit.
This describes a beautiful new federal courthouse. Upon completion, the existing James M. Ashley and Thomas W.L. Ashley U.S. Courthouse would continue to house Bankruptcy Court and allow for its needed expansion. Unfortunately, Congress has shut the door on this construction.
Affected by repeated delays, our federal courthouse project dates to the late 1990s. A final courthouse design was completed in December 2009, and now sits on a shelf. The current courthouse, completed in 1934, was built to include a single U.S. district judge.
The building presently houses two district judges, two active senior district judges, two magistrate judges, and two bankruptcy judges. None of the courtrooms or judicial chambers meets current design standards, and all share one accessible jury room.
The grand jury conducts its proceedings in the basement — which looks like a basement. Our trial jurors, from 21 counties, arrive to find claustrophobic accommodations and inadequate parking.
Most important, the current building cannot accommodate the security needs of a modern federal courthouse. Two elevators are used by everyone, including U.S. marshals for transporting prisoners — an obvious security problem. And the surface parking lot, although fenced, is easily accessible by unauthorized pedestrians or vehicles.
The Toledo federal courthouse has made do for quite some time, but continuing to do so is increasingly difficult. Perhaps even more important, the public of northwest Ohio has made do for a long time as well.
The need for a new courthouse has been obvious for more than two decades. Plans have been under way for nearly as long.
I remain hopeful that our leaders in Congress from northwest Ohio, the region served by this courthouse, will help this project receive the priority it deserves.
JACK ZOUHARY
JudgeU.S. District Court Northern District of Ohio Spielbusch Avenue
Guidelines: Please keep your comments smart and civil. Don't attack other readers personally, and keep your language decent. Comments that violate these standards, or our privacy statement or visitor's agreement, are subject to being removed and commenters are subject to being banned. To post comments, you must be a registered user on toledoblade.com. To find out more, please visit the FAQ.