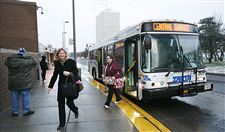 Riders disembark from a TARTA bus in in downtown Toledo.
THE BLADE
Enlarge | Buy This Image
Your July 8 editorial "Looking for a leader" was on target about the lack of leadership in Toledo to improve public transportation. It also was correct about the need to find a better way to fund the Toledo Area Regional Transit Authority, so it can grow and improve to meet a rising demand for travel.
However, don't blame the Toledo Metropolitan Area Council of Governments. TMACOG is a planning agency, not a lobbying one. I have worked with metropolitan planning organizations in other states; TMACOG's professional staff ranks among the best.
What is needed is community leadership to move ahead on well-thought-out goals and plans developed by TMACOG. Leadership by elected officials and the business community is the missing ingredient.
Except for infrequent appearances at events such as Toledo's National Train Day and the Passenger Rail Forum, I see few elected officials showing much interest in either local transit or intercity passenger concerns. The presence of business community leaders is even more sparse.
In other communities where I have lived, major firms and their top management have become advocates to help lead the way for better public transit. They recognize the value of transit to community growth, prosperity, and livability.
Better public transit will increase metropolitan Toledo's competitiveness and make it more attractive to present and future investors and residents.
Local business, education, and athletic-team leaders should take the initiative to improve public transit. Maybe elected officials will join them.
RONALD SHECK
Sylvania
Editor's note: The writer is a member of TMACOG's public transportation and passenger rail committee.
Guidelines: Please keep your comments smart and civil. Don't attack other readers personally, and keep your language decent. Comments that violate these standards, or our privacy statement or visitor's agreement, are subject to being removed and commenters are subject to being banned. To post comments, you must be a registered user on toledoblade.com. To find out more, please visit the FAQ.