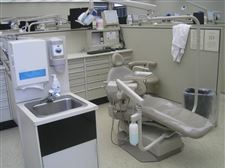 Dentists deserve recognition in attempting to provide a better health care system, writes Edward Usko.
WIKIMEDIA COMMONS Enlarge
The Blade's Nov. 8 article, "Study: Pain pills as good as opioids for relief in ERs," is justified, but it is behind the times.
Dental studies for several years have established the reasons to use the non-opioid suggestions of the article.
My profession has pioneered local anesthetic, general anesthetic, and even radical facial reconstructive surgery.
My profession deserves some recognition in attempting to provide a better health care system. We only focus on fulfilling the needs of our patients.
Investigate the role of federal agencies that have encouraged the prescription abuse.
EDWARD USKO, DDS
Southwyck Boulevard
Check out Behind The Readers' Forum
Native Americans would value parks
The recent proposal for a steep hike in National Park Service fees raises the question of an alternative way to run the parks.
The Trump Administration's answer is to essentially destroy all of our national parks, public lands, and forests by mining and drilling, resulting in small energy gains and big corporate profits. A better solution is to allow Native Americans to run our country's parks and federal lands.
Is there any group of people that has more respect and love for our natural wonders?
PAUL SZYMANOWSKI
Curtice
State needs to take fish kills seriously
The Ohio Department of Agriculture issued no fines for improper application of "fertilizer," although there clearly was excessive application of animal waste that led to recent fish kills (Nov. 10, "3 people warned over state fish kills").
At the minimum, I would like to see at least a nominal fine. While the Department of Natural Resources has imposed fines for the fish killed, the fines really understate the damage.
The manure discharge must also have killed a number of insects and other invertebrates, which are creatures that work to improve and maintain water quality.
The importance of these creatures should be recognized, and there should be a value assigned to them.
The damage is to the entire ecosystem, and the state needs to recognize this and impose appropriate fines.
FRANK MERRITT
Bretton Place
Guidelines: Please keep your comments smart and civil. Don't attack other readers personally, and keep your language decent. Comments that violate these standards, or our privacy statement or visitor's agreement, are subject to being removed and commenters are subject to being banned. To post comments, you must be a registered user on toledoblade.com. To find out more, please visit the FAQ.