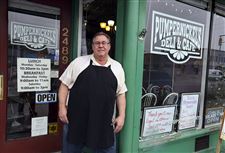 Dennis Lange is pictured at Pumpernickel's Deli and Cafe on Collingwood Boulevard Tuesday, February 20, 2018 in Toledo.
THE BLADE/DAVE ZAPOTOSKY
Enlarge | Buy This Image
The Blade's Feb. 24 editorial, "A small business folds," suggests that people who didn't patronize this business because the owner is a Republican Trump supporter are "small-minded".
EDITORIAL: A small business folds
Does The Blade think that all boycotts are supported only by small-minded people? That seems like a small-minded position to me.
JOSEPH E. PFLAGER
Maumee
Click here to submit a letter to the editor | View the Behind The Readers' Forum series
A fix to the pothole problem?
While most roads in and around Toledo are in need of repair, a drive on the Anthony Wayne Trail, both in to and out of downtown, is particularly harrowing; especially in the center lane, as those who make the daily trek can attest.
Instead of accepting the annual appearance of potholes as inevitable, along with any number of "temporary fixes," why not save that money for a permanent fix? The city should instead install something known as "self-healing" concrete, which has been around for some time now.
At a cost of approximately 25 percent more than traditional road materials, it would be more than worth the expense for something that lasts for decades. This could finally save Toledo from the annual "pothole repair dance."
CYNTHIA D. JONES
Thornridge Drive
Follow @BladeOpinion on Twitter.
Guidelines: Please keep your comments smart and civil. Don't attack other readers personally, and keep your language decent. Comments that violate these standards, or our privacy statement or visitor's agreement, are subject to being removed and commenters are subject to being banned. To post comments, you must be a registered user on toledoblade.com. To find out more, please visit the FAQ.