HALIFAX, Nova Scotia, Canada — Two words well describe this city of nearly a half million people, and neither one covers its grandeur as a major seaport in the Maritimes. Halifax has a "big heart."
The people in Nova Scotia's capital have proved their caring for humanity in times of of crisis several times.
Nova Scotia, bar none, is one of my favorite destinations. When pending danger from a hurricane interrupted the scheduled agenda on a recent Canada-New England cruise, it was sheer good luck that Capt. Justin Lawes announced the Crown Princess would spend a second day in Halifax to insure safety.
Rows of tombstones at the Fairview Lawn Cemetery in Halifax, Nova Scotia, Canada. One hundred years ago, ships from this old port city on the Atlantic set out to recover the Titanic's dead. They brought back more than 330 bodies; 150 are buried in three Halifax cemeteries.
ASSOCIATED PRESS Enlarge
The captain's decision to cancel plans to stop in the port of St. John's and the Bay of Fundy may have been disappointing to some passengers, but I welcomed it as a chance to double Halifax sightseeing and learn more about the city with the big heart.
It even allowed time to track down a visitor's center to renew membership in the Order of the Good Time, a Nova Scotia original that is said to be the oldest social club in North America. It's free and open to everyone.
Halifax became known internationally for its goodwill in the aftermath of two tragedies that were decades apart but are meaningful to today's visitors.
One followed the sinking of the Titanic in 1912 when Halifax claimed 150 bodies and gave them respectful burials in three local cemeteries. The second show of kindness to fellow man in a time of crisis was Sept. 11, 2001, when hundreds of passengers were stranded when their planes were detoured to the Halifax airport after the World Trade Center terrorist attack. Food and shelter were provided for several days until airports opened and the travelers could continue.
Far more than two days are required to fully enjoy the hospitality of Halifax and learn about its history. The shore excursions that are offered to ship passengers also can serve as a guide to motorists who prefer driving into the Maritimes rather than be on limited cruise port stops.
The points of interest in Halifax that were researched by the cruise line and offered to passengers, at a price, included the Maritime Museum that traces Nova Scotia's history with 30,000 artifacts that include a collection of Titanic memorabilia. There's Pier 21, which showcases Canadian immigration from 1928 to 1971. And there's the National Halifax Citadel, a fort built in 1869, that was masterminded by Benedict Arnold's son James, who was educated in Nova Scotia.
Lunenburg is a short bus tour away from Halifax into an 18th century planned British colonial settlement with a strong German influence. It also carries the title of Balsam Christmas Tree Capital of the World.
I chose none of the above but instead opted for a scenic bus ride to Peggy's Cove and a visit to Fairview Cemetery, where the remains of 121 Titanic victims are buried.
The tombstones of the Titanic victims seem to bring the 1912 tragedy closer and more personal than the books, movies, documentaries, and exhibits we have seen. Each of the victims is memorialized with a small gray marker, and those that were identified are engraved with the name and, in some cases, their work position on the ship. A few larger markers were purchased by families. The graves of unidentified victims have only the body number recorded when it was retrieved from the water and the death date.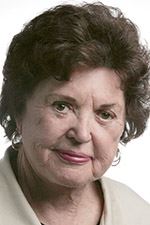 Powell
The graves of Alma Paulson and her four children and that of Sidney Goodwin, who also perished with his family, are remembered with stuffed toys. Sidney was for many years believed to be Eino, a 13-month old Finnish child who perished with his parents and four brothers, but through forensic science two years ago it was learned he was 19-month-old English Sidney.
A trickle of humor prevails at the grave marked J. Dawson. It first stirred attention and prompted floral gifts from visitors who connected it with Jack Dawson, Leonardo DiCaprio's character in the movie Titanic. In truth, it is the grave of Joe Dawson, an Irishman who worked in the Titanic boiler room.
Fairview is a non-denominational cemetery. Nine other Titanic victims are buried at Mt. Olivet Catholic Cemetery, and 10 are interred at Jewish Baron de Hirsch Cemetery, both in Halifax.
It's a little less than an hour by bus from Halifax to Peggy's Cove, an incredibly beautiful coastal fishing village that would be a shame to miss. The Nova Scotia Chamber of Commerce boasts that the province has 4,625 miles of coastline.
The small village opens like a postcard with colorful fishing boats tied at docks but bouncing with the motion of the sea.
It's not surprising to learn that lobster trapping is the main income of the 35 full-time residents. According to Canadian law, trapping officially began the end of November and will continue until the end of May.
Here again, visitors learn of kindness shown in a time of tragedy. The entire community rallied in September, 1968, when Swissair flight 111 crashed in Margaret's Bay, near Peggy's Cove. Old-timers remember how the village fishermen and their families jumped into their boats to speed to the crash site, hopefully to save lives, but all passengers were lost. A memorial to the tragedy was erected at the shore and is visible from the highway.
Even though it was the last day of the tourist season at the Sou'Wester, the restaurant and gift shop centerpiece at Peggy's, a lobster roll was the must order. In accordance with tradition and the expected $20 price, large chunks of succulent lobster meat overflowed from the hot dog-style bun.
The rocky seacoast is a haven for artists who show their work in several galleries that are open for the tourist season. The work of William deGarthe, a marine artist and sculptor, is always on display. Mr. deGarthe sculpted the community of fishermen and their families on a huge granite rock behind his home. He worked on the rock for five years before his death.
On a perfect day, the Peggy's Cove lighthouse is picture perfect. On other days heavy fog or brisk wind, or both, may deter the hike to it.
Nova Scotians have a saying about fog: "The fog comes and goes at will. Don't begrudge it. Wish instead you were as free."
Mary Alice Powell is a retired Blade food editor. Contact her at poseypowell@aol.com.
Guidelines: Please keep your comments smart and civil. Don't attack other readers personally, and keep your language decent. Comments that violate these standards, or our privacy statement or visitor's agreement, are subject to being removed and commenters are subject to being banned. To post comments, you must be a registered user on toledoblade.com. To find out more, please visit the FAQ.