The wish list for 2018 is a real variety pack, replete with the practical, the sensible, most of the usual suspects, and a few pie-in-the-sky dandies. But we begin the new year the same way we should start every meal, every birthday, and every time we get to see the sun come up for another day: By being thankful.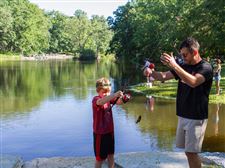 Andrew Posadny of Sylvania gets a fishing lesson from his dad Chris Posadny at Mallard Lake in Oak Openings Preserve Metropark.
Photo by Katie Pach Enlarge
We are humbled and grateful that in the giant cauldron of fate that stirred up a thousand solar systems, we were lucky enough to be placed on this tiny dot in someone else's sky, lucky enough to live in the greatest country the world has known, and so fortunate to have the great families and friends that we do. Every breath is a blessing.
As we look to the next 12 months, we focus first on that most essential element of life: Water. We hope, pray, plead, cajole, and insist that those in leadership on all levels do a better job of protecting our precious supply of those molecules that contain one oxygen and two hydrogen atoms, linked by the ever present covalent bonds. Not only is water about 60 percent of our physical makeup, it covers about 70 percent of this planet we call home.
On the local front, it seems like instead of drowning our water quality issues associated with Lake Erie and its algae blooms, we have instead just been treading water. Let's admit we've exhausted the supply of Band-Aids and finally make that long-term fix.
After decades of hand-wringing, symposium-staging, and dog-and-pony show proclamations, let's make 2018 the year we stop playing a retreating style of defense and really attack the Asian carp issue on all fronts. This is an adversary that does not sleep, one that tirelessly pushes up against our ramparts, and one that, should it be successful in reaching the Great Lakes and colonizing those waters, will do incalculable and irreparable damage.
Let's all meet in the science department in 2018, and use that bastion of clear thought with its fact-rich foundation as the area in which we resolve issues such as the urban/suburban deer conflicts that are a chronic condition we have to treat in order to prevent much greater ecological calamity. It is a bitter dose of reality for some, but too much of a good thing can quickly morph into a bad thing. The biology and math involved should guide our decisions, not spikes in emotion.
Some people get exceptionally prickly when we bring it up, but let's do a better job teaching our children in 2018. Maybe throttle back just a bit on some of the frivolity in the curriculum, and concentrate on having kids graduate with a sound tool kit for life. No high school graduate should receive a diploma without first knowing how to balance a checkbook, make a telephone inquiry, change a flat tire, fill out an application, really study, protect their identify, do laundry, jump a dead battery, write a thank-you note, dress for a job interview, and eat a healthy diet.
With a proper education, we can be more optimistic this next generation will take better care of the planet, and our wildlife and waters. They will understand the damage pollution does on all levels, and will have the knowledge to respectfully object if they see mom or dad flick that cigarette butt out the window, or dump used oil down the storm drain.
In the wider picture, we need to teach our children that their destiny, and that of the planet they live on and the habitat they share with all of God's creatures big and small, is really in their control. Their level of respect for nature, trees, wetlands, migrating warblers and endangered turtles all starts with the lessons learned at home.
Along the same front, our efforts to get kids away from the television, detach them from the video screens, and get them outside. One look at the childhood obesity numbers and the increase in diabetes and other illnesses directly linked to a sedentary lifestyle tells the bleak story. We are raising the unhealthiest generation in American history, at a time when we have more knowledge and understanding of preventative measures than ever before.
This troubling picture was projected onto the big screen recently while looking over the Christmas gift lists of several kids whose families needed some help during the holidays. The kids asked for hand-held games, action figures, tablets, remote controlled cars, dolls, etc. — all items that will keep them stationary, lethargic and essentially motionless as an observer to any activity.
Maybe I am hopelessly stuck in old school, but that collection of gifts and toys seems to be an ideal breeding ground for unhealthy kids. No one asked for a jump rope, tree house, swing set, baseballs and bats, fishing rods, pup tents, sleds, kites, bicycles, a mask and snorkel set, basketballs, footballs, soccer balls, or an archery set.
I never was a big fan of Frisbee or hacky sack, since it always seemed like the guys playing with those things on the college campus should have been headed to class, like I was. But at least they involve some degree of physical activity, fresh air, and outdoors involvement. Today, I'd rejoice seeing kids chase a Frisbee.
In 2018, let's all resolve to take a kid fishing for the first time, and teach them to cast, retrieve, bait a hook and safely release a fish. Let's also carefully show them how to climb a tree. Lead by example and teach them to pick up any trash they see during a nature discovery walk along the river.
Help them identify the constellations and the visible planets, all while lying flat on their back and staring at the early summer night sky. Compound the experience by engaging them in a contest to identify the night sounds. Show them how to search for arrowheads along the edges of a freshly plowed field. Give them a field guide to identifying the trees in the woods by their leaves and bark. Pick up a dead branch and let them closely examine the soldiers of decay at work in the moist darkness on the underside.
There are a thousand other options, all part of making 2018 the year we fix what is broken, protect what is vital, and educate the young on the world outside their windows. We encourage them to set aside the electronics, then help kids play the nature game — it lasts a lifetime, never needs batteries, and keeps them healthy.
Contact Blade outdoors editor Matt Markey at mmarkey@theblade.com or 419-724-6068.
Guidelines: Please keep your comments smart and civil. Don't attack other readers personally, and keep your language decent. Comments that violate these standards, or our privacy statement or visitor's agreement, are subject to being removed and commenters are subject to being banned. To post comments, you must be a registered user on toledoblade.com. To find out more, please visit the FAQ.