Sierra Hisey, 11, joins her dad, Dave Hisey, and her brother, Tanner Hisey, 14, outside their home in Clyde, Ohio. Sierra is the only Hisey child without cancer and lives in fear of it. The disease is in remission in Tanner and their sister Tyler, 19.
The Blade/Jeremy Wadsworth
Enlarge | Buy This Image
CLYDE, Ohio -- Sierra Hisey of Clyde is about to enter middle school, but she doesn't feel like a typical sixth grader.
"I hate how I grew up fast," the 11-year-old said as she sat in the family's home on North State Rt. 101, sipping lemonade next to her older brother, Tanner, 14.
Sierra, the only Hisey child who has not had cancer, lives in constant fear that she will be the next one to contract the disease: since she was 4, she's been a witness to what cancer does to a child's life.
On Dec. 31, 2012, it will have been a year since Tanner's leukemia went into remission. It was diagnosed in 2008, two years after his older sister, Tyler, now 19, received the same diagnosis. Her disease also is in remission.
The cancer cases in the Hisey family were two of the total of 36 -- five of which took lives -- that the Sandusky County Health Department began investigating as part of an eastern Sandusky County cancer cluster in 2006. The cancers occurred within a 12-mile radius of Clyde beginning in 1996, with the most recent case emerging in May, 2011.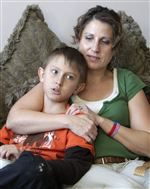 Donna Hisey holds her son, Tanner, in their home in Clyde. Tanner says he gets frightened by aches and pains, afraid that they are signs that his cancer has returned. A recently released report says investigation of Clyde-area sites found no contamination.
ASSOCIATED PRESS Enlarge
Said Tanner, "Whenever I get a pain or something that reminds me of where [the cancer] was or where it started, I feel scared because I feel like I'm going to have to go through all that again. With me getting a lot of bruises now, I'm getting more scared. … I just try to think of something else and do something to get my mind off of it."
Since it began, the investigation into the Clyde cancer cluster has yielded little information, despite the involvement of the local health department, the Ohio Department of Health, the Ohio Environmental Protection Agency, and, on the federal level, the U.S. Environmental Protection Agency.
"We were hoping we would find some 'eureka' moment, but we didn't," said David Pollick, the Sandusky County health commissioner. "I'm on both sides of this thing. Of course I'm frustrated we haven't been able to come up with answers, but there's not much I can do except to look to folks with expertise."
The Clyde cancer-cluster investigation is one of nine that the Ohio Department of Health has conducted in the last 20 years. The investigations took place in Marion County, Marysville, Trenton, Hooven, Addyston, eastern Sandusky County, Avon Lake, and southeast Columbus, in addition to a statewide investigation.
The most recently released results from Clyde came in June, 2012, when the U.S. EPA posted findings from soil and water samplings that were taken at 13 dump sites between Clyde and Bellevue. Although the investigation didn't officially begin until February, 2012, a 2009 study, "Childhood Cancer among Residents of Eastern Sandusky County," orchestrated by the Ohio EPA and the Ohio Department of Health, identified the sites as places in need of additional study.
The results of the investigation said that the sites were not contaminated and that further probes at the sites will not be conducted.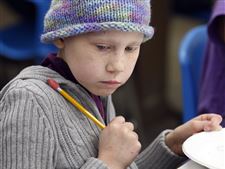 Alexa Brown died of cancer in 2009. Her father, Warren Brown, says he is frustrated that the bulk of the money for cancer research is spent on adults, not children.
The Blade/Jeremy Wadsworth
Enlarge | Buy This Image
Seeking answers
For Warren Brown, whose daughter, Alexa, died of cancer in 2009, the findings are beneficial for the community but could be skewed.
"I'm glad that the results of air, water, and soil testing have produced basically nothing, although I have to couch all of that with the fact that when the EPA uses a maximum contaminant level, they're not basing that on an 8-year-old girl, they're basing that on a 6-foot, 180-pound man -- that's their test subject," Mr. Brown said. "Let's face it, 8-year-old girls or 5-year-old boys don't have the same resistance or immune systems that a 56-year-old man has."
In response to questions about the basis of the maximum contaminant levels in the study, Joshua Singer, a spokesman for the U.S. EPA, referred to a recently released statement, saying only that the "U.S. EPA did not find contamination at levels that pose a threat to human health."
In addition to concerns about the way the dump-site study was conducted, Mr. Brown expressed frustration with allocation of federal cancer funds.
"We are spending millions and millions and millions on the study of adult cancer when that whole approach is backwards," he said. "I sat with someone from the National Cancer Institute in 2010 and asked whether the better vessel to study is a 45 or 50-year-old who may smoke or drink or an 8-year-old girl who has never done either of the above. The answer was that the pure vessel is always the one you want to study. So why are they only dumping 4 percent of the national cancer budget to childhood cancer? I think that the easy answer is because there are only about 14,000 cases a year that present."
According to a 2012 Facts and Figures Report from the American Cancer Society, about 12,060 cases of cancer are expected to emerge this year in children up to age 14. The report emphasizes that childhood cancer is rare and that it represents "less than 1 percent of all new cancer diagnoses." About 77 percent of cancer diagnoses occur in individuals who are age 55 or older.
Out of the $5,058,104,978 in the National Cancer Institute's 2011 fiscal year research funding for cancer -- money that was awarded to the institution from Congress -- $195,529,112 went toward researching childhood cancer.
According to Brian Letourneau, the research and public outreach coordinator at the Center for Information and Study on Clinical Research Participation, there have been 2,792 pediatric cancer clinical trials and 17,144 adult cancer clinical trials in the past year.
Mr. Brown's frustration with the ways that childhood cancer investigations are treated on a federal level as well as a local level ultimately relate back to the speed with which research is conducted.
"I really truly believe that whatever was here is gone -- it's transient in nature," he said, referring to the widely spread belief that the cancer cluster stemmed from an environmental cause. "There's no smoking gun to be found, and if there is a smoking gun to be found, there should have been boots on the ground six and a half years ago."
Mr. Brown's frustration was seconded by Tanner's father, Dave Hisey. "I understand that it's a financial thing if they went and spent all the money they spent here every time a few kids get sick, but we've waited so long, maybe we've missed it," he said. "In these cancer clusters, maybe they're missing something because it takes so many years of red tape just to authorize, and then the study's usually just a data study."

No smoking gun
In response to families such as the Browns and the Hiseys who raised concerns about the speed with which the investigations were conducted, Ohio Department of Health officials asserted that they did everything that they could as quickly as they could.
"I would say that from the time we were asked to get involved, we were very diligent in following up on all the leads that we could," said Robert Jennings, a spokesman for the Ohio Department of Health. "We did everything that the current science we know allows us to do, and we did a thorough job."
Mr. Brown and his wife, Wendy, are working with a state representative to introduce legislation this fall that will change how cancer cases are reported and how quickly authorities respond to the statistics.
"Nothing is ventured and nothing is gained if we don't step out there and keep pushing," he said.
The U.S. EPA recently announced that it sampled and discovered heightened levels of PCBs at Whirlpool Park, a park in Green Springs that was built in the late 1950s and was closed about five years ago. The investigation stemmed from tips that the organization received to a hot line that "described dumping during the early 1950s in Green Springs where Whirlpool Park is now located."
"More sampling is required to determine the extent of contamination, and Whirlpool has indicated that the company plans to perform a full property assessment," the statement said. "U.S. EPA will oversee Whirlpool's assessment and any future work that may need to be performed on the property."
Carlos and Joyce Weiker, who have lived just down the street from the park on County Road 181 for 52 years, first learned about the testing last week.
"Our five grown sons practically lived over there," Ms. Weiker said about the park, which had a swing set, pool, picnic area, and lunch stand. "Our grandkids went there -- I'd be concerned for all of them."
Yet neither Mr. Hisey nor Mr. Brown believe that the cause of the cancer cluster can be attributed to contaminants in the park.
"I think we're coming to the tail end of the study of the cancer cluster," Mr. Brown said. "I don't associate Whirlpool Park with the cancer cluster. I can't see a correlation there since Green Creek isn't part of the drinking water system of Clyde."
Mr. Brown said that one of the most frustrating parts of the investigation is that unlike in the Marion cancer cluster, in which all of the cases emerged in those who attended the former River Valley Middle School complex, there are no common links between the 36 Clyde cancer cases that have occurred.
Without a common link, there is no clear cause and no one to blame.
"It might make us feel a little bit better about what we've gone through if there is some smoking gun found someday so we can know that the attention that has come of this and the bad things we've been through actually helped other people," Mr. Hisey said. "I think that probably would make us feel better, so it wasn't for nothing."
Mr. Hisey acknowledged that there are those who might question his family's decision to remain in Clyde because two of his three children have become sick.
"You know, what do you do?" he asked. "If I knew there was a concrete answer I would make a change, but maybe this is just something that's going to happen in the future. I have sleepless nights over it, because there's days where you do think you should move, and then there's days where you think, what am I moving away from?"
While Mr. Hisey isn't confident that the cause of his children's cancer will ever be found given the lack of commonalities in the cases that have occurred, his focus remains on what it's always been -- his family's physical and emotional well-being.
"I hope that my two kids who have had leukemia don't ever have it again, and I hope that my one who has not never gets it," Mr. Hisey said. "I hope we all live happily ever after. We're assuming this is going to be a lifelong struggle and that there's going to be issues that have side effects, but we just want to have as normal of a life as possible and let them catch up with their friends and build new relationships and experience growing up like every kid should."
As his dad spoke, Tanner repeatedly attempted to interject.
"Dad, there's no such thing as happily ever after," he finally cut in.
Added Sierra, "Well, there is sometimes."
Guidelines: Please keep your comments smart and civil. Don't attack other readers personally, and keep your language decent. Comments that violate these standards, or our privacy statement or visitor's agreement, are subject to being removed and commenters are subject to being banned. To post comments, you must be a registered user on toledoblade.com. To find out more, please visit the FAQ.