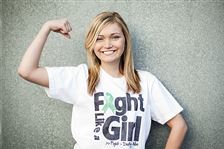 Lauren Yates, a Bedford High School senior, is undergoing chemotherapy for bile-duct cancer at Mott Children's Hospital at the University of Michigan.
MICHELLE CHERNOCK Enlarge
TEMPERANCE — Lauren Yates, a Bedford High School senior battling bile-duct cancer, is holding her own at Mott Children's Hospital at the University of Michigan, her mother said.
"She's been having chemotherapy treatments, and got a little run down," Jamie Yates explained.
The 17-year-old also underwent the Whipple surgical procedure to remove a tumor, developed jaundice, and suffered ulcerative colitis.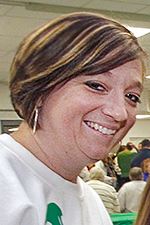 Elwartoski
THE BLADE
Enlarge | Buy This Image
The Yates family, which lives in Lambertville and includes Lauren's brother, Drew, a sophomore at the high school, and father, Chris, are overwhelmed by support the Bedford community has shown. A Nov. 23 spaghetti dinner and benefit at the high school attracted several hundred people and raised thousands of dollars to help the Yateses defray expenses.
It was organized in a matter of days by Chere Elwartoski, a Petersburg resident whose daughter Bree has been a best friend of Lauren's since they were 6. The event also included raffles, an auction, and a theatrical show featuring the high school's Soiree Singers. Students wore green, the color representing the fight against bile-duct cancer.
"We live in an amazing school system," Mrs. Yates said. "You drive through a neighborhood now, and the houses have green lights in them."
Mrs. Yates declined to say how much money was raised, but said, "the amount eases the burden. She has been at the University of Michigan over two weeks."
Lauren was too fatigued to speak, but Don Lepiarz, who knows the Yates family well and helped with the fund-raiser, described her as a talented girl who "plays piano and ukulele and has a beautiful singing voice."
Mrs. Yates said the family has been in touch with the Make-A-Wish Foundation so Lauren could realize her wish to visit Disney World, but she said the family's next move is uncertain.
"We are staying positive," she explained.
Guidelines: Please keep your comments smart and civil. Don't attack other readers personally, and keep your language decent. Comments that violate these standards, or our privacy statement or visitor's agreement, are subject to being removed and commenters are subject to being banned. To post comments, you must be a registered user on toledoblade.com. To find out more, please visit the FAQ.