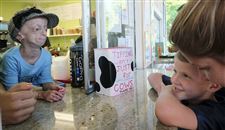 Kaylee Halko, 12, who has progeria, takes an ice cream order from Brady Ramlow, 6. They were at a fund-raiser Wednesday at Freeze Daddy's in Monclova Township.
THE BLADE/JEREMY WADSWORTH
Enlarge | Buy This Image
Though they're living with a rare illness that shortens their childhoods, two local girls with progeria want to spend their summers like other kids, eating ice cream and playing with friends.
For Kaylee Halko, that included serving ice cream at a recent fund-raiser at Freeze Daddy's ice cream parlor in Perrysburg.
"The progeria family is close-knit," said Marla Halko of Monclova Township. She is the mother of Kaylee, who is now 12 and has been living with the premature-aging disease since she was a baby.
Only 125 children in the world have been diagnosed with progeria, and Carly Kudzia, 5, of Whitehouse, the other area child with the syndrome, attended the fund-raiser at Freeze Daddy's to support her friend.
Events such as the one at the ice cream shop where Kaylee works are helping the two families pay for medication to prolong the girls' lives, through the Massachusetts-based Progeria Research Foundation, an organization that researches progeria treatment and provides free drug trials for children with the disease. The girls are participating in experimental clinical trials to assist with their health.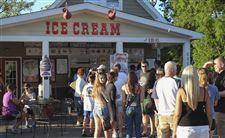 A crowd waits for ice cream at a fund-raiser to combat progeria at Freeze Daddy's in Monclova Township. Owner Ron Loeffler said Wednesday's event brought in $2,500 for the Progeria Research Foundation and he's hoping for more.
THE BLADE/JEREMY WADSWORTH
Enlarge | Buy This Image
"Progeria causes kids to age eight to 10 times faster," said Mrs. Halko. "So the goal of medication is to slow down that process."
The Mayo Clinic found that children with progeria rarely live past age 13 because they tend to suffer from heart attacks or strokes.
Kaylee currently takes Rapamycin, which has successfully increased the lifespan of mice, and Carly takes Pravastatin to prevent cardiovascular complications and Lonafarnib, an experimental drug for progeria treatment.
Although the Progeria Research Foundation provides drugs free of charge, it relies on donations and fund-raisers to operate. A two-year Lonafarnib trial costs about $35,000 per child, said Audrey Gordon, president of the organization.
"We rely on community-sponsored events and individual donations," Ms. Gordon said.
Proceeds from the fund-raiser went to the foundation, as did money spent on kiddie-sized "Kaylee cones," scoops served personally by Kaylee. Ron Loeffler, who owns the ice cream parlor with his wife, Teri, said they raised about $2,500 for the foundation, and is hopeful more money will come in.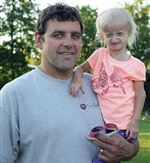 Ryan Kudzia said if people stare at his daughter Carly Kudzia, 5, who has progeria, he introduces her to let them know about her illness.
THE BLADE/JEREMY WADSWORTH
Enlarge | Buy This Image
Kaylee and Carly showed just how childlike they still are during the event. Carly repeatedly rolled down a soft, green hill next to Freeze Daddy's, and Kaylee laughed with her friends as they all enjoyed soft serve ice cream. As she worked the window at the fund-raiser, Kaylee laughed and joked with attendees. She would wave her finger in circles, indicating that it was time for the next customer.
In her free time, Kaylee dances hip-hop with the Edge Dance Complex team in Perrysburg. She practices two times a week in the summer and three times a week during the school year.
"I like hip-hop because it's fun and fast," Kaylee said. Her favorite dance move is the twerk, and when she is relaxing at home, she watches Pretty Little Liars, Gossip Girl, and One Tree Hill on Netflix.
"People need to keep in mind that progeria doesn't affect children mentally," said Ryan Kudzia, Carly's father. "Besides being small in stature there is nothing different about them."
Mr. Kudzia said if people stare at his daughter, he introduces Carly to bring the situation to the forefront. "She's not an alien. She's just a normal kid," he said.
Contact Anthony Kayruz at: akayruz@theblade.com or 419-724-6050.
Guidelines: Please keep your comments smart and civil. Don't attack other readers personally, and keep your language decent. Comments that violate these standards, or our privacy statement or visitor's agreement, are subject to being removed and commenters are subject to being banned. To post comments, you must be a registered user on toledoblade.com. To find out more, please visit the FAQ.