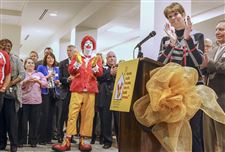 Vicky Brymer, chairman of the Toledo Ronald McDonald House, right, leads a crowd of more than 150 people in cheering during the VIP/donor celebration Wednesday.
THE BLADE/KATIE RAUSCH
Enlarge | Buy This Image
Donors who helped make Toledo's newly constructed Ronald McDonald House a reality were welcomed Wednesday with a ribbon-cutting ceremony and tour of the home.
About 200 people attended the unveiling of the 38,000-square-foot property at Monroe Street and ProMedica Parkway, near the charity's former site and ProMedica Toledo Children's Hospital.
Organizers estimated the project cost about $9.4 million, of which approximately $8 million has been raised.
Visitors explored the building's large playroom stocked with games, modern kitchen, and bedrooms resembling a fine hotel. An additional public open house is scheduled for 1 to 4 p.m. Sunday.
Portia Garza, volunteer and event coordinator, said work on the home is all but complete. Furniture is expected to be in place by Dec. 18, and families may move in Dec. 21.
IN PICTURES: Ronald McDonald House unveiling
"The Ronald McDonald House's goal is to keep families close," Ms. Garza said.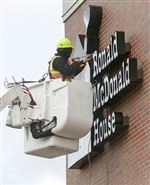 A worker puts the finishing touches on the sign for the new Ronald McDonald House in West Toledo. The new house is in front of the ProMedica Toledo Children's Hospital.
THE BLADE/KATIE RAUSCH
Enlarge | Buy This Image
The organization provides lodging for relatives of children who are receiving specialized medical care in Toledo. Ms. Garza recalled cases of visitors from Algeria and the Dominican Republic who were in the region for surgical procedures.
"Families have traveled from all over the world to receive medical treatment here in Toledo," she said.
The group provides sleeping quarters for more than 500 families each year, and a place for another 200 to 300 families to eat and relax during the day.
About 250 volunteers work to welcome guests, prepare rooms, and provide meals for guests. More will be needed as the new building is several times larger than the former.
Their work allows families to get a break from hospital rooms and find peace of mind, she said.
"You're cleaning up for families that really need to feel safe, and warm, and cozy, and clean," she said.
The building that housed Toledo's initial Ronald McDonald House was a farmhouse built in 1906 that later became a funeral home. The charity began locally in 1982.
After multiple expansions, the building grew to 8,000 square feet. Construction on the new building started about a year and a half ago.
Contact Ryan Dunn at: rdunn@theblade.com, 419-724-6095, or on Twitter @rdunnblade.
Guidelines: Please keep your comments smart and civil. Don't attack other readers personally, and keep your language decent. Comments that violate these standards, or our privacy statement or visitor's agreement, are subject to being removed and commenters are subject to being banned. To post comments, you must be a registered user on toledoblade.com. To find out more, please visit the FAQ.