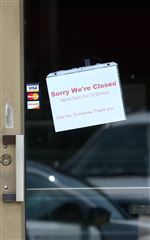 Mama Mama C's Donuts says that is closed for the day due to being out of donuts on Wednesday.
The Blade/Amy E. Voigt
Enlarge | Buy This Image
A quickly spreading norovirus outbreak that's sickened more than 200 people kept a Maumee doughnut shop closed for the third day in a row Thursday.
Initial investigations show patients had similar symptoms and had eaten food from Mama C's Donuts at 924 Conant St. Illnesses were tracked to patrons who ate there Friday through Monday. The health department will provide an update on the situation at 11:45 a.m. Thursday.
Health officials said at least 214 cases were reported in Lucas County, and Wood County officials said they are investigating if about a dozen norovirus cases were caused by doughnuts the store provides to businesses there.
Toledo-Lucas County Health Department spokesman Shannon Lands said Mama C's voluntarily closed for cleaning on Tuesday. It was expected to remain closed Thursday.
FELLED BY A FRITTER: One reporter's story of dealing with norovirus
Many Toledo area residents had stories of how they or family members were affected.
John Pointer of Port Huron, Mich., was one of the lucky ones.
He said he left his granddaughter's 8th birthday party in Perrysburg before the doughnut cake was served, and so avoided the illness. Fifteen party guests, including the birthday girl, weren't so lucky, he said.
"Everybody at the party got sick," he said.
Delray Busch's 3-year-old daughter Corrigan started vomiting around 12:45 a.m. Tuesday after eating a doughnut Sunday. Corrigan was feeling much better Wednesday, Ms. Busch said, adding she was thankful that the illness was brief and her 2-month-old didn't show signs of catching it.
The South Toledo resident said she's been eating at Mama C's for two years and will be back.
"They are great to our community," she said. "I will absolutely keep supporting our small businesses."
A Wood County Health Department spokesman said that the department had confirmed that Grounds for Thought in Bowling Green sells Mama C's products, and that the department on Wednesday was trying to determine if any other businesses are supplied by the store.
"All of those doughnuts have been taken off the shelf," said Alex Aspacher, spokesman for the department.
Symptoms of norovirus include vomiting, diarrhea, stomach pain, fever, and body aches.
A sign on the business Wednesday read that the store is closed because they were out of doughnuts. A store employee, who wouldn't identify himself, declined to comment other than to tell a Blade reporter he would have to talk to the health department.
The parking lot outside Mama C's was mostly empty Wednesday morning, save for a couple of employees working inside. The few customers who did turn up quickly left after seeing the sign saying the store was out of doughnuts.
Morton Neipp of Maumee said he ate at the shop Tuesday morning and didn't get sick, and hadn't heard about the norovirus outbreak. He took a pragmatic view to the situation, saying that eating out always carries risks.
"That can happen when you let someone else do the cooking," he said. "You don't know what can happen."
Contact Lauren Lindstrom at llindstrom@theblade.com, 419-724-6154 or on Twitter @lelindstrom. Contact Nolan Rosenkrans at nrosenkrans@theblade.com, or 419-724-6086 or on Twitter @NolanRosenkrans.
Guidelines: Please keep your comments smart and civil. Don't attack other readers personally, and keep your language decent. Comments that violate these standards, or our privacy statement or visitor's agreement, are subject to being removed and commenters are subject to being banned. To post comments, you must be a registered user on toledoblade.com. To find out more, please visit the FAQ.