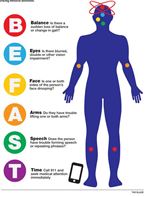 "BE FAST" stroke identification guidelines.
THE BLADE
Enlarge | Buy This Image
New guidelines from the American Heart Association/American Stroke Association extending the window for how long clot removal procedures can be done after a stroke will allow more patients to access potentially life-saving treatments, medical experts say.
The associations last week released new guidelines extending the time that patients could qualify for doctors to mechanically remove blood clots after an ischemic stroke. The procedure, called a mechanical thrombectomy, was previously recommended up to six hours after the onset of stroke symptoms for patients with clots in large blood vessels.
New recommendations extend that to 24 hours, following published research showing patients can benefit from the intervention even if more time has elapsed, possibly avoiding death or serious disabilities.
That's good news for patients who do not or cannot immediately seek treatment after a stroke, said Dr. Eugene Lin, a neuroendovascular surgeon with Mercy Health-Neuroscience Institute. It could be particularly beneficial for patients who experience a stroke while sleeping, which can delay detection and treatment by hours.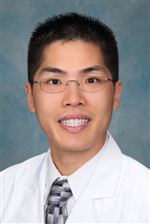 Dr. Eugene Lin
Mercy Health Enlarge
"While it is still important to be aware and recognize a stroke, to get the patients the best care possible," he said, "these studies help identify and treat patients who would not have been a candidate for stroke treatment."
Eighty-five percent of strokes are ischemic, or caused by a blood clot; the other 15 percent are hemorrhagic strokes, or caused when blood vessels rupture or tear. Strokes kill about 133,000 Americans every year and are the second-leading cause of death in the world, according to the American Stroke Association.
"Removing blood clots from large arteries can mean the difference between stroke survivors being independent versus being dependent on others, which makes a big difference in their quality of life," Dr. José Biller, a guidelines author and chair of neurology at Loyola University Chicago Stritch School of Medicine, said in a statement announcing the new parameters.
Health officials use the acronym "BE FAST" to help identify stroke symptoms: balance, eyes, face drooping, arms, speech, time.
People experiencing sudden loss of balance or coordination, double or blurry vision, face drooping, arm weakness or numbness, and/or difficulty with speech are encouraged to call 911 as soon as possible.
Contact Lauren Lindstrom at llindstrom@theblade.com, 419-724-6154, or on Twitter @lelindstrom.
Guidelines: Please keep your comments smart and civil. Don't attack other readers personally, and keep your language decent. Comments that violate these standards, or our privacy statement or visitor's agreement, are subject to being removed and commenters are subject to being banned. To post comments, you must be a registered user on toledoblade.com. To find out more, please visit the FAQ.