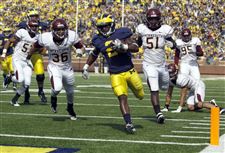 University of Michigan player Vincent Smith, 2, outruns University of Minnesota players Chase HAviland, 36, Gary Tinsley, 51, and the rest of the defense for a second quarter touchdown at Michigan Stadium, Saturday, October 1, 2011.
The Blade/Andy Morrison
Enlarge | Buy This Image
ANN ARBOR — One by one Michigan's running backs took turns throwing passes at the end of fall camp, and the little man of the group stood out.
Vincent Smith, the Wolverines 5-foot-6, 172-pound do-it-all back, satisfied offensive coordinator Al Borges with his first throw and was instructed to attempt one more.
"He threw another good one and he won," Borges said yesterday.
Smith has managed to spread his production across several offensive fronts for the No. 12 Wolverines, who will play their first game away from Michigan Stadium on Saturday when they head to Northwestern for a night game.
Smith's talents were illuminated in last Saturday's 58-0 win over Minnesota, when he rushed for a touchdown, caught a touchdown pass, and then, in proving Borges picked the right guy during that passing drill in August, lobbed a ball to Drew Dileo in the end zone.
"We're using Vince Smith exactly how we thought we were going to," Borges said.
Yes and no. Borges announced Smith as the team's third down back entering the season, but he has been more than that.
Smith has averaged 7.9 yards on his 26 carries, scoring two touchdowns, and has snagged six passes for an average gain of 16.3 yards — no small feat considering most of his receptions have come near the line of scrimmage.
Not to be forgotten is Smith's role as Michigan's leading kickoff returner.
"I'm pretty much in different situations now," Smith said.
"Everybody can see what I'm doing. It's an honor for me to take on that role on the team and help us accomplish what we want to accomplish."
Quarterback Denard Robinson said Smith is "probably one of the toughest dudes I've been around my whole life," a proclamation that has been echoed by Borges and head coach Brady Hoke.
Smith, like Robinson, arrived to Michigan in 2009 out of Florida. He quickly earned a reputation as being one of the toughest and most versatile guys on the team.
"The small guys always have to put in a little extra to be noticed," Smith said.
"That's what I have to do. I have to do my job to be noticed in a whole different way."
TWO FORMATION: The "Two Quarterbacks" formation that was used early in Saturday's game has gotten quite a bit of publicity.
Borges said it is derived from a formation used by the San Diego Chargers in the late 1980s.
Borges keeps an archive of old football plays, and he pulled out this one in the spring as a way to incorporate back up quarterback Devin Gardner.
"When it became apparent Devin was a skilled kid, we were trying to figure out a way to use him," Borges said.
In "Two Quarterbacks," the backfield is shaped like a diamond, with Gardner under center, Fitzgerald Toussaint about five yards behind him, and Robinson and Smith about three yards deep lined up behind the guards.
Among the four plays Borges called from the formation were a double pass and a Gardner sweep that netted 15 yards.
Not only can the formation yield big gains, Borges said, it also gives Big Ten defensive coordinators something to think about when preparing for Michigan.
"It's not to be fancy or cute," Borges said.
FITZGERALD/UM JOB: Northwestern coach Pat Fitzgerald denied yesterday that he interviewed for the Michigan job this past winter.
An ESPN.com report stated at the time that Fitzgerald, a Northwestern alumnus, spoke to Michigan officials but ultimately declined any overtures.
"I never met with them," he said. "I never talked to anybody."
Fitzgerald is 36-31 in 5-plus seasons at Northwestern. The Wildcats are 2-2 this fall.
HEMINGWAY HURT?: Michigan receiver Junior Hemingway participated in practice yesterday with a large wrap on his right elbow. Hemingway, who is second on the team with 10 catches, worked with the first-team offense. Left guard Ricky Barnum (ankle) was not seen at practice.
HARD SELL: Michigan defensive coordinator Greg Mattison found it hard to recruit when he was a defensive line coach at Northwestern from 1978-80. The Wildcats were just 1-31-1 in that span.
When prospects asked Mattison for Northwestern's record, he replied, "Ohhhhh, 10-1" when in fact the Wildcats were 0-10-1.
Contact Ryan Autullo at: rautullo@theblade.com, 419-724-6160 or on Twitter @RyanAutullo.
Guidelines: Please keep your comments smart and civil. Don't attack other readers personally, and keep your language decent. Comments that violate these standards, or our privacy statement or visitor's agreement, are subject to being removed and commenters are subject to being banned. To post comments, you must be a registered user on toledoblade.com. To find out more, please visit the FAQ.