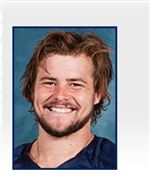 Gibbons
A former University of Michigan football player has been expelled from the school for violating the school's student sexual misconduct policy.
The Michigan Daily reported that the university's Office of Student Conflict Resolution notified Brendan Gibbons last month in a letter that he was no longer allowed to enroll at and "permanently separated from" Michigan because of a violation of the policy.
The Office of Student Conflict Resolution's written dismissal was reported to have been dated four days before Michigan traveled to Arizona for its bowl game against Kansas State and stated that Gibbons' expulsion was effective Dec. 20.
On Dec. 23, Michigan coach Brady Hoke told reporters that Gibbons, a fifth-year senior and a kicker, did not accompany the team to Arizona for its bowl game and that he instead returned to his home in Florida because of "family reasons."
Gibbons, 22, could not be reached for comment regarding the report or regarding his expulsion.
Michigan did not issue a further statement; Michigan spokesman Rick Fitzgerald said in an email to The Blade that "there is nothing to add" in regards to the report of Gibbons' expulsion.
Gibbons earned his bachelor's degree in general studies and was enrolled in Michigan's graduate school in the fall. His expulsion is reportedly in connection to an incident that occurred in November of 2009, his first semester at Michigan.
At the time, Ann Arbor Police did not confirm an arrest but confirmed that an 18-year-old Michigan football player had been questioned and released in connection with an incident connected to a report of a sexual assault the morning of Nov. 22.
Two Web sites, WashtenawWatchdogs.com and Jezebel.com, named Gibbons in August as the alleged assailant in the incident. WashtenawWatchdogs also posted a full police report. While the site named Gibbons as the alleged assailant, it redacted names in the police report of a number of the alleged parties involved in the incident.
The university's policy — studentsexualmisconductpolicy.umich.edu — outlines the university's stance against sexual misconduct, as well as the procedure for reporting sexual misconduct both to the school and to the Ann Arbor Police, and the university's response and review guidelines. The Office of Student Conflict Resolution is independent of law enforcement.
Gibbons, who attended Cardinal Newman High School in West Palm Beach, Fla., played in 11 games in 2013 and was 15 for 20 on field goals and 44 for 44 on point-after kicks. He did not play in the Dec. 29 bowl game and sat out Michigan's 42-41 loss to Ohio State on Nov. 30 because of what Hoke said was an injury.
Contact Rachel Lenzi at: rlenzi@theblade.com, 419-724-6510, or on Twitter @RLenziBlade.
Guidelines: Please keep your comments smart and civil. Don't attack other readers personally, and keep your language decent. Comments that violate these standards, or our privacy statement or visitor's agreement, are subject to being removed and commenters are subject to being banned. To post comments, you must be a registered user on toledoblade.com. To find out more, please visit the FAQ.