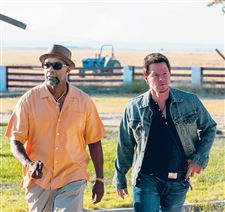 Denzel Washington and Mark Wahlberg in a scene from '2 Guns.'
Denzel Washington teams up with that King of Chemistry, Mark Wahlberg, in 2 Guns, a jokey-bloody action comedy that could use more jokes and less blood.
Wahlberg's Icelandic accomplice, Contraband director Baltasar Kormákur, manages little flash in this utterly generic double-and-triple-crossing tale of agents for competing agencies mixed up with drug lords, DEA stings, the CIA, and "Naval Intelligence."
It's based on graphic novels (aka comic books), so don't overthink it.
Washington is Bobby, a border countrys muggler / drug dealer trying to do business with Papi Greco (Edward James Olmos), a Mexican drug kingpin.
2 Guns
Directed by Baltasar Kormákur.
Written by Blake Masters, based on the Steven Grant graphic novels. A Universal release, playing at Cinemark Franklin Park, Fallen Timbers, and Levis Commons. Rated R for violence throughout, language, and brief nudity.
Running time: 107 minutes.
Critic's Rating ★★½
Bobby . . . . . . . . . . . . . Denzel Washington
Stig . . . . . . . . . . . . . . . . . .Mark Wahlberg
Deb . . . . . . . . . . . . . . . . . . . .Paula Patton
Papi Greco . . . . . . . Edward James Olmos
Earl . . . . . . . . . . . . . . . . . . . . . Bill Paxton
★★★★★ Outstanding; ★★★★ Very
Good; ★★★ Good; ★★ Fair; ★ Poor
Stig (Wahlberg) is Bobby's mouthy, trigger-happy sidekick, the one who cracks that Papi looks "like a Mexican Albert Einstein," who stuffs his face with Mexican fried chicken as he yells at the cruelty of Mexican henchmen who shoot at the heads of chickens buried up to their necks for target practice.
For some reason, Bobby and Stig have been in business together for months. For some other reason, neither has figured out that the other is a federal agent of some sort. And for some silly third reason, they ignore their own advice — "Never rob a bank across from a diner that has the best donuts in three counties."
It's a movie of unsurprising revelations, betrayals, agencies that double-cross their own agents, and Paula Patton naked. She plays Denzel's DEA control agent.
Bill Paxton's a sadist who doesn't have to explain which government agency he works for as he drawls through assorted brutal interrogations, trying to track down the bank robbery cash. James Marsden plays the Navy guy in inappropriate uniforms every time he debriefs his agent, Stig. He was cast because he's the same height as Wahlberg. Olmos took his part just for the scene where he gets to sermonize about CIA efforts to keep Mexico "corrupt and poor."
Bobby and Stig fight, draw blood and crash trucks into one another. Until they learn trust. Until the "p-word," partner, comes up.
"Like ebony and ivory!"
The amusing stuff works so much better than the mayhem, which also has the occasional amusing moment. Stig gets the drop on a henchman by sliding between his legs.
A lot of plot is worked through, a lot of stuff blows up and a lot of cars are stolen, raced, crashed, and shot up. And people die. Lots of them.
And 100 minutes later, we're all done, and left craving a much better movie than 2 Guns managed to be. That, and donuts.
Guidelines: Please keep your comments smart and civil. Don't attack other readers personally, and keep your language decent. Comments that violate these standards, or our privacy statement or visitor's agreement, are subject to being removed and commenters are subject to being banned. To post comments, you must be a registered user on toledoblade.com. To find out more, please visit the FAQ.