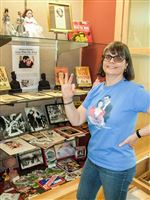 '‍Gone With the Wind' expert Kathleen Marcaccio will give a presentation at the Bedford Branch Library on Thursday.
HANDOUT. NOT BLADE PHOTO. Enlarge
TEMPERANCE — Kathleen Marcaccio vividly remembers the first time she saw Gone With the Wind.
"I saw the movie when I was in sixth grade, not quite 12 years old. I saw it on a Friday night," she said. "Since then I have seen the movie perhaps 85 times. Some of my friends have seen it hundreds of times."
Ms. Marcaccio, now 57, went on to become a well-known expert on all things related to Gone with the Wind, the movie and the novel from which it came.
At 7 p.m. Thursday, she will be at the Bedford Branch Library to speak, answer questions, and share some of her large trove of Gone with the Wind-connected artifacts, which include vintage Hollywood magazines and articles about the novel's author, Margaret Mitchell.
Her appearance is to celebrate the end of the library's summer reading club for adults. There will be refreshments and door prizes. The grand prize will be a Kindle Fire.
For Ms. Marcaccio, however, the presentation represents an opportunity to talk about a topic that continues to fascinate her. She lives in Royal Oak, Mich., and has been speaking in the Detroit area for about 20 years. Word has spread among Gone with the Wind aficionados, and today she finds herself in great demand.
"This last year has been a banner year," she said. "This is the 75th anniversary of the movie, which opened Dec. 15, 1939 in Atlanta." She also knows, off the top of her head, when it opened in Ohio. That would have been on Dec. 28 of the same year, when it premiered in Cincinnati. It did not open in Detroit until Jan. 25, 1940.
"It's still the undisputed box office champion when you adjust prices for inflation," she said. "That means it sold more tickets at the box office than any other movie."
She said her presentation lasts 60 to 90 minutes, with a question and answer period afterward. "We encourage people to come out a few minutes before the program so the early arrivals can look at the memorabilia," she explained.
She points out that Ohio has some strong associations with Gone with the Wind. Film legend Clark Gable, who played Rhett Butler, a role considered his best, was from Cadiz, Ohio, where the Clark Gable Foundation holds events, including one planned for Oct. 3-4 to celebrate the film's anniversary.
Her research also has taken her to the Akron area, the hometown of film actor Carroll Nye. He played Frank Kennedy, Scarlett O'Hara's second husband in Gone with the Wind.
A Michigan connection she cites is the late Ernie Harwell, who was the voice of the Detroit Tigers for many years. He grew up in Atlanta and was Margaret Mitchell's paperboy.
"We have a little bit of the Midwest in all of this Gone with the Wind stuff that's going on," Ms. Marcaccio said.
Contact Carl Ryan at: carlryan@theblade.com or 419-724-6095.
Guidelines: Please keep your comments smart and civil. Don't attack other readers personally, and keep your language decent. Comments that violate these standards, or our privacy statement or visitor's agreement, are subject to being removed and commenters are subject to being banned. To post comments, you must be a registered user on toledoblade.com. To find out more, please visit the FAQ.