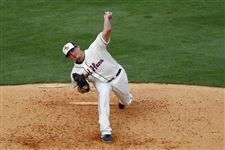 Toledo's Blaine Hardy delivers a pitch Sunday night. He threw six scoreless innings, surrendering only four hits.
BLADE/JEFFREY SMITH Enlarge
The pitching matchup featured a major-league veteran against a former minor-league castoff thought to be a reliever.
Who was who was anyone's guess.
Blaine Hardy, released by the Royals organization during spring training, continued his strong second act Sunday in the Mud Hens' 6-0 victory over the Buffalo Bisons before a crowd of 9,756 at Fifth Third Field.
"This whole starting deal is kind of fun right now," Hardy said.
PHOTO GALLERY: Mud Hens beat Buffalo 6-0
The 26-year-old left-hander, making his third start since moving out of the bullpen, held Buffalo to four hits over six scoreless innings while receiving a heap of early support as the Hens rocked Bisons starter J.A. Happ.
Jordan Lennerton yanked a two-run homer down the right-field line in the first inning, and the Hens continued to pile on. Happ allowed six runs on eight hits over 4 2/​3 innings in his second rehab start since being struck in the head by a line drive while pitching for the Toronto Blue Jays on May 7. (Happ suffered a fractured skull and sprained knee ligaments).
The Hens, meanwhile, benefited from a more successful rehab outing. Tigers reliever Darin Downs (rotator cuff tendinitis) struck out two in a perfect seventh, and afterward he said his arm felt strong. He will be reevaluated today in Detroit.
Yet the unlikely story Sunday was Hardy.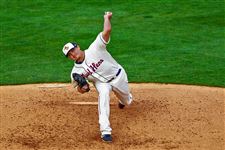 Buffalo's Moises Sierra leaps for second base as Toledo's Argenis Diaz attempts to tag him in Sunday's contest.
BLADE/JEFFREY SMITH Enlarge
The Edmonds, Wash., native was drafted by the Royals in the 22nd round of the 2008 draft and spent five seasons with the organization, mostly as a reliever. Yet despite a sub-3 career ERA and cracking Triple-A each of the last three seasons, he was let go in the spring.
Hardy was signed by the Tigers as a minor-league free agent and assigned to Double-A Erie.
"Getting [released] stung a good amount just because [the Royals] were the team that gave me my first opportunity," he said. "I would have loved to get up to the big leagues with them. But when the Tigers gave me the call, and said, 'Hey, we'd love to sign you,' I was ecstatic. This was a great opportunity. I had to climb back through Double A, but I was perfectly fine with that."
Hardy went 2-2 with a 1.63 ERA in 16 relief appearances with Erie before arriving in Toledo in mid-June. He arrived as a reliever, but was soon called upon to make an emergency start that went so well he earned another ... and another. Hardy is now 4-0 with a 1.71 ERA in Toledo.
"It went from a spot start to we're starting to like what we see to we think we're probably going to give him some more starts," Hens manager Phil Nevin said. "We'll see how this plays out. Right now, we're really sitting here with six starters."
Hardy's latest act was his best yet. He had the Bisons flailing all night with a sharply commanded curveball, striking out six and only once allowing a runner to pass second base. The one time he did, when a walk and a bunt single put runners at second and third with one out, he punched out lead-off hitter Kevin Pillar and Anthony Gose to escape unharmed.
"In the past, I wasn't necessarily the most successful starter," Hardy said. "But I didn't have a curveball at that point, and I've developed one the last couple of years. At this point, I'm really liking starting. I've always been a bullpen guy. I like being ready every day, but at the same time, this whole opportunity is working out so far."
Lennerton and Ben Guez each homered and had two of the Hens' nine hits, while centerfielder Avisail Garcia continued his tear in Toledo. Garcia went 1 for 3 with a walk and two runs scored.
Contact David Briggs at: dbriggs@theblade.com, 419-724-6084 or on Twitter @ DBriggsBlade.
Guidelines: Please keep your comments smart and civil. Don't attack other readers personally, and keep your language decent. Comments that violate these standards, or our privacy statement or visitor's agreement, are subject to being removed and commenters are subject to being banned. To post comments, you must be a registered user on toledoblade.com. To find out more, please visit the FAQ.