'Talk That Talk' by Rihanna
TALK THAT TALK
Rihanna (Def Jam)
One of the upsides of the singles-oriented world we live in is that big pop stars need to produce hit songs continually, lest they be forgotten by their fickle, no-attention-span fans.
And nobody works it as well as Rihanna, who releases an album every year, without a dud among them. This year's model, "Talk That Talk," is notable because while it remains highly titillating -- the Barbadian beauty is keen "to be your sex slave," apparently -- it's largely free of the Sturm und Drang that marked such S&M-tinged, self-consciously envelope-pushing efforts as 2009's "Rated R."
Instead, "Talk That Talk" sashays with a lighter touch, as with the throbbing club-music blowout "We Found Love," which features a guest spot by Calvin Harris, or the grabby Notorious B.I.G.-sampling "Talk That Talk," which employs a guest rap by Jay-Z.
Rihanna is never demure and often crass -- see "Cockiness (Love It)" -- but she's one Madonna acolyte who puts lessons learned from the Material Girl into practice without being overly slavish. And while not given to highly ambitious artistic or deeply personal statements, she's a hook-singing, hip-hop hit maker par excellence with a distinctive siren's call she's too savvy to bludgeon the listener with in the manner of too many other pop divas.
-- DAN DeLUCA, Philadelphia Inquirer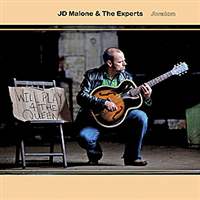 'Avalon' by JD Malone and The Experts
AVALON
JD Malone & The Experts (ItsAboutMusic.com)
This debut CD/DVD package by an immensely talented roots rock crew is extraordinary on several levels. Most outstanding are the smooth vocals laid down by Malone, whose countrified, strong, and interesting voice handles a wide range of originals from country to blues and all stops in between.
Next reason for superlatives is the choice and mix of songs, with no weaknesses or filler, for a value-packed 80 minutes on the audio CD. That's more than double what some albums offer music buyers.
The songs go down easy, whether for serious listening and contemplating the no-nonsense lyrics or as enjoyable background fodder. Special mention must be made of the depth of Malone's talent; he wrote 13 of the numbers with no hints of repetition or boredom anywhere. The non-originals are "Fortunate Son," by John Fogerty, and "I Should Have Known It," by Tom Petty and Mike Campbell.
The DVD shows seven of the tunes in rehearsal just before the CD was recorded. Four of those were included on the CD too, boasting just enough difference to be worthwhile additions to the original audio tracks. The four guys who accompany Malone are as solid and tight as a backup group can be, complementing him with electric, acoustic and steel guitars, dobro, mandolin, drums and bass as needed.
What helps make this a nearly perfect debut is the uniformly high quality of the tunes, primarily for their great melodies, often leading to repeated plays. Indeed, it's hard to pick a couple album highlights when there are so many.
-- KEN ROSENBAUM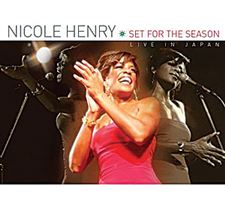 'Set For The Season,' by Nicole Henry
SET FOR THE SEASON: LIVE IN JAPAN
Nicole Henry (Banister Records)
Nicole Henry is doing something that's not impossible, yet pretty difficult all the same in today's music industry: She's developing a distinctive voice and style in the easy listening/soft jazz genre, earning comparisons to Natalie Cole by the New York Times.
The Miami-based singer and product of suburban Philadelphia is doing it with silky-smooth, yet not overpowering or gimmicky vocals and a healthy dose of grace. On this CD of mostly holiday songs (the holiday fare begins after a soothing cover of "My Favorite Things" from The Sound of Music), Henry provides a warm take on classics as a budding-yet-unpretentious jazz diva, whether she's exuding cheerfulness on "Rudolph the Red-Nosed Reindeer" or getting deep and spiritual on "O Holy Night."
Backed by a lush trio of Pete Wallace on piano, James McCoy on bass, and David Chiverton on drums, the set was recorded at the Cotton Club in Tokyo. The disc ends with the boogie-infused "I'd Rather Drink Muddy Water."
-- TOM HENRY
Guidelines: Please keep your comments smart and civil. Don't attack other readers personally, and keep your language decent. Comments that violate these standards, or our privacy statement or visitor's agreement, are subject to being removed and commenters are subject to being banned. To post comments, you must be a registered user on toledoblade.com. To find out more, please visit the FAQ.