41.63562
-83.62508
The hard rock trio will play at the Rocket Bar on Sunday at 7 p.m.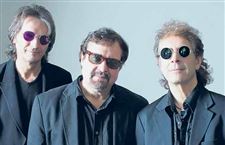 Blue Coupe: Dennis Dunaway and Joe and Albert Bouchard.
In the annals of rock and roll brother teams, there might be no pairing that accomplished as much while remaining as obscure as Joe and Albert Bouchard.
Let's face it, only hard core Blue Oyster Cult fans (count me in) appreciate just how important the Bouchards were to the great hard rock/metal band and how much they were missed once they left in the '80s.
Even though Eric Bloom was the band's visual linchpin with his ultra-hip, slightly dangerous frontman persona, and Buck Dharma's fleet guitar work provided its sonic signature, the Bouchards served as BOC's creative engine on any number of great songs.
"Hot Rails to Hell," the epic "Astronomy," "Cagey Cretins," "Career of Evil," "Sinful Love," "Tattoo Vampire," and a bunch more combined the band's creepy cool sci-fi/fantasy/horror vibe with its Steppenwolf-inspired boogie metal roots and a key element of melodic sweetening.
But short of diehard BOC aficionados, who's ever heard of Joe and Albert Bouchard? Consider yourself introduced and if you want to check out their music live they will be at the Rocket Bar on Sunday night as part of a power trio rounded out by former Alice Cooper bassist Dennis Dunaway.
In a telephone interview from his home in the hills of Connecticut, Joe Bouchard oozed optimism and energy as he described his busy post-Blue Oyster Cult years, Blue Coupe's new release "Million Miles More," and the infamous "more-cowbell" sketch on Saturday Night Live that became a pop culture phenomenon.
Bouchard is a multi-instrumentalist who left BOC (he played bass in the band) in 1986 to pursue a variety of other interests. He earned a master's degree in music composition from the University of Hartford, worked in the publishing industry producing music instruction books, and is an active teacher at five east coast boarding schools.
"I'm never really bored, you know," he said, laughing, noting that he's a fortunate survivor of the '70s arena rock heyday thanks to his 16 years in BOC.
"I'm just very lucky that the Blue Oyster Cult catalog is still doing great and we see some pretty good royalties from that. Not everyone from the '70s is so lucky, but we had a big hit, the cowbell [skit] on Saturday Night Live really revitalized the idea of Blue Oyster Cult for a whole generation that never would have heard us and that grew up on hip-hop and DJs. So all of a sudden 'Don't Fear the Reaper' is that iconic song again. We were very happy with that."
Blue Coupe was formed six years ago when Albert and Joe Bouchard were working on projects together and decided to form a band. Joe had been friends with Dunaway for 20 years and enjoyed playing with him. With Albert on drums, Joe Bouchard handling guitar, and Dunaway on bass, and all three members singing, the group plays a set filled with BOC tunes, Alice Cooper classics, and original Blue Coupe material.
Over the course of its two albums the band has featured guest artists such as Doors guitarist Robbie Krieger, Dharma from BOC, and Alice Cooper, who sings one song on "Million Miles More."
"Our little album project — the kind you do in your garage — turned into this big project. Next thing you know we have Buck Dharma on the record and Alice Cooper," Bouchard said.
He said that Bloom and Donald Roeser (aka Buck Dharma) lease the name Blue Oyster Cult for touring and recording purposes and the original group — including keyboard player Allan Lanier and the Bouchards — played a one-off show last year to celebrate Columbia Records release of a 17-CD box set of the band's music.
But neither he nor his brother have much interest in rejoining the band. "Albert and I are pretty happy with our situation. We have our own thing and we can make up our own sets and we have a lot of control over Blue Coupe, whereas if we were in Blue Oyster Cult we would have no control over how the shows come out."
But he harbors no ill feelings toward the band. He also is perfectly happy with the Saturday Night Live sketch that featured Chris Kattan, Jimmy Fallon, Horatio Sanz, and Chris Parnell playing the band members trying to integrate fictional BOC member Gene Frenkle (Will Ferrell) into the band. He plays cowbell and producer Bruce Dickinson (Christopher Walken) wants more of it.
Ferrell's over-the-top performance and Walken's deadpan delivery made the five-minute sketch a hilarious success, and the term "more cowbell" has become part of the pop culture lexicon.
Bouchard takes issue with just one portion of the skit.
"For the record, I was fat, but I was never as fat as Horatio Sanz," he said, bursting out in laughter. "But he does a great job. He does this thing with his head where he's bobbing his head and he's playing the bass and that's exactly what I do when I play the bass so he's actually studied the videotapes to get that down. It was very funny and just hilarious and it opened us up to a whole new generation that may not know Blue Oyster Cult."
Blue Coupe plays at the Rocket Bar, 135 S. Byrne Rd., Sunday at 7 p.m. Tickets are $11 and are available at RamaLama Records, Culture Clash Records, and The Rocket Bar.
Contact Rod Lockwood at: rlockwood@theblade.com or 419-724-6159.
Guidelines: Please keep your comments smart and civil. Don't attack other readers personally, and keep your language decent. Comments that violate these standards, or our privacy statement or visitor's agreement, are subject to being removed and commenters are subject to being banned. To post comments, you must be a registered user on toledoblade.com. To find out more, please visit the FAQ.