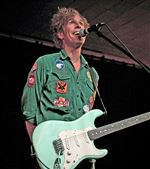 Rob Fetters is a Sylvania native and Cincinnati guitarist who also works as a commercial music composer.
CHARLES MADDEN Enlarge
SAINT AIN'T
Rob Fetters (Baby Ranch Records)
Sylvania-native Rob Fetters' third solo album is a trenchant, ambitious exploration of what it means to be human, the joy of watching "God chase his own tail," and the nature of grace and beauty in a mostly messy existence that ends with us all dying.
Heavy stuff? I suppose. But it's also empathetic, warm, subversive, intensely melodic, and the sort of thing that anyone who came of age listening to the Beatles, Frank Zappa, Jeff Beck, and Todd Rundgren should buy as soon as they finish reading this review.
"Saint Ain't" is Fetters' strongest work, a collection of 11 songs with zero fat and nothing self-consciously experimental to bog things down. Much like Rundgren, Fetters — who played in The Raisins and is a member of the Psychodots (with fellow Sylvanians Chris Arduser and Bob Nyswonger), as well as being a busy producer and musician in Cincinnati — uses the recording studio as if it were an instrument.
But he also is an inventive guitarist and intelligent lyricist, qualities that give the album a high musical IQ while never wandering into self-absorption or pretense. And the disc's last three songs — "Play Your Guitar," "Life & Death Boogie," and "Walking Out" — feature some of the most explosive guitar playing he's ever put on record, taking the instrument to the same frontier that only Beck, Adrian Belew, and a few others dare to explore anymore in mainstream music.
"Life & Death Boogie" subverts the guitar hero ethos with a bizarro Frank Zappa meets John Lee Hooker in a Detroit funk bar vibe. And the closer "Walking Out" provides the perfect release for an album of big questions, with doo-wopping vocals, a gonzo guitar solo and the surprisingly uplifting chorus: "I'm walking out, gonna help myself/​And then I'm gonna tear through the chains and free somebody else."
Considering that the first song on the disc starts lyrically with "If you live, you're gonna suffer," and "Walking Out" is the ideal bookend. This is how Fetters elbows his way into his own creative niche with a wildly disparate set of influences that include literature, power pop, Jimi Hendrix, and Robert Fripp.
For those looking for northwest Ohio connections, the cover art is a sculpture by Toledo artist Steven J. Athanas and Arduser and Nyswonger show up for several songs.
"Saint Ain't" is available at cdbaby.com.
— ROD LOCKWOOD
WEST COAST COOL
Mark Winkler and Cheryl Bentyne (Summit Records)
The late Paul Desmond and Dave Brubeck likely would be awestruck by this duo's flattering and forward-thinking rendition of "Take Five," the jazz classic that saxophonist Desmond wrote in unorthodox 5/​4 time and, with help from pianist Brubeck and others, made into one of the most enduring, career-defining songs of any genre.
This disc is a great studio production of a recent collaboration inspired by West Coast Jazz. Veteran Los Angeles singer-lyricist Mark Winkler and The Manhattan Transfer's lead singer, the multi-Grammy-winning artist Cheryl Bentyne, teamed up for live club shows starting in 2010, mostly across California.
The two do an incredible job of recreating sounds from that sub-category of jazz from the '50s and '60s known for its smoother, mellower, yet sophisticated and laid back style. Their delightful version of "Take Five" is worth the disc itself, but the two also do a great job playing homage to the music of such iconic figures of the era as trumpeter Chet Baker and singer Nat King Cole.
It's a beautiful reinterpretation and tribute to one of the most important eras, when West Coast Jazz was the hip sound and rivaled emerging rock and roll.
— TOM HENRY
Guidelines: Please keep your comments smart and civil. Don't attack other readers personally, and keep your language decent. Comments that violate these standards, or our privacy statement or visitor's agreement, are subject to being removed and commenters are subject to being banned. To post comments, you must be a registered user on toledoblade.com. To find out more, please visit the FAQ.