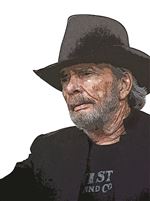 BLADE PHOTO ILLUSTRATION/JEFF BASTING Enlarge
Calling from his 250-acre ranch 59 miles south of California's Mount Shasta, Merle Haggard initially comes across as your kindly old grandfather as he chokes up while talking about how "it's been an unbelievable life."
That is if your 78-year-old grandfather likes to smoke pot, tell stories about serving time in San Quentin State Prison, and is one of the greatest recording artists in history.
Haggard will bring his nearly 40 career No. 1 hits to the Stranahan Theater for a show Wednesday night. He will arrive at an interesting time in Ohio's political landscape. In less than two months, state residents will vote on Issue 3, the ResponsibleOhio ballot issue to legalize marijuana.
The musical legend just happens to be headed to town on the heels of the release of his duets album with Willie Nelson, Django & Jimmie, which debuted at No. 1 on Billboard's Country Albums chart in June. The first single, "It's All Going to Pot," was released on April 20, a date celebrated annually by weed smokers for its importance in cannabis culture.
Merle Haggard acknowledges an ovation as he takes the stage during the All for the Hall concert on Tuesday, April 10, 2012, in Nashville, Tenn. The concert is a benefit for the Country Music Hall of Fame and Museum. (AP Photo/Mark Humphrey)
AP Enlarge
"Marijuana is probably God's greatest gift to mankind … if not for human consumption, then for industrial use. How much longer shall we be stupid?" Haggard says when asked for his opinion on the legalization of the drug. "Caffeine does more than marijuana does. Look at Amsterdam, where it's legal. Police say they have more trouble at coffee shops than pothead shops."
It's little surprise that Haggard has found a personal and professional soulmate in Nelson, probably the nation's best known marijuana user and a fellow member of the outlaw country movement that reshaped the genre in the 1970s. Their current album is the sixth that they've collaborated on, with the first being Pancho and Lefty in 1983. That title track became a No. 1 hit. Now, they've produced commercial gold again with the new project.
"We enjoy recording together and we've been talking about [a new album], so we talked ourselves into it," Haggard says.
Besides having the chance to work with his longtime pal on Django & Jimmie, Haggard also had the opportunity to pay homage to some of the biggest influences in his life. The title track refers to musicians Django Reinhardt and Jimmie Rodgers. But track four is the most personal for the Bakersfield, Calif., native. "Missing Ol' Johnny Cash" was written by Haggard as a tribute to a man he credits for encouraging him to pursue a musical career.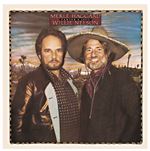 'Pancho and Lefty' by Merle Haggard and Willie Nelson.
The men first crossed paths at California's San Quentin, where Haggard was serving time for a burglary conviction. Cash's stage presence immediately impressed Haggard.
"He came and played a show in 1958. It was on New Year's Day, and he had partied the night before and had lost his voice. Without any voice at all, he was able to command respect from 5,000 prisoners," Haggard says. "Anybody who wasn't impressed by that wasn't there."
After his release from prison, Haggard's musical career took off with the formation of his band, the Strangers. A deal with Capitol Records followed in 1965. His string of No. 1 hits began in 1967 with "I'm a Lonesome Fugitive" and "Branded Man." Perhaps his biggest hit is 1969's "Okie from Muskogee," which he penned after becoming disheartened while watching Vietnam protests.
He piled up No. 1 hits in the '60s, '70s, and '80s, with his most recent being "Twinkle, Twinkle Lucky Star" in 1987. Although his radio success isn't likely to be recaptured, along with Hank Williams, Jr., and Nelson, he's still the standard-bearer for traditional country music. As far as today's country music? He's not a fan.
"It needs a melody," he says with a mischievous chuckle. "It needs a melody real bad. Not sure what they'll have to remember. A song is defined as words put to music, but I don't hear any music. All I hear is the same band, the same sound, and everybody screaming to the ceiling.
"You stand off at a distance and you couldn't tell who they are. They are all screaming for one note they can barely get. I don't find it very entertaining. I wish I did."
Although he rails against modern country, he has great things to say about a star who has transitioned over to pop music.
"I think Taylor Swift is doing real good. I don't know if there is any hayseed there or country music anymore, but I'm a Taylor Swift fan."
But professionally, Haggard is all about traditional country, and devout followers will have a chance to witness it Wednesday at the Stranahan, although he isn't promising what they'll hear.
"We do about 90 minutes and have an unplanned format to go from point A to point B and have about 100 songs to pick from. No one knows what they'll be, including me. It's been since 1969 since I've had a list on stage. I decide what the second song will be while I'm singing the first one."
But the show will be packed with a half-century of memories — 50 years since turning a troubled life around and embarking on one of the most storied musical careers in history.
"It's been wonderful, it's been interesting, it's been exciting, it's been terrifying," Haggard says, his voice wavering with emotion. "It's been everything. It's been an unbelievable life."
Merle Haggard will perform at the Stranahan Theater at 8 p.m. Wednesday. Tickets can be purchased at the box office, by phone at 419-381-8851, or online at stranahantheater.org.
Contact Brian Dugger at bdugger@theblade.com or on Twitter @DuggerCountry.
Guidelines: Please keep your comments smart and civil. Don't attack other readers personally, and keep your language decent. Comments that violate these standards, or our privacy statement or visitor's agreement, are subject to being removed and commenters are subject to being banned. To post comments, you must be a registered user on toledoblade.com. To find out more, please visit the FAQ.