A comedy by Toledo playwright Eric Pfeffinger will have its Midwest premiere at the Toledo Repertoire Theater beginning Friday.
In Human Error, set in Sylvania, a mix-up at a fertility clinic forces two couples who would probably never agree on anything, from politics to cultural values, to look for common ground.
Pfeffinger received an Ohio Arts Council Award for Individual Excellence in 2016 with his submission of Human Error, and he and his play were chosen in 2015 to be part of Playwrights Week at the Lark in New York. The work has been performed at PlayFest at the Orlando Shakespeare Theater and will be presented at the Denver Center for the Performing Arts in Colorado this spring.
"I often say to people that this particular play is kind of about people from different sides of the political divide and how they can come together in any meaningful way," Pfeffinger said. He was pessimistic about that when he first wrote Human Error, but each new collaboration, with different actors presenting the story, "basically made me realize that the play wanted to be more optimistic about this theme than I was."
The situation the couples in Human Error are involved in may not be the usual material for comedy, but for Pfeffinger it is.
"Comedy isn't just my preferred medium, it's pretty much the way I understand the world," the playwright said in a 2016 interview. "And I think it's a powerful tool for exploring difficult subject matter — arguably more powerful than drama or tragedy. Comedy lowers your defenses and smuggles big ideas into surprising packages."
He has just started making notes for another play that may or may not be about a secretary of education similar to Betsy DeVos, the current U.S. Secretary of Education, Pfeffinger said. "I, like other writers, take inspiration from what's going on around me." He also is writing scripts for two Web series he helped create, #MotherJudger and Mommy Blogger.
Performances of Human Error, directed by F. Scott Regan, are at 8 p.m. Friday, at 2:30 and 8 p.m. Saturday, and at 2:30 p.m. Sunday at the Toledo Rep's 10th Street stage, 16 10th St. Tickets are $10 and $20 and available from toledorep.org, 419-243-9277, and at the door.
In Ann Arbor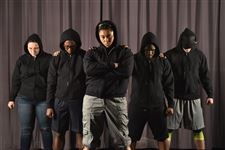 Kathleen Taylor (Toria), left, Eddie Williams, Jr. (Justin), Erin Croom (Raylynn), Elyakeem Avraham (De'Andre), and Kevin Corbett (Colin) star in the University of Michigan's production of "Blood at the Root" by Dominique Morisseau.
PETER SMITH PHOTOGRAPHY Enlarge
Blood at the Root, by Dominique Morisseau, will be presented by the University of Michigan department of theater and drama Thursday through Sunday.
The play, which addresses race, social justice, and inequality in the judicial system, was inspired by events surrounding the "Jena Six," the real-life case of six black teenagers convicted in the beating of a white student, Justin Barker, on Dec. 4, 2006, at Jena High School in Jena, La. The story begins in the fall when a black student sits under a tree on campus that is often a gathering place for white students. The next day, three nooses are hanging from the tree. Tensions increase until one winter day six black students beat up a white student in the cafeteria.
The case was often cited at the time by liberal commentators as an example of racial injustice because of a belief that the six had been initially charged with overly serious offenses and unfairly treated, according to press materials.
A free moderated discussion featuring members of the cast, artistic staff, and special guests will follow each performance.
Performances of Blood at the Root are at 7:30 p.m. Thursday, at 8 p.m. Friday and Saturday, and at 2 p.m. Sunday at the Arthur Miller Theatre in the Walgreen Drama Center, 1226 Murfin Ave., Ann Arbor. Tickets are $30 general admission and $12 for students with ID and available from 734-764-2538 and tickets.music.umich.edu.
Contact Sue Brickey at sbrickey@theblade.com.
Guidelines: Please keep your comments smart and civil. Don't attack other readers personally, and keep your language decent. Comments that violate these standards, or our privacy statement or visitor's agreement, are subject to being removed and commenters are subject to being banned. To post comments, you must be a registered user on toledoblade.com. To find out more, please visit the FAQ.