A watershed moment in Toledo's storied jazz history arrives next weekend when the venerable Cakewalkin' Jass Band marks its 50th anniversary as a group with a special three-day gig at the Original Tony Packo's Cafe, 1902 Front St.
The Dixieland group, which draws its name from a famous 1925 New Orleans song, "Cake Walking Babies (From Home)," was founded in December, 1967. After initially holding down jobs at three different night clubs and performing at one wedding, it settled in for the better part of 33 years as Packo's house band, starting on July 3, 1968.
That was four years before actor Burt Reynolds started the now-famous celebrity tradition of signing Tony Packo's hot dog buns in 1972.
VIDEO: Cakewalkin' Jass Band marks 50th anniversary with a special three-day gig
Cakewalkin' Jass Band was for a long time as popular as the East Toledo restaurant's spicy Hungarian food. Eighty-two musicians — 30 full-timers and 52 substitutes — have at one time or another been part of the band, which spells "jazz" the way it was often spelled in the early 1900s.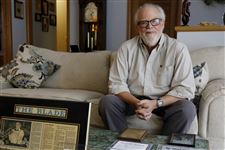 Band leader Ray Heitger keeps memorabilia from the Ray Heiger's Cakewalkin' Jass Band at his home Thursday, November 16, 2017, in Toledo.
The Blade/Katie Rausch
Enlarge | Buy This Image
The group's only break in service over those 33 years was an 18-month stint in 1980-81 at the former Lulu's Storyville Saloon in the Southwyck Shopping Center, a South Toledo mall razed in 2009.
By the time Tony Packo's parted ways with Cakewalkin' Jass Band for good in 2001, the band had become so ingrained in the city's east side fabric that a lot of people had trouble letting go. Several letters from upset patrons were published in The Blade.
"It was like Camelot," said Ray Heitger, the group's bandleader and last original member.
In its heyday, the Cakewalkin' Jass Band kept locals and tourists alike on the dance floor of the Birmingham neighborhood's most popular destination into the early morning and often up until closing. Next weekend, the band will perform 8 p.m. to midnight Friday and Saturday and 2 to 5 p.m. Dec. 10 at the restaurant.
On Tuesday, the group is scheduled to be recognized by the Toledo City Council with a proclamation in honor of its 50th anniversary. The band will likely enter chambers playing the New Orleans standard "When the Saints Go Marching In" and have its vocalist, Mr. Heitger's daughter, Nicole Heitger, lead the audience in singing the national anthem.
Cakewalkin' Jass Band — which can be thought of as Toledo's response to New Orleans' iconic Preservation Hall Jazz Band — has continued to perform across northwest Ohio since leaving its regular Packo's gig. It played at Ragtime Rick's First Draught in South Toledo, Murphy's Place in downtown, and Degage Jazz Cafe in Maumee before those establishments closed.
Now, in addition to occasional gigs at other bars, it continues to perform at a number of festivals and even does the music for special Dixieland-themed church services.
It has cut eight albums. In years past, it performed in Canada, Europe, and the American West. It has performed an unprecedented 17 different years at the prestigious Bix Biederbecke Memorial Jazz Festival in Davenport, Iowa, an event that often draws 20,000 or more spectators.
Cakewalkin' Jass Band played for the dedication of Toledo's tallest skyscraper, the building now owned by Fifth Third Bank. It was the first to perform in the University of Toledo's Centennial Hall (now Savage Hall) when it was the warm-up band for the headliner, late New Orleans trumpeter Al Hirt. It was even once featured in the Mississippi Rag, a national publication known as one of the best covering the ragtime and traditional jazz industry before it closed in 2007.
Musical family
According to a July 4, 1993, article by the band's longest-serving bassist, the late Blade reporter Hank Harvey, the band came "to typify Toledo perhaps as much as the Mud Hens, the art museum, bowling alleys, ethnic heritages, and the muddy Maumee River."
Mr. Harvey also stated in that article that the band played for former Ohio Gov. Richard Celeste's inaugural and has been "a microcosm of the city" because of how it has attracted musicians from all walks of life, from engineers to chimney repairman to artists, business executives, bus drivers, and insurance salesmen.
Cakewalkin' Jass Band's heart and soul is Mr. Heitger, an affable, 73-year-old mathematician and native of tiny Beaver, Pa.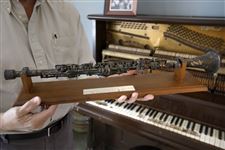 Band leader Ray Heitger keeps memorabilia, including his original clarinet, from the Ray Heiger's Cakewalkin' Jass Band at his home Thursday, November 16, 2017, in Toledo.
The Blade/Katie Rausch
Enlarge | Buy This Image
Though you'd never know it from his gorgeous tone, he is a self-taught clarinetist who, even to this day, can't read music.
"When we were at Packo's, my goal was not to convert people to New Orleans jazz but to make them think about coming back," Mr. Heitger said during an interview from his West Toledo home, where he and his wife, Elizabeth, reminisced about the group's history and showed some of its memorabilia from over the years.
"To me, jazz covers every human emotion," he said.
Mr. Heitger said he loved listening to Mr. Hirt and other New Orleans trumpeters, such as Louis Armstrong. He said he learned clarinet listening to New Orleans clarinetists Sidney Bechet and Pete Fountain.
He formed his first band, the New Orleans Feetwarmers, in Beaver at age 19 after teaching himself how to play clarinet in only six months. He said he taught himself between June and December of 1963, between his sophomore and junior years as a student at Geneva College in Beaver Falls, Pa.
The song that really got him hooked on New Orleans was the 1923 standard of "Working Man Blues" by King Oliver's Creole Jazz Band, he said.
"I wanted to play the blues. You can play jazz without playing the blues, but it doesn't count," he said.
Mr. Heitger retired as a Bowling Green State University mathematician in 2012. Early in his career, he taught math at Scott High School for eight years. He also was a weightlifting coach there. He was a part-time math instructor at the University of Toledo back in the days it was still known as Toledo University. He also taught math for 16 years at Ottawa Hills High School.
He moved to this area to get his master's degree in mathematics at TU and had thoughts about getting a Ph.D.
"I would have had to give up music for math," Mr. Heitger said. "By that time, the music was too big. The music obviously became a very big part of my life."
The Heitgers once had their own family band when their children were young.
Nicole, who last year released her own CD, is now a powerful singer. She was the family band's drummer. Elizabeth played piano. The couple had two other daughters, Andrea and Renee Heitger, on guitar and gutbucket, respectively. Gutbucket is a primitive bass instrument.
Their son, Duke Heitger (dukeheitger.com) began playing trumpet professionally at age 12. He has lived and worked in New Orleans the past 26 years, has released six CDs, and has played several times over in Europe, including recently. His group, the Steamboat Stompers, has for years been a regular on Steamboat Natchez tours along the Mississippi River.
Duke told The Blade in a telephone interview that his father's passion for the Cakewalkin' Jass Band and Dixieland in general greatly influenced his own decision to become a professional musician.
"I'm obviously a product of that environment," he said. "This is a well-deserved weekend for him."
Like his father, Duke is highly educated, holding a bachelor's degree in geology from the University of Toledo and a master's degree from the University of New Orleans.
"We always had music in our household," Elizabeth said, while also confessing a soft spot in her heart for Cakewalkin' Jass Band itself and how it helped shaped their children as they grew up.
She said the chance to reunite at Packo's with some musicians who left the band is "going to be emotional for both of us."
"The [Cakewalkin' Jass Band] is my family," she said.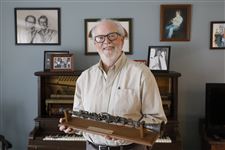 Band leader Ray Heitger keeps memorabilia, including his original clarinet, from the Ray Heiger's Cakewalkin' Jass Band at his home Thursday, November 16, 2017, in Toledo.
The Blade/Katie Rausch
Enlarge | Buy This Image
Playing through the decades
Though people stayed late and partied late at night on weekends, the restaurant and the band also were popular among children during the daytime because of the establishment's wholesome, family atmosphere.
"That's what I miss most about playing at Packo's, not being able to watch the little kids dancing," Ray Heitger said.
Though Cakewalkin' Jass Band has had multiple personnel changes over its 50-year history, several members have been with the group for at least half of its existence.
Right behind Mr. Heitger for years of service is trombonist Russ Damschroder, 69, a retired University of Toledo librarian who has been with the group 45 years.
"It's been 45 years of trial and error, of trying to learn from your mistakes," Mr. Damschroder mused. "In jazz, there aren't any do-overs. You can't worry about a mistake. You have to play the next note."
He said the group played at Packo's long enough to see two generations of parents "drag their teenage kids in there kicking and screaming" only to find Dixieland a lot more appealing than they realized.
"Once most of them heard it, they thought it was fun," Mr. Damschroder said.
Cakewalkin's current banjo player, Betsy Grafing, joined the band in 1978. She is the wife of Richard "Ragtime Rick" Grafing, who likewise joined Cakewalkin' Jass Band many years ago and has been performing with it a lot more since the Grafings closed his former saloon in 2003.
"It means a lot," Ms. Grafing said of next weekend's gig. "I mean, how many bands have been around for 50 years and influenced the community like we have?"
The band's youngest member, Dave Kosmyna, 42, is a cornet player who teaches trumpet, jazz, music theory, and composition at Ohio Northern University.
He joined when he was 20, about six years before the band's long run at Packo's ended.
Band members get a whiff of nostalgia playing at East Toledo's Birmingham Festival. But it's nothing like being inside the original Packo's building and its "earthy, welcoming vibe," Mr. Kosmyna said.
"There's something about the sound of that room. It's an old building with high ceilings. There's something about old architecture," he said. "When you play this kind of music there, it's just right."
Contact Tom Henry at thenry@theblade.com, 419-724-6079, or via Twitter @ecowriterohio.
Cakewalkin' Jass Band is celebrating its 50th anniversary with a special weekend of shows at the Original Tony Packo's, 1902 Front St., in East Toledo. Performances are from 8 p.m. to midnight Friday and Saturday and 2 to 5 p.m. Dec. 10. Toledo City Council is expected to honor the group Tuesday.
Guidelines: Please keep your comments smart and civil. Don't attack other readers personally, and keep your language decent. Comments that violate these standards, or our privacy statement or visitor's agreement, are subject to being removed and commenters are subject to being banned. To post comments, you must be a registered user on toledoblade.com. To find out more, please visit the FAQ.