When Sandy Hackett's Rat Pack Christmas comes to the Stranahan Theater Saturday, the performers won't be putting a Vegas twist on a holiday show.
"I'd say we're putting a Christmas twist on a Vegas show," said Sandy Hackett, the son of the late Buddy Hackett, a renowned comedian and actor who was a friend of the Rat Pack entertainers.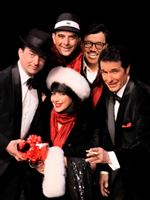 Sandy Hackett's Rat Pack Christmas
The Rat Pack featured three singers, Frank Sinatra, Dean Martin, and Sammy Davis, Jr., and one comedian, Joey Bishop. They ruled the Las Vegas entertainment scene beginning in the 1960s.
"Frank and Dean recorded Christmas albums, and there are Rat Pack Christmas albums, and we wanted to do a version of the Rat Pack Show that includes all kinds of wonderful holiday music those guys sang," Hackett said, "plus some comedy routines."
Hackett, who has acted in films and television as well as appeared as a comedian in showrooms in Las Vegas, also tours nationally in Sandy Hackett's Rat Pack Show, and at this time of year in Rat Pack Christmas, portraying Joey Bishop. Hackett's wife, producer, singer, and songwriter, Lisa Dawn Miller, stars as Ava Gardner in both shows.
Miller wrote the song "It's Christmas," also the title of one of her albums, and the theme song of the holiday show, "My Favorite Time of Year," with her creative partner, Mark Matson, both of which were premiered in Rat Pack Christmas.
In addition to standards the Rat Pack once performed, songs planned for the Christmas show include "Happy Holidays," "Walking in a Winter Wonderland," "Marshmallow World," and a medley with "Let it Snow" and "The Christmas Waltz."
Miller is the daughter of the late songwriter Ron Miller, who wrote pop classics, including "Touch Me in the Morning," "Yester-me, Yester-you, Yesterday," and "Heaven Help Us All."
Rat Pack Christmas will include songs written by her father, including "For Once in My Life," "Twinkle Twinkle Little Me," "Will I Still Be Me," and a medley of "The Things I Should Have Said" and "Wasn't I A Good Time." Also featured will be a song written by Miller's father and mother, Aurora Miller, "Everyone's a Kid at Christmas."
"The crux of the show is the comedy and the music," Hackett said. And, his wife added, "Lots of shenanigans. They have a lot of fun onstage."
Joey Bishop provided the comedy continuity of the Rat Pack. "He's the one who held the whole thing together, and in our show it's no different," Miller said. "He's able to improvise in the moment, and that happened so much back then, you never knew who was going to show up, what jokes [they'd tell], what songs."
Rat Pack Christmas is scripted, she added, but her husband goes off script all the time — you never know what's going to happen. "He's absolutely brilliant; his dad would be very proud."
In addition to Hackett as Joey Bishop, the Rat Pack Christmas' cast includes Angelo Babbaro, a native of Youngstown, as Frank Sinatra; Kenny Jones, a singer, songwriter, and musician from Atchison, Kan., as Sammy Davis, Jr., and comedian, actor, and impressionist Tom Wallek, a Brooklyn native, as Dean Martin.
The Rat Pack's legacy endures because its members had the bonds of friendship and respect for each other, Miller said.
"Although they were all huge stars in their own right, when they came together it was magic," she said. "Their songs are the fabric of people's lives, but most of all I think it was the friendship. They truly cared about one another, and it's rare to see that today."
Both Hackett and Miller's parents were famous and creative people, so both grew up in exciting environments.
"Lisa had the exciting one," her husband said. "She got to meet a lot of incredible singers, Stevie Wonder, Barbra Streisand, people like that. We just had comedians over at our house; all they did was make you laugh and track mud in the house," Hackett joked, although his wife says those comedians included George Burns, Don Rickles, Dean Martin, and Jerry Lewis.
Hackett and Miller put what they learned at home into practice today.
"My dad taught me that you always go out and work for the audience that's there," Hackett said, recalling a January night in Las Vegas when a snowstorm caused canceled flights and a small audience for Buddy Hackett's show at the Sahara. Instead of being disappointed, Hackett recalls, his father said he was going to give the people the best show they ever saw, and they wouldn't be sorry to be there on a slow night — they'd be excited to know they got his best effort.
"That's what my dad taught me: always give 100 percent," Hackett said.
Hackett went with his father for a scheduled appearance on Rowan & Martin's Laugh-In and drew the attention of the show's producers. "The next year when dad came to be on the show he said, 'They wrote a bunch of stuff for you.' I kept going back with him, so that's kind of how things started for me."
Miller learned to be honest in her performances from her father. "Instead of making the song about me, which it's not, I just be in the moment and try to convey the lyricist's message, what the song really means. I think people can sense the honesty and truth in that, so the performance is real. That has always stayed with me."
She has a Toledo connection: Her parents, who were living in Chicago at the time, decided to elope to Toledo.
"I can't wait to come there," she said.
"Sandy Hackett's Rat Pack Christmas" will be presented at 8 p.m. Saturday at the Stranahan Theater, 4645 Heatherdowns Blvd. Tickets are $43, $58, and $68, and are available at 419-381-8851, theaterleague.com, and in person (with no service fee) at the Stranahan box office from 9 a.m. to 5 p.m. Friday and from 9 a.m. until intermission on Saturday.
Guidelines: Please keep your comments smart and civil. Don't attack other readers personally, and keep your language decent. Comments that violate these standards, or our privacy statement or visitor's agreement, are subject to being removed and commenters are subject to being banned. To post comments, you must be a registered user on toledoblade.com. To find out more, please visit the FAQ.