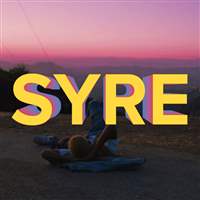 'Syre' by Jaden Smith.
SYRE
Jaden Smith (MSFTS Music/​Roc Nation)
First, forget that Syre is the debut album from one of West Philly-born Will Smith's kids, Jaden: a young actor and singer-rapper in his own right who has recorded many a guest feature and mixtape long before this. If you're not paying attention to birthright (or his goofball videos that preceded the album's release, yikes), Syre is a deliciously low-key, exquisitely eccentric — even cinematic — hip-hop nu-soul effort.
Half of Syre was coproduced by Norwegian songwriter Lido (Chance the Rapper, Halsey), and there's a woozy electronic film to the proceedings, whether it's the slow, filmic four-part suite "B," "L," "U," "E," (featuring haunting female vocals from sister Willow), or the rickety atmospheric rap of "Breakfast" featuring rough soul mouthpiece A$AP Rocky. Whether on the Lido tracks or beyond — the spacey, low-slung "Watch Me," the wonky, thumping "Batman" — Smith's scattered lyrics are best rendered in his deepest, sing-songy manner.
His attempt at vocalizing on the caramel jazzy "Fallen" is fine as wine, as his baritone register tickles an electric piano's tinkling. Then there are wrong songs, such as the third-rate Kanye crib "Watch Me" and the miserably screechy "Icon," which samples "The Hi De Ho Man" and finds Smith's voice and lyrics in a dumb, too-high place. Syre is good, not great, and certainly promising for the 19-year-old Smith. Just keep it low-down and deep.
— A.D. Amorosi, Philadelphia Inquirer
'Duke Robillard and his Dames of Rhythm' by Duke Robillard.
DUKE ROBILLARD AND HIS DAMES OF RHYTHM
Duke Robillard (M.C. Records)
Maria Muldaur, Elizabeth McGovern, Kelley Hunt, Catherine Russell, Madeline Peyroux, and Sunny Crownover headline this outstanding, sultry collection of jazz and swing tunes from the 1920s and 1930s that's big on charm and has a dash of tongue-in-cheek humor at times.
The 15-track disc covers a lot of territory, mostly from the Tin Pan Alley and American songbook era, with performances that are steady, consistent, and pleasant without being overpowering.
Robillard, a founding member of the swing band Roomful of Blues, has put out about as many albums as anyone in recent years, firming up his reputation as a well-rounded, hard-working musician. Yet there's something a little more fresh, unique, and playful to distinguish this album from some of his others.
The project is in the hands of a real pro: Robillard is a guitar master who has toured with Bob Dylan, Herb Ellis, Big Joe Turner, the Fabulous Thunderbirds, Jay Geils, and John Hammond, to name a few, and he is the recipient of multiple Grammy nominations and the winner of several major blues awards. He calls this recording, backed by solid rhythm and horn sections, "a serious bucket list dream come true for me," one in which he wanted to shed light on lesser-known songs from yesteryear that he grew to love while keeping the material simple and bluesy.
It is a well-conceived project that hits its mark.
— TOM HENRY, The Blade
'Goin' Platinum!' by Robert Finley.
GOIN' PLATINUM!
Robert Finley (Easy Eye Sound)
History repeating, Robert Finley is another exceptional blues and soul musician getting well-deserved attention at an age when talent contests aren't likely to consider him, whether it's his hair that's gone platinum or his new album, Goin' Platinum!
Which is a real pity, since the 64-year-old, Louisiana native is a gem of a singer — both rough and refined — who lends instant credibility to any song.
A truncated "Mrs. Robinson"-like riff drives opener "Get It While You Can" and drafts the tonal blueprint for Finley's second record — reverbed, scratchy guitars, handsome horns, sweet backup vocals, perfectly deft percussion, and tasteful piano and organ sounds.
Produced and co-written by Dan Auerbach of the Black Keys, it includes legendary Memphis Boys Bobby Wood and Gene Chrisman, who backed Elvis Presley, Dusty Springfield, and Aretha Franklin. Recorded swiftly at Auerbach's Nashville studio, the freshness of the grooves on the 10 tunes is infectious.
"Honey, Let Me Stay the Night" is an energetic slice of life echoing a 1960s beach party, except this one's in a swamp, while "You Don't Have to Do Right" has the spirit of Richie Havens and a cavernous Duane Eddy guitar solo.
On "Real Love Is Like Hard Time," co-written by Nick Lowe, Finley — who joined the army as a teenager — has the swagger of Tom Jones, and "Medicine Woman" sounds like a long-lost Bobby Bland side. "Empty Arms" is a hotel song, "the closest thing to home/​for a man who'd rather roam," and Finley's soaring falsetto on closer "Holy Wine" makes for a moving trip down memory lane.
Finley has had his share of hardships — he is now legally blind and unable to work as a carpenter anymore — but if there are similar albums in his future, may they all go platinum.
— PABLO GORONDI , Associated Press
Guidelines: Please keep your comments smart and civil. Don't attack other readers personally, and keep your language decent. Comments that violate these standards, or our privacy statement or visitor's agreement, are subject to being removed and commenters are subject to being banned. To post comments, you must be a registered user on toledoblade.com. To find out more, please visit the FAQ.