Kelly Zawierucha remembers watching a Toledo Irish Festival concert in a driving rainstorm at International Park in 2008.
"It felt like I was on the deck of the Titantic, stomping in the puddles to the music," Zawierucha said. "I figured I might as well enjoy the music if the ship was going down."
Maybe it was the heavy rain that evoked images of the doomed passenger liner. But it could also have been the acceptance that an annual Toledo tradition was coming to an end. The Toledo Irish American Club formed in 1993 as a way to celebrate Irish culture and music, and from the early 1990s, the club's main event was the festival. The club and festival shut down after the 2008 event, a victim of debt and declining membership.
"I think the problems we had before is that we didn't have the social media to get the word out. The community is out there. We just need to build it up again," Zawierucha said.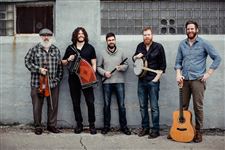 Members of The Drowsy Lads. From left: Phil Franck, Josh Franck, Bryan Brookes, John McKewen, and Daniel McKewen.
Saturday night is a big step forward for the club, which Zawierucha revived over the past year with some mini fund-raisers and a membership drive. The goal is to build up a solid membership base and bring the festival back in a couple years.
"There is no reason that Toledo shouldn't have a good community-based Irish festival. We have a German, Polish, Greek, and Hungarian festivals," he observed.
The Irish American Club is hosting its "comeback concert" at 6 p.m. Saturday at the Maumee Indoor Theatre, 601 Conant St., Maumee, with the Drowsy Lads headlining.
"I had seen the band at an Irish festival and told my friend that I'd love to get them for a concert," Zawierucha said. "About a week later, [Drowsy Lad] Daniel McKewen sent the Irish Club a personal message. He said they had never played in the Toledo market and he was wondering if there were any opportunities. I told him, 'You're not going to believe this, but I wanted to book you.'"
McKewen is joined in the band by his brother John, longtime friend Bryan Brookes, and Phil Franck and his son, Josh, the group's lead singer. The band has become one of the most popular Irish bands in the state and has played festivals around the country. The Lads rely on traditional Irish music, sometimes mixing in bluegrass or classical, that relies on traditional Irish instruments: tenor banjo, flute, Uilleann pipes, and bodhran.
"Irish music is very emotional, exciting, and intense, but it's beautiful and intense," Josh Franck said. "What makes our band special is not only that family connection but also the spiritual connection. We all go to the same church. We love making friends, and our shows are a wonderful celebration of friendship."
Music has been a lifetime passion for Franck, 31, who learned to play the fiddle when he was 4. He also plays the button accordion and the bodhran, a Gaelic goatskin drum. He and his father have played music together most of his life. Josh joined the Drowsy Lads after graduating from high school. The entire cast has been together for 11 or 12 years.
"Irish music is just really, really fun. It is upbeat and energetic," Franck said. "It was amazing when I found out that I could have fun playing music and get paid too."
Zawierucha is hoping that the Drowsy Lads' energy can provide the spark the club needs to once again get on stable footing. In 2000, the club's membership was close to 300. Zawierucha, the club's president, is hoping to build to that level again. Membership is $25 a year and includes a T-shirt, discounts to club-sponsored events, and advance emails to events. Being Irish is not a prerequisite.
"We don't discriminate. You don't have to be Irish. You just need to love the community and want to celebrate the culture," said Zawierucha, who is Irish on her mom's side of the family and Polish on her father's. "On St. Patrick's Day, who doesn't love to be Irish for the day? Why not be part of the community all year?"
Tickets for Saturday's show by the Drowsy Lads are $12 in advance ($15 at the door) at Eventbrite or on the Toledo Irish American Club Facebook page. Local band Toraigh an Sonas and the Ardan Academy of Irish Dance will also be performing.
Contact Brian Dugger at bdugger@theblade.com or on Twitter @DuggerBlade.
Guidelines: Please keep your comments smart and civil. Don't attack other readers personally, and keep your language decent. Comments that violate these standards, or our privacy statement or visitor's agreement, are subject to being removed and commenters are subject to being banned. To post comments, you must be a registered user on toledoblade.com. To find out more, please visit the FAQ.