They say a show has "legs" if it can last a year on Broadway, by which measure Wicked is a centipede.
It celebrated its 15th anniversary last fall, and has logged nearly 6,000 New York performances since 2003.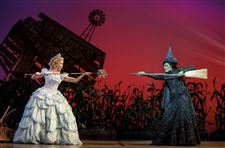 Ginna Claire Mason, left, is Glinda and & Mary Kate Morrissey is Elphaba in 'Wicked,' which is running at the Stranahan Theater through June 17.
Coincidentally, the national tour of the Tony Award-winning musical rolled into Toledo for a third time this week. Given the enthusiastic response of the capacity crowd at the Stranahan Theater Thursday night, the traits that have made the show a tourist favorite over the years are finding equal favor in the heartland.
Based on Gregory Maguire's revisionist 1995 novel, Wicked is a prequel to L. Frank Baum's The Wonderful Wizard of Oz. In Maguire's telling, two young women – green-skinned Elphaba and annoyingly perky Galinda – strike up a friendship as boarding school roommates. By book's end they have transformed into the Wicked Witch of the West and Glinda the Good.
The musical takes Maguire's plot, sheds some of its gloominess, and spackles on the glitz. Fans of Baum's book and the 1939 MGM film will appreciate the sly bits of humor sprinkled throughout, not to mention Maguire's clever backstory for the scarecrow, tin woodsman, and cowardly lion.
The story centers on the unlikely friendship between outcast Elphaba (Mary Kate Morrissey) and the popular Galinda (Ginna Claire Mason). The former refuses to yield to self pity, while the latter craves adoration on a tragic scale. It's loathing at first sight – until they discover just how much they have in common.
This production clocks in at well over two hours, thanks to Winnie Holzman's lopsided book (the first act is 30 percent longer than the second), and James Lynn Abbott's dance arrangements which constantly find groups of performers moving in clumps.
And despite the show's lack of dynamic music (sure "Defying Gravity" was a hit, but what else can you name?), the performances on this tour rise above Stephen Schwartz's largely pedestrian songs.
Mason's soaring soprano is matched by her comedic timing, while Morrissey possesses a powerful set of pipes that reach the back walls. Kudos also to some fine supporting turns. Chad Jennings provokes ample empathy as Dr. Dillamond, the purged teacher at the boarding school who just happens to be a goat, while Jody Gelb makes headmistress Madame Morrible a scheming delight. And Jason Graae steals his every scene as the Wizard. You can almost feel the joy radiating from an actor who clearly loves what he's doing.
Wicked has its structural weaknesses; there's no denying that. It compensates by being what so many people crave of Broadway these days: A spectacle. The Tony-winning sets, costumes and lighting are designed to dazzle the eye. And that they do in a frothy fashion worthy of the Wizard himself.
Tickets for the national touring production of "Wicked" range from $42 to $152 and are available from etix.com, by calling 866-381-7469, or at the Stranahan Theater box office, 4645 Heatherdowns Blvd. Additional performances continue through June 17. Contact the theater for specific show times.
Guidelines: Please keep your comments smart and civil. Don't attack other readers personally, and keep your language decent. Comments that violate these standards, or our privacy statement or visitor's agreement, are subject to being removed and commenters are subject to being banned. To post comments, you must be a registered user on toledoblade.com. To find out more, please visit the FAQ.