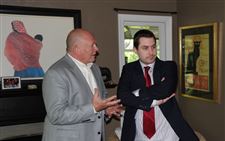 Jeffrey Albright, left, portrays Levene and James MacFarlane is Williamson in '‍Glengarry Glen Ross' to be presented by Actors Collaborative Toledo.
TODD GRINONNEAU Enlarge
In Glengarry Glen Ross, David Mamet's acclaimed, award-winning play, an office of real estate salesmen are doing what they have to do to push undesirable land on unsuspecting buyers looking for what they think will be a piece of the American Dream. It's a dream that is eluding many of the salesmen themselves — they are locked in a fight for survival, a competition to "get on the board" by getting the best leads and making sales. The man at the top of the board gets a Cadillac; the loser gets fired.
Actors Collaborative Toledo brings this world to the Recital Hall of the University of Toledo's Center for Performing Arts in a staged reading of the play at 8 p.m. Saturday.
Mamet's dark, knife-edged dramatic comedy, with fast, biting, sometimes coarse dialogue, won the 1984 Pulitzer Prize for drama and was nominated for a Tony Award for best drama that year. Mamet adapted the play for a 1992 film starring Al Pacino, Alec Baldwin, and Jack Lemmon.
It's very, very dark comedy, director Kate Abu-Absi said in a phone interview. "There are funny aspects, but even when you'‍re laughing it's sad, too," she added. '‍'Unfortunately, the things you laugh at are [happening to] the people who are weakest ones there."
One of the play's themes is survival of the fittest, she said. "Some have a level of friendship between them, but the bottom line is, they're all are stepping on one another to succeed. Some are motivated by the Cadillac, or by keeping their job. I think there's a lot of … where do they fit in the hierarchy of this little world they live in because it'‍s their job?"
The ensemble cast includes Jeffrey Albright, who portrays Shelly Levene, a salesman who was once successful but is struggling now. Also portraying salesmen are Qarie Marshall as Richard "Ricky" Roma, Brad Smith as Dave Moss, and Matthew Gretzinger as George Aaronow. James MacFarlane plays the unpopular office manager, John Williamson, who hands out the all-important leads on potential buyers.
John DuVall portrays client James Lingk, and Ken Wieland appears as Baylen, a police detective who comes to investigate an office break-in in which leads are stolen.
Glengarry Glen Ross will be performed at 8 p.m. Saturday in the Recital Hall of the University of Toledo's Center for Performing Arts (use the west campus entrance off Secor Road).
Tickets are $10 and are available at the door.
Oliver!
The long-popular musical Oliver! opens at the Croswell in Adrian Friday as part of the celebration of The Great Big Night, a gala to benefit the Croswell.
The musical, inspired by the Charles Dickens novel Oliver Twist, follows the orphan Oliver as he learns to survive on the tough streets of London under the tutelage of a boy, the Artful Dodger, and Fagan, who teaches boys to pick pockets. The original Broadway production, featuring music and lyrics by Lionel Bart, won the Tony Award for Best Original Score. Numbers include Food Glorious Food and As Long As He Needs Me.
Oliver! performances continue at the Croswell, 129 E. Maumee St., at 8 p.m. Saturday and 2:30 p.m. Sunday. Additional performances will be at 8 p.m. June 20, at 2:30 and 8 p.m. June 21, and at 2:30 p.m. June 22. Tickets for these performances, ranging from $35 to $15, are available from 517-264-7469, at the box office from 9 a.m. to 5 p.m. Monday through Friday, and at croswell.org.
The Great Big Night on Friday begins with a pre-show event, the Big T'Do, from 5:30 to 7:30 p.m. under a tent behind Adrian City Hall and will include dinner, a bar, and a live auction. The party then moves to the Croswell, where at 8 p.m. Ken Thompson will receive the Lenawee Arts Award. After the show, The Big Finish after-party includes a midnight buffet, desserts, a cash bar, and the chance to meet, and dance with, the cast. Tickets for The Big Night are $125 for all events or $100 for Oliver! and one of the parties. For tickets, call 517-264-7469, stop in at the box office, or go to croswell.org.
Potter in Perrysburg
Way Library in Perrysburg will present a series of Harry Potter films this month, part of its Teen Movie Series at the library, 101 E. Indiana Ave. Harry Potter and the Sorcerer's Stone will be screened at 2 p.m. today; Harry Potter and the Chamber of Secrets at 2 p.m. June 19, and Harry Potter and the Prisoner of Azkaban at 2 p.m. June 26. Additional Potter films will be screened in July. There is no charge, but registration is required at waylibrary.org or by calling 419-874-3135, ext. 116.
Summer camps
Registration continues for Rep Ed, the Toledo Repertoire Theatre's summer camps, which begin Monday at the University of Toledo Department of Theatre in the Center for Performing Arts on the UT campus. Performers ages 7 to 16 will learn basic dance, music, and acting skills.
Three weekly musical performance sessions will be offered at $100 for each week: June 16-20, "When the West was Fun;" June 23-27, "Road Trip!," and Aug. 4-8: "A Magical World." Sessions run from 9 a.m. to 3 p.m.
Registration and emergency contact forms are at toledorep.org under the "Rep Ed" tab. Completed registration forms should be mailed to the Toledo Rep, 16 Tenth Street, Toledo, OH 43604, or faxed to 419-725-1930.
Emergency contact forms may be filled out and brought to the first class. Flip flops, clogs, and hard shoes are not permitted. Students should bring a snack, lunch, drink, folder, blank CD, and pencil to classes.
For more information, call Eileen Eddy or Kathy McGovern at 419-243-9277, ext. 4, or go to toledorep.org.
Send theater items two weeks ahead of the event to Sue Brickey at sbrickey@theblade.com.
Guidelines: Please keep your comments smart and civil. Don't attack other readers personally, and keep your language decent. Comments that violate these standards, or our privacy statement or visitor's agreement, are subject to being removed and commenters are subject to being banned. To post comments, you must be a registered user on toledoblade.com. To find out more, please visit the FAQ.