41.88415
-87.63241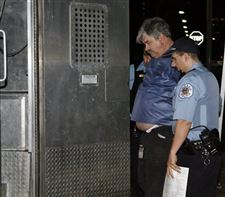 Donald Wells of Metamora, Mich., identified by hospital spokesman Sean Howard as the driver of a truck that was involved in a rush hour accident. is taken into police custody on Friday in Chicago. The 64-year-old truck driver has been cited for negligent driving after ramming his semitrailer into a Chicago Transit Authority train station. (ASSOCIATED PRESS) <br> <img src=http://www.toledoblade.com/graphics/icons/video.gif> <b><font color=red>AP VIDEO</b></font color=red>: <a href=" http://video.ap.org/vws/search/aspx/ap.aspx?t=s1179980883147&p=ENAPus_ENAPus&g=0428dvs_il_truck_accident&f=OHTOL"target="_blank "><b>Driver who slammed into train station cited</b></a>
Nam Y. Huh / AP Enlarge
CHICAGO A 51-year-old truck driver from Michigan has been cited for negligent driving after ramming his semitrailer into a Chicago Transit Authority train station.
Chicago police say Donald Wells of Metamora, Michigan, received the traffic ticket Sunday. No court date was immediately available.
Police say their investigation of the Friday evening accident is ongoing, and Wells could still face criminal charges.
Wells was briefly hospitalized after his truck careened off an expressway. After his release, he was led away by police in handcuffs.
Two pedestrians were killed and 21 others were injured. Most have been released, but three remained hospitalized at Mount Sinai Hospital on Sunday.
Guidelines: Please keep your comments smart and civil. Don't attack other readers personally, and keep your language decent. Comments that violate these standards, or our privacy statement or visitor's agreement, are subject to being removed and commenters are subject to being banned. To post comments, you must be a registered user on toledoblade.com. To find out more, please visit the FAQ.