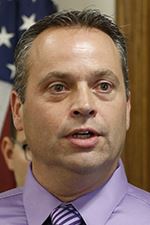 Wagner
THE BLADE/DAVE ZAPOTOSKY
Enlarge | Buy This Image
The president of the Toledo Police Patrolman's Association said on Saturday that he still doesn't buy what Mayor Mike Bell is selling regarding the 2010 budget crisis.
In short, Dan Wagner said he doesn't really believe there was a $48 million deficit in 2010 that required his and other city labor unions to take wage and benefit cuts as dictated by Mayor Bell then.
Mayor Bell has said repeatedly that he faced a $48 million deficit when he took office in January, 2010, thanks to more than $8 million in red ink left over from 2009 and another $40 million in overestimated and nonexistent revenue proposed in the 2010 budget that former Mayor Carty Finkbeiner left him.
D. Michael Collins, a city councilman and mayoral challenger this year has repeatedly contested Mayor Bell's number, claiming that he and his staff are grossly exaggerating the deficit he had to deal with in 2010 and that he is taking too much credit for putting the city's financial house in order.
Mr. Wagner, president of the TPPA, which is one of many unions that have endorsed Mr. Collins, said the debate is a matter of semantics.
"Obviously, we understood there was a carryover deficit," Mr. Wagner said. "When we sat down with Bell, when he asked us for a figure [in concessions], it was consistent with about a $9 million deficit."
Mayor Bell, a former unionized city firefighter, was not able to convince city labor unions in 2010 —except his former union, Local 92 Firefighters — to agree to wage and benefit concessions to help him balance the budget and avoid police and fire layoffs.
Then, as now, city labor leaders wanted to argue there wasn't the deficit Mayor Bell and city finance officials claimed.
They refused to agree to the concessions Mr. Bell was seeking, so he convinced a majority of city council, but not Councilman Collins, to vote to force the concessions on the unions.
Mr. Wagner, like Mr. Collins, said Mr. Bell is unfairly portraying the size of the 2010 deficit to make himself look better.
"At that point in time, there were things that were being budgeted that should not have been," Mr. Wagner said. "There should have been across-the-board reductions and when that happens, you have to restructure the budget so you are not spending more than you are taking in."
Mr. Wagner added: "Everyone understands there was a deficit. It's a matter of semantics, what side of the argument you are on. If you believe a structural deficit is a true deficit, then you believe Bell."
Mr. Wagner weighed in on the Bell-Collins debate over how large the 2010 city deficit was by posting a comment at the end of a story about the dispute posted on Friday on toledoblade.com.
"It would be like saying I plan on buying a new house at 300K and a new car at 25K and paying with cash when you only bring in 50k. You don't spend what you don't have. Simple as that. You didn't resolve a 275K deficit."
Mr. Wagner's math doesn't add up as a comparison to the city's financial problems in 2010.
A review by The Blade of city finance records from 2010 confirm the mayor's version of events — he was facing a $48 million deficit his first year in office.
Gary Martin, president of the Toledo Fire Chiefs Association, the only union that has endorsed that mayor, said he took Mr. Bell "at his word" regarding the 2010 budget crisis.
"Whether it was $10 million, $20 million, or $40 million, the man and his team led us out," Mr. Martin said. "I understand the other unions are backing Collins, but why are they bringing this up four years later when no one said anything at the time?"
Mayor Bell and his team said that was the problem. The 2010 proposed budget submitted in November, 2009, by then Mayor Carty Finkbeiner had predicted the city would be $30 million out of balance without council approval of several politically-charged issues. Among them was a hefty increase to the city's monthly trash fee.
The red ink Mr. Bell faced when he walked into the mayor's office in January, 2010, was an immediate deficit of $8.6 million left over from 2009, the last year of Mr. Finkbeiner's third term as mayor.
Mr. Bell also inherited a 2010 budget submitted by the Finkbeiner administration that included $30.24 million in nonexistent revenue and an additional $8.75 million in overstated revenue. The three numbers add up to $47.59 million, rounded up to $48 million.
Mayor Bell said he was pleased that a review by The Blade verified what he has said all along about 2010.
Contact Ignazio Messina at: imessina@theblade.com or 419-724-6171.
Guidelines: Please keep your comments smart and civil. Don't attack other readers personally, and keep your language decent. Comments that violate these standards, or our privacy statement or visitor's agreement, are subject to being removed and commenters are subject to being banned. To post comments, you must be a registered user on toledoblade.com. To find out more, please visit the FAQ.