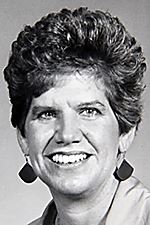 Glanz
BOWLING GREEN — The death of a 66-year-old retired college professor under suspicious circumstances nearly eight months ago has been ruled a homicide by the Wood County coroner.
Dawn Glanz, who taught art history at Bowling Green State University, died of sharp-force injury to the scalp, said Dr. Douglas W. Hess, the county coroner.
RELATED CONTENT: 2013 Blade Homicide report
Although no one has been charged with causing her death, investigators last week obtained a search warrant in Lucas County Common Pleas Court to obtain DNA from Ms. Glanz's husband, Robert A. Brown, said Jerome Phillips, Mr. Brown's attorney.
Mr. Phillips said his client complied with the court order and provided the sample. He said the affidavit for the search warrant was sealed after the judge granted the request for the search warrant.
Maj. Tony Hetrick, of the Bowling Green Police Department, said the homicide remains under investigation and has been active since Ms. Glanz died on May 9 in her home on Kensington Boulevard.
"We are looking at some people, but I really can't release any names. No one has been charged," he said.
Ms. Glanz was Bowling Green's the first homicide victim in 2013.
The estate of Ms. Glanz has been the subject of a lawsuit in U.S. District Court in Toledo since June when her sister, Gail Lincoln, asked for a temporary restraining order to stop Mr. Brown from going forward with a sale of her belongings.
Ms. Lincoln, of Ketchum, Idaho, said she received misleading information from Mr. Brown, including the circumstances of her death and that she had been cremated, according to her sworn statement in the complaint.
U.S. District Judge James Carr on June 21 issued an order barring Mr. Brown from holding the sale or disposing of any of the assets of his late wife pending a court order.
"We are saddened but relieved to have finally gotten the results. Once we have a chance to confer and look at the autopsy report and get a better understanding of where the police investigation is going we will take the appropriate legal action," said Richard Kerger, a Toledo lawyer who represents Ms. Lincoln.
Mr. Brown, 68, and Ms. Glanz were married in 2001 in Wood County.
According to the obituary published in The Blade, Mr. Brown said his wife had been dealing with health problems, but her death was "very sudden and unexpected."
Mr. Phillips had said Mr. Brown went to the house and found his wife unconscious on May 9 and there was blood in the bathroom. He said Ms. Glanz had some medical issues.
He said Mr. Brown called police and officers came to the home to investigate.
Ms. Glanz retired in 2003 from BGSU as an associate professor in the school of art and was named to the emeritus faculty. Her specialties included American art of the 19th and 20th centuries, art of western and northern Europe, and modern art.
She also served in the faculty senate.
— Mark Reiter
Guidelines: Please keep your comments smart and civil. Don't attack other readers personally, and keep your language decent. Comments that violate these standards, or our privacy statement or visitor's agreement, are subject to being removed and commenters are subject to being banned. To post comments, you must be a registered user on toledoblade.com. To find out more, please visit the FAQ.