UPDATE: Highway Patrol identifies victims of Wednesday's Ohio Turnpike crashes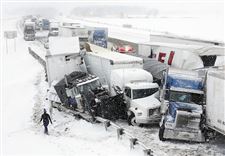 Dozens of vehicles were involved in this winter's deadliest traffic crash, which killed three people and shut down the Ohio Turnpike for hours starting about 1:05 p.m. in eastern Sandusky County.
THE BLADE/JEREMY WADSWORTH
Enlarge | Buy This Image
VICKERY, Ohio — The latest heavy snow to pound northwest Ohio and southeast Michigan may not have been the season's biggest storm, but it led to the deadliest weather-related traffic crash so far this winter.
Three people were killed and an Ohio Highway Patrol trooper was seriously injured when dozens of cars and trucks piled up on the Ohio Turnpike's eastbound lanes in eastern Sandusky County on Wednesday during the storm.
That chain-reaction crash, which began with a collision about 1:05 p.m., and collisions on the westbound side nearby closed the turnpike in both directions for hours.
Details about those killed or how the pileup occurred were not immediately available, nor was any count of other travelers who may have been injured in the crashes.
RELATED ARTICLE: Ohio forgives 4 more school days
PHOTO GALLERY: Click here for photos of Wednesday's snow storm
CLOSINGS AND DELAYS: Click here
VIDEO: Sandusky Register footage by Shawn Foucher
The highway patrol identified the injured trooper as Andrew B. Clouser, 29, who is assigned to the Milan post and has been with the patrol for 18 months. The patrol said he was in "stable but serious condition" after being transferred to Mercy St. Vincent Medical Center in Toledo with injuries not considered life-threatening.
Mr. Clouser reportedly was pinned between two vehicles involved in the pileup, in which troopers estimated there were between 40 and 50 vehicles.
By early evening, crews were beginning to move other eastbound motorists stranded by the pileup off the turnpike by turning them around and sending them back to the State Rt. 53 interchange near Fremont. Wreckage from numerous tractor-trailers involved in the pileup was likely to take many hours to clear.
The collision occurred at a time when most counties in the Toledo area were under Level 3 travel bans because of the heavy, blowing snow, but authorities historically have not attempted to enforce such bans on the turnpike or area freeways.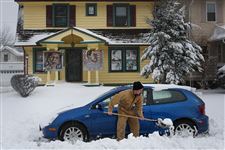 Peter Beck of West Toledo digs his car out of the snow on the street in front of his neighbors' house. Seven inches of snow was recorded at Toledo Express Airport.
THE BLADE/KATIE RAUSCH
Enlarge | Buy This Image
Other area highways closed because of traffic crashes included State Rt. 2, which was blocked for several hours by multiple collisions in a construction zone east of Port Clinton, and I-75 near Luna Pier, where an accident blocked the southbound lanes for about 90 minutes in the early afternoon.
By 5 p.m., several hours after most snow in the region had ended, the National Weather Service reported 7 inches had fallen at Toledo Express Airport. That boosted this winter's snowfall total there, already highest on record for Toledo, to 84.8 inches, 11.7 inches more than the old mark from 1977-78.
The new snow was preceded by a brief period of rain that left an icy slick between the snow on many area roadways, but with the Level 3 emergency in effect from 7 a.m. until 5 p.m., only emergency or essential travelers were supposed to be out on local streets and roads. Schools and businesses throughout the region closed for yet another day.
Even after the snow stopped, many roads remained tricky, with freeway ramps among the most hazardous because of their relatively poor condition compared with well-cleared main lanes. Snowpack and drifting was a considerable problem in rural areas.
Many counties that relaxed their emergency levels in the late afternoon remained at Level 2, under which people were urged to avoid unnecessary travel. Authorities said rural east-west roads were particularly hazardous because of snow drifts. The Lucas County Sheriff's Office said it will downgrade the county to a Level 1 snow emergency as of 8 a.m. today.
Next up for the Toledo area was a fresh shot of cold air that was expected to drop temperatures to near zero near the city and possibly below that mark, especially in rural areas. The Toledo record for today, 4 degrees set in 1948, appeared likely to fall, which would be Toledo's eighth record low of this year including three ties.
High temperatures were not expected to get out of the lower 20s today, but a warmer return was forecast for Friday.
The National Weather Service issued a flood warning for minor flooding on the Maumee River in the Grand Rapids and Waterville areas because of melted water runoff during warmer weather earlier this week. It expected the rivers to recede by Friday morning unless ice jams form.
Garbage collection was canceled Wednesday in Toledo, and the city scrubbed a street-repair forum scheduled Wednesday night at the East Toledo Family Center. Trash pickup will occur one day late for the rest of the week, while the forum will be rescheduled on a date to be determined.
The Level 3 emergency left Toledo streets mostly deserted early Wednesday afternoon as the snowstorm wound down.
Among those braving the wind-whipped snow were a bundled-up figure trudging along a snow-covered sidewalk toward a downtown bus stop, where a dozen more waited for rides; a few savoring hot drinks at a West Toledo coffee shop, and snow shovelers in West Toledo and Ottawa Hills.
Snowmobile drivers raced up and down side streets near Monroe Street and North Detroit Avenue.
"The snow doesn't bother me," Arthur Harris, 68, of North Toledo said on his way to the Toledo Area Regional Transit Authority's Government station on Jackson Street. "I could be riding a bicycle right now if I were younger."
The retired street-maintenance worker said that's what he had done during the Blizzard of 1978.
"Now I am older, and I am walking," Mr. Harris said, ignoring an icicle dangling from his nose. "I've got to catch a bus. I need to get to the Goodwill store on Manhattan Boulevard to buy a coffee pot, because mine broke this morning."
Rudy Staples, 50, of Toledo also waited for a bus and said he now considered the current winter worse than the one 36 years ago that featured the city's most famous blizzard.
"It's been rough ... it's been rough," Mr. Staples, a factory worker, said of the weather. "I remember the Blizzard of 1978. But this has it beat."
Steve Atkinson, TARTA's marketing director, said bus service continues during all snow emergencies as an "essential service," although some bus routes were affected by difficult street conditions.
William Kidston, 27, and a female companion who declined to be named, already had their caffeine cravings satisfied courtesy of the Biggby Coffee shop near Central Avenue and Secor Road.
"We are just hanging and having a good time," the West Toledo massage therapist said as the couple re-entered their car.
"In the snowstorm, you can get your car towed, and we're taking the risk just to get a cup of Biggby's coffee."
The storm was cause for a school snow day even in Ottawa Hills, where such cancellations are relatively rare.
Unending record
On Wednesday, 7 inches of snow at Toledo Express Airport stretched the already record-breaking snowfall from the winter of 2013-14:
Place Years Amount (inches)
1. 2013-14: 84.8
2. 1977-78: 73.1
3. 1981-82: 68.2
4. 1895-96: 63.7
5. 1966-67: 60.6
Source: National Weather Service.
"We enjoy them when we get them, 'cause we don't get many," said Marlon Shockley, Jr., an Ottawa Hills High School senior who counted up five no-school days while shoveling his family's driveway in the 3300 block of Grimsby Place.
Most other area districts have had more than a dozen "calamity days" this winter.
"I've been shoveling for about an hour now after a city snowplow pushed snow into our driveway," said young Shockley, 17. "When I am done, I am going to go inside and have some hot chocolate."
Among those stuck for hours in stalled traffic on the turnpike Wednesday afternoon was Alfredo Hinojosa, who was returning to Detroit from Fayetteville, Pa., with his wife, Olivia and their Yorkshire terrier after visiting a daughter and grandchildren.
Mr. Hinojosa said he had heard a storm was coming, but expected the heaviest snow to hit farther north, so they set out around 8:30 a.m., only to watch traffic slowly grind to a halt around 2:30 p.m. on the westbound lanes approaching a crash scene several miles east of the State Rt. 4 interchange in Erie County.
"I thought it was just a minor accident because of the snow," he recounted, but after waiting for several hours he started scouring the Internet on a mobile device and learned of a major crash several miles ahead.
While he conserved gasoline by running his engine only intermittently to maintain heat and listen to the radio, a car directly in front of his ran out of gas around 8 p.m., Mr. Hinojosa said. Other travelers were able to get some fuel for that motorist, he said.
Two westbound lanes reopened in Erie County about 8:44 p.m., according to the state patrol, but troopers could provide no estimate later Wednesday night of when the eastbound lanes near Milepost 101, where wrecked semis were piled against each other like freight cars in a train derailment, might be cleared.
Staff writers Mike Sigov, Taylor Dungjen, and Marlene Harris-Taylor contributed to this report.
Contact David Patch at: dpatch@theblade.com or 419-724-6094.
Guidelines: Please keep your comments smart and civil. Don't attack other readers personally, and keep your language decent. Comments that violate these standards, or our privacy statement or visitor's agreement, are subject to being removed and commenters are subject to being banned. To post comments, you must be a registered user on toledoblade.com. To find out more, please visit the FAQ.