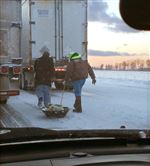 Two men pull a sled containing meals and water to stranded motorists, as seen through the windshield the vehicle of Maureen Dixon of Cleveland. She was stuck for seven hours in the traffic jam caused by the pileup on the Ohio Turnpike on Wednesday.
MAUREEN DIXON Enlarge
The Ohio Highway Patrol on Friday tried to piece together statements from scores of people involved in Ohio Turnpike pileups that killed three and injured a state trooper during a snowstorm Wednesday, while crews cleaned up debris and disabled vehicles strewn along the crash site.
Authorities sorted through up to 100 statements, examined damaged vehicles, and worked to track down injured people.
The magnitude of the crashes — which trapped or damaged nearly 90 vehicles in eastbound pileups near Vickery, a mile east of the Commodore Perry/​Erie Islands service plazas — presented a challenge as investigators tried to figure out how the crashes began.
A report won't be ready until next week but Lt. Brett Gockstetter, commander of the patrol's Milan post, said road conditions and limited visibility were factors.
"The rest of it is going to be driver error — people going too fast for the conditions," Lieutenant Gockstetter said.
Which vehicles initiated the crashes remained unknown.
"We want to make sure that we comb through every possible piece of evidence and information," Lieutenant Gockstetter said.
Crews cleaned up wreckage and towed stranded vehicles away, while picking up spilled freight such as drywall and potatoes, said Adam Greenslade, turnpike commission spokesman.
Madison Motor Service Inc., a Fremont towing company that contracted to handle that stretch of the turnpike, worked to tow away tractor-trailers and other vehicles.
"If you were to pull into our lot right now, it looks like a truck stop," said Tony Seitz, a company driver whose father, Rick, owns Madison.
Most passenger cars involved in the crash were towed away Wednesday night, Mr. Seitz said, noting that one wrecked car in which a traveler died had been crushed from behind, with its rear end pushed into the back-seat area and the rear wheels lifted off the road.
Killed in the crashes in three vehicles were Hannah Matheny, 20, of Parma, Ohio; Grzegorz Piwowarczyk, 42, of Palatine, Ill., and Janice Robb, 66, of Schererville, Ind.
Highway patrol Trooper Andrew Clouser, who was investigating an early collision and became pinned between two vehicles as the pileup continued, remained in critical condition Friday at Mercy St. Vincent Medical Center in Toledo.
Fourteen people went to ProMedica Memorial Hospital in Fremont; 10 were transferred to ProMedica Toledo Hospital.
The names and conditions were only available for some patients.
Those who authorities said were initially taken to the Fremont hospital and were believed to be involved in the turnpike crashes included Angel Schmitt, 41, of Arizona, who was listed in fair condition late Friday at Toledo Hospital.
Mary Kelsey, 19, and Margaret Kelsey, 10, both of South Bend, Ind., were listed in fair condition at Toledo Hospital.
Beatrice Kelsey, 4, and Thomas Kelsey, 11, also of South Bend, were treated and released.
Sean Kelsey, 43, of South Bend, was taken to the Fremont hospital after the collision.
Dwayne Robb, who an official said was traveling with his wife and son, was discharged from Toledo Hospital. John Robb, 31, was listed in critical condition at Toledo Hospital.
Earlier Wednesday afternoon, about nine commercial vehicles and several cars piled up in the turnpike's westbound lanes near Milepost 113 in Erie County during the same snowstorm.
Among those stuck in westbound traffic was Maureen Dixon of Cleveland, who with a companion was headed to Detroit for a concert but only crept forward about 100 feet in seven hours.
During those long hours, Ms. Dixon formed bonds with other stranded motorists on the social media site Twitter, all the while witnessing acts of kindness by strangers.
Two people pulling a sled knocked on her car window to ask whether she needed any provisions.
"He said that he and his wife had cooked some meals and brought some food, and they were passing it out to anybody that was on the turnpike," Ms. Dixon said.
Contact Vanessa McCray at: vmccray@theblade.com or 419-724-6065, or on Twitter @vanmccray.
Guidelines: Please keep your comments smart and civil. Don't attack other readers personally, and keep your language decent. Comments that violate these standards, or our privacy statement or visitor's agreement, are subject to being removed and commenters are subject to being banned. To post comments, you must be a registered user on toledoblade.com. To find out more, please visit the FAQ.