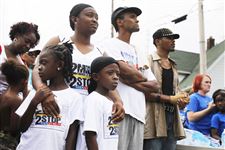 Aaliyah Spearman, 7, left, and her brother Larry Spearman III, 8, right, are held by their mother, Whitney Mack, center, during the annual anti-gang violence march in Toledo. Hundreds came to the event Sunday.
THE BLADE/ISAAC HALE
Enlarge | Buy This Image
Hundreds came together in solidarity to end gang violence in Toledo.
They gathered with pompoms and pets, with handmade T-shirts and posters in memory of fallen friends.
Though large in size, the group chanted as one: "Two miles to march to stop gang violence!"
They assembled for the fourth annual 2 Mile March & Rally 2 Stop Gang Violence event, which began at 4 p.m. Sunday at Detroit and Central avenues. Speakers there, including elected officials and community leaders, shared words of anger, inspiration, and hope.
"Y'all are here for a reason," said the Rev. Chris McBrayer, 27, one of the event's organizers, who is the youth minister at the Glass City Church of Christ. "I hope you are here for your children. I hope you are here for someone who has lost their lives."
PHOTO GALLERY: Rally 2 Stop Gun Violence
Day'Shawn Jones, 18, said he spoke "on behalf of the youth." The president of Young Men of Excellence, a student leadership group, Mr. Jones encouraged black adolescents to look beyond media stereotypes — like "gangbanger" and "pimp" — to make something of their lives.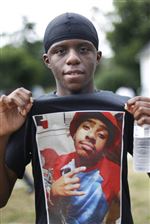 Cyrus Nimene, 18, holds out his T-shirt with an image of his friend Tyler McIntoush, 16, on it during the annual anti-gang violence march in Toledo.
The Blade/Isaac Hale
Enlarge | Buy This Image
"We are doctors, we are CEOs, we are lawyers, we are presidents," said Mr. Jones in a speech that left him crumpling his notes up with passion. "You are not a statistic, you are a standout."
After the rally, the marchers headed down Detroit Avenue.
They walked past churches and carryouts, past vacant homes and crowded front porches. They drew honks of approval from vehicles and high-fives from passers-by, a few of whom then joined the march themselves.
And when gang members threw up signs at one intersection along the route, the marchers just got louder.
"Stop the violence! No more silence!" cried one group of cheerleaders.
Another chant — "I believe that we will win," borrowed from the U.S. national soccer team — readily symbolized the fight against bloodshed.
Toledo has seen 15 homicides since Jan. 1. The most recent victim, Tyler McIntoush, was just 16 years old when he was killed early Thursday morning.
"I want justice for Tyler. To stop the violence," said marcher Larissa Stewart, 36, whose daughters were among the McIntoush youth's best friends. A memorial vigil for the slain teen is scheduled for 8 p.m. today at Maritime Academy, where he would have started his junior year this fall.
Keona Knowles, 26, marched for her 2-year-old son, whom she pushed in a stroller.
"Our youth are falling victim every day, and getting younger," Ms. Knowles said. "I'm tired, and that's why I came out."
Contact Marissa Medansky at: mmedansky@theblade.com or 419-724-6368.
Guidelines: Please keep your comments smart and civil. Don't attack other readers personally, and keep your language decent. Comments that violate these standards, or our privacy statement or visitor's agreement, are subject to being removed and commenters are subject to being banned. To post comments, you must be a registered user on toledoblade.com. To find out more, please visit the FAQ.