Toledo Police Chief George Kral at the press conference. Behind him is a photo of Reginald Marshall.
The Blade/Jetta Fraser
Enlarge | Buy This Image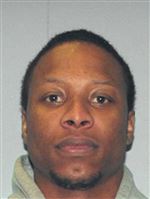 Marshall
Updated Friday, Aug. 14, 2015 at 5:46 p.m.: Clarification: An earlier spelling of the Toledo Police K-9's name provided by the Wapakoneta training kennel, Von der Haus Gill German Shepherds, and the Toledo Police Department's original social media posts misspelled the dog's name.The K-9's name is Falko.
Toledo Police today identified the man killed in a police standoff Wednesday evening as Reginald Marshall, 27, of Cleveland. He also had shot and killed a police K-9.
Toledo Police Chief George Kral identified Marshall, who was wanted on murder charges, but did not identify the passenger, who police say is a witness and will not be charged.
Marshall was wanted by U.S. Marshals and the Cleveland Police Department for the May 21 shooting death of a 20-year-old man.
Toledo Police K-9 Falko. Falko was shot and killed trying to apprehend a suspect Wednesday.
TOLEDO POLICE DEPARTMENT Enlarge
About 5:30 p.m. Wednesday, Toledo officers responded to a brief chase of two men over a suspected stolen vehicle at Varland Avenue and Woodville Road. Marshall and a passenger then fled the car and ran into the vacant Earl Street home and were followed by police. Marshall shot a police dog, and a police officer, Officer Simon Urbina, fired back and struck Marshall, according to police.
Chief Kral also gave more information about Falko, the police dog that was killed. Falko joined the Toledo Police Department in August, 2014.
The dog was not wearing a protective vest when it was sent into the abandoned house's crawlspace where the suspect was hiding, but Chief Kral said that due to the nature of his injuries, a vest would not have prevented his death. The dog had not yet been fitted for a vest, a process that happens when they are completely grown.
Chief Kral thanked the community for their support following the dog's death, saying "overwhelming doesn't even cut it."
RELATED ARTICLE: Police K-9 killed along with suspect after chase
Guidelines: Please keep your comments smart and civil. Don't attack other readers personally, and keep your language decent. Comments that violate these standards, or our privacy statement or visitor's agreement, are subject to being removed and commenters are subject to being banned. To post comments, you must be a registered user on toledoblade.com. To find out more, please visit the FAQ.