The Toledo police officer who fired his gun at a Dollar General robbery suspect Saturday was identified as Officer Jonathan Chio, a three-year patrol officer, according to a department news release.
The suspect, identified as Dale Slocum, 56, of Maumee, is now dead, as is Tommy Thacker, 53, the Maumee man who intervened during the robbery before being fatally stabbed.
Police were called just after 10 p.m. Saturday to the Dollar General in the 4400 block of Heatherdowns Boulevard after one of the dollar store employees ran to the In & Out Mart, 2400 block of Key Street, and told a clerk there to call 911.
The clerk told a dispatcher the robber had a gun, according to a 911 recording released Monday.
Police believe Slocum entered the Dollar General demanding money and brandishing a firearm, later determined to be a replica gun. Mr. Thacker and his partner of 13 years, Brooke Clay, 51, were shopping in the store at the time of the robbery.
RELATED: 2 dead after robbery at Dollar General | Names released in Dollar General shooting, stabbing
Police said Mr. Thacker "heroically intervened in the robbery, but was stabbed as he held the suspect down."
Mr. Thacker, a Marine Corps veteran involved in a nonprofit organization known as Returning American Warriors, was only trying to protect others inside the store, said Ms. Clay.
Mr. Thacker was pronounced dead on scene, according to police. He was stabbed multiple times but died of a single stab wound to his chest, Dr. James Patrick, Lucas County coroner, said.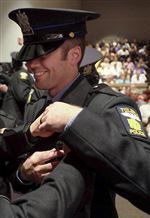 Officer Jonathan Chio gets help pinning on his badge during the 62nd Toledo Police Academy Graduation in August 2015 at the Owens Community College Center for Fine and Performing Arts in Perrysburg.
THE BLADE
Enlarge | Buy This Image
Officer Chio, who was on solo patrol nearby, was first to arrive at the store, and witnesses directed the officer to where the suspect was last seen. Upon confronting the suspect, Officer Chio fired his department-issued handgun, police said.
Slocum was transported to the University of Toledo Medical Center, the former Medical College of Ohio hospital, where he died of a single gunshot wound to the chest. He also had sharp force injuries to his arms and cheek, Dr. Patrick said.
Ms. Clay was treated for stab wounds, though she is expected to recover.
Slocum had an extensive criminal history of robbery, theft, breaking and entering, receiving stolen property, and drug-related charges.
He spent about 10 years in prison for 2003 offenses of robbery in Lucas County and kidnapping in Wood County, though he was still under post release control, according to a spokesman for the Ohio Department of Rehabilitation and Corrections. For the robbery offense, he was ordered to pay $636 in restitution to Kroger.
Saturday's incident is still under investigation.
Officer Chio was placed on paid administrative leave, which is standard department procedure.
Staff writer Kate Snyder contributed.
Contact Allison Dunn at adunn@theblade.com, 419-724-6506 or on Twitter @AllisonDBlade.
Guidelines: Please keep your comments smart and civil. Don't attack other readers personally, and keep your language decent. Comments that violate these standards, or our privacy statement or visitor's agreement, are subject to being removed and commenters are subject to being banned. To post comments, you must be a registered user on toledoblade.com. To find out more, please visit the FAQ.