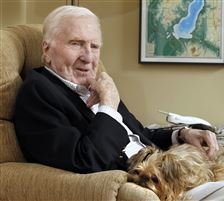 John 'Jack' Gilligan, who turned 90 March 22, lives in Cincinnati's Clifton neighborhood. He served as Ohio governor from 1971 to 1975. His signature achievement was the enactment of the state's graduated income tax.
The Blade/Dave Zapotosky
Enlarge | Buy This Image
'Without [the income tax], Ohio would be a third-rate state, and thankfully we are not,' former Gov. Ted Strickland says.
ASSOCIATED PRESS Enlarge
'I'm not there. I don't know what the options are. I'm not going to … Monday-morning quarterback,' ex-Gov. George Voinovich says.
COLUMBUS DISPATCH Enlarge
CINCINNATI — Scrimping on education and technological research — and falling for the "sloganeering" that he said now dominates Ohio politics — is the wrong path for the state of Ohio, according to one of its oldest retired politicians.

Democrat John "Jack" Gilligan, Ohio's 62nd governor, who served from 1971 to 1975, has always been willing to express his opinion, at times to his political detriment.

But the opinions of the father of Ohio's graduated income tax may never be as relevant as they are right now with so much of the landmark legislation of his era under assault.

"Here we are 40 years later and the Republican Party, having achieved to a degree some foothold in the state government, their big thing is, 'We've got to get rid of taxes,'" Mr. Gilligan said in an interview with The Blade in his comfortable stucco-covered home in Cincinnati two weeks ago. "They come up a little short when asked to explain how you're going to run these services without any taxes. Well, then they skip to the next subject," he said.

Mr. Gilligan, who turned 90 on March 22, remains cheerful and feisty, though he relies on a walker to get around, 36 years after voters rejected his 1974 re-election bid.

The Republican General Assembly last month voted for, and Gov. John Kasich signed a bill to, roll back the 1983 law broadening public employee union bargaining rights in Ohio.

Public employee unions and their allies in the Democratic Party have staged almost weekly protest rallies to vent their outrage and are launching a drive to put a repeal referendum on the Nov. 8 ballot.

Possibly the next shoe to drop is the Ohio income tax, which was enacted in 1971 by Mr. Gilligan.

Mr. Gilligan who earned his living in government and academia rather than business, spoke disapprovingly of Republican backing for movements to undercut unions, such as Senate Bill 5.

"What began to happen 30 years ago was some business people, taking the short view of things, wanting to reduce their own costs, decided that one of the ways to do it was to get rid of trade unions. They never figured out that the money that flowed to those union workers and others who benefited immediately flowed into the economy and affected everybody's life," Mr. Gilligan said.

Now that so much industry has moved to right-to-work states and to foreign countries, he said the United States should compete with its strengths.

"We do know some of the things we ought to be doing — bolstering the educational program throughout the state from every level — primary through graduate. That's something no other nation can compete with if we decide to take full advantage of what we've built in the fields of education and technological research. There's no way they're going to be able to catch up to us," he said.

Mr. Gilligan was hesitant to prescribe an alternative to Mr. Kasich's controversial 2012-13 budget that eliminates a $7.7 billion, two-year deficit by cutting aid to schools and local government and outsourcing development, prisons, and alcohol sales.

But he would have been open to a tax increase for upper-income Ohioans and to delay for another year a scheduled cut in the state's income tax, two moves Mr. Kasich rejected.

Mr. Gilligan also would not repeal the estate tax, which he said applies to a small fraction of Ohioans and which he said would not include himself. "It's just part of the sloganeering," he said.

An Ohio House committee has voted to approve a bill to eliminate the state's tax on estates, but Mr. Kasich has not endorsed the measure and did not include it in his 2012-2013 budget.

Complicated problems
"One of the big problems we have in this country today, and it applies to other advanced democracies, is all these problems are complicated," Mr. Gilligan said. "I don't think the average American taxpayer has any notion as to how the government functions, what it costs, and what it takes to improve their performance. I think too much of the political talk in the country is baby talk."

The former governor remains proud of his signature achievement, enacting the state income tax, which now accounts for about 40 percent of the state's budget and which supports state and county services and schools.

"Ohio was in bad shape. The schools were virtually bankrupt. Our social services at the time were disgraceful. What were called the mental health facilities were really just barbarous," Mr. Gilligan said of the state in 1970. "The common problem across the state, whether it was local communities or statewide operations or the education system, they were all the same — they had no money."

"One of the things that I decided early on was that we had to very substantially reorganize the revenue resources of the state. And essentially there was only one vehicle that would do what the state needed — and that came down to the income tax, which of course to many people was just poison, but I felt that we were never going to make Ohio a state worth living in unless and until we got the income tax," Mr. Gilligan said.

He doesn't think opposition to the income tax was why he lost the 1974 re-election campaign to Republican James Rhodes. "It was my own glowing personality that blew it away, seriously," Mr. Gilligan joked.

In fact, while beloved by Democrats, Mr. Gilligan was not considered one of the world's most adroit politicians.

At one point, he declared he had seen a UFO. Now he says he thought he had but probably didn't.

He was also famous for saying in 1972 at the Ohio State Fair, in response to a reporter who asked whether he planned to shear a sheep, "Nope, I shear taxpayers, not sheep."

Mr. Gilligan lost by fewer than 12,000 votes.

The anti-tax mood
He said there have been several attempts by Republicans to eliminate the graduated income tax on personal and corporate income, but the current anti-tax mood in the country is the strongest yet.

"It's because of the kinds of things that are happening within the Republican Party, including the Tea Party influence," Mr. Gilligan said. He's not sure the GOP will be able to accommodate the demands of the Tea Party contingent.

"The Tea Party people expect them to produce all these proposals and they can't do," Mr. Gilligan said.

Mr. Kasich said during last year's campaign that he would like to repeal the income tax, but he has offered no timeline to do so.

Ohio's graduated income tax starts at less than 1 percent and rises to 6.24 percent on annual income above $201,800. This year's tax rate will be reduced by 4.2 percent, the fifth year of a five-year, 21 percent cut that started in 2005.

Mr. Kasich floated the idea of income tax repeal in his campaign last year and was quickly attacked by Democrats who called it an irresponsible proposal given that the income tax supplies about 40 percent of the state's tax revenues.

State Rep. John Adams (R., Sidney) last year introduced a bill to repeal the income tax, but it died at the end of the previous legislative session.

A civilized society
Former Gov. Ted Strickland, who lost to Mr. Kasich in November, said the income tax is part of the price Ohio pays for a civilized society.

"Without it, Ohio would be a third-rate state, and thankfully we are not," Mr. Strickland said.

The former governor has remained outspoken and active in Democratic politics and was critical of the budget of the current governor. He would have delayed the $800 million income tax cut at least one more year, given the abrupt end of federal "stimulus" subsidies that helped keep Ohio government services afloat the two previous years. Nor would he repeal the estate tax, 80 percent of which goes to local governments.

Mr. Strickland said important services that the state provides include education, public safety, public parks and natural areas, support for culture, hospitals and health care, and protection of the environment.

"I think some [Republicans] are demonstrating that they don't really care about the services, if the recent behavior of the legislature and the governor is any indication," he said.

"To pretend that we can maintain public services that are essential to our citizens without collective resources through the tax system is just folly," Mr. Strickland said.

Ohio's two living Republican former governors opted not to get into a debate about current Ohio politics.

Former Gov. Bob Taft, who served from 1999 to 2007 and now teaches political science at the University of Dayton, did not respond to The Blade's request for his views on the current state of affairs in Ohio.

George Voinovich, who served from 1991 to 1998 and spent two terms in the U.S. Senate, said he didn't know enough to comment about the state's budget woes.

"You've got to have money to run the government," Mr. Voinovich said. "I'm not there. I don't know what the options are. I'm not going to … Monday-morning quarterback. They'll have to live with what they do, just as Jack [Gilligan] did. He lost the election in 1974 to Rhodes probably because of the income tax, but maybe it was more than that. All I know is they have tough decisions to make and once they make them, they have to live with them. Then they go back to the shareholders every four years and see if they support it."

Mr. Voinovich, Mr. Taft, and the late Mr. Rhodes each served two terms without trying to repeal the income tax.

Mr. Gilligan and Mr. Strickland were both one-term governors, a rarity in Ohio politics. Democratic Gov. Dick Celeste served two terms, from 1983 to 1991.

Now wrapping up his final year as president of Colorado College in Colorado Springs, Colo., Mr. Celeste said he would not venture into a public debate about Ohio politics until at least June. "After June 30th, my life will change, and I am sure I will be more responsive if you have questions," Mr. Celeste said in an e-mail.

A balancing act
Kevin DeWine, chairman of the Ohio Republican Party, said Republicans believe in lower taxes but also "a strong and thick safety net" and "the provision of essential services" to the citizens of Ohio. "There's always going to be an effort to balance those two things," Mr. DeWine said.

He said he wasn't surprised that Mr. Gilligan remains a staunch defender of the income tax.

"You can always count on Democrats to fight for big government. That's what Gilligan did 40 years ago. That's what he's fighting for today, along with Ted Strickland," Mr. DeWine said.

Mr. DeWine said he didn't know Mr. Kasich's plans with regard to addressing the income tax.

"It's not in his first budget, and I don't know what the governor's next budget will look like. We are eliminating those things that influence people's decision to leave the state or not invest in the state. Taxes are one of those. So any opportunity we can have to lower them is a good thing, we think, for the state," he said.

Mr. Adams, the author of last year's unsuccessful income tax repeal, said it's not a dead issue. He said the creation of the income tax in the 1970s and expansion of public employee union rights in the 1980s are the twin reasons for Ohio's economic maladies.

"It was just an easy way out for politicians," Mr. Adams said. "There are states that function very well without an income tax. It can be done."

Rob Nichols, a spokesman for Mr. Kasich, argued that part of the reason for Ohio's social costs is its long-term poor economy, which he blamed on high taxes.

He said Mr. Kasich's budget preserves the income tax cut, which he said will save Ohioans $850 million as part of the two-year budget. And he defended the governor's budget as overcoming an $8 billion deficit left by the former governor while avoiding drastic cuts in programs targeting Ohioans neediest citizens.

Eventually, Mr. Kasich will take up his goal of reducing the state's income tax.

"There must be an effort, if Ohio's ever going to grow again, to reduce taxes and keep them low," Mr. Nichols said. "There are a number of states that do not have a state income tax and those states are doing by and large much better than Ohio."

A party favorite
The father of Ohio's income tax remains a favorite of the Democratic Party.

"Jack Gilligan is fondly remembered. He stuck his neck out, he knew the state needed some dramatic reforms, and got 'em done," said James Ruvolo of Ottawa Hills, a former Ohio Democratic chairman.

Friends have organized a birthday reception for the former governor on Friday at the Renaissance Hotel in Columbus.

A Navy veteran of World War II, Mr. Gilligan was a gunnery officer on the destroyer USS Emmons and later the USS Rodman. After the war, he taught literature at Xavier University in Cincinnati.

His political career started with Cincinnati City Council, where he served from 1953 to 1963. He served one term (1965-67) in Congress from Cincinnati's 1st District, and in 1968 he narrowly lost a race for the U.S. Senate against Republican Bill Saxbe.

After his one term as governor, Mr. Gilligan was administrator of the U.S. Agency for International Development from 1977 to 1979.

From 1979 to 1992, he was a member of the faculty and then director of the Institute for International Peace Studies at the University of Notre Dame, his alma mater. He returned to politics in 1999 to serve on the Cincinnati school board and declined to seek re-election in 2007.

The former governor also happens to be the father of Kathleen Sebelius, secretary of health and human services in the Obama Administration and previously the governor of Kansas. He said he talks with her weekly and encourages her to keep up her fight in support of national health-care reform.

Mr. Gilligan shares a home in Cincinnati's Clifton neighborhood with his wife of 11 years, Susan Fremont, 58, a family practice doctor.

Contract Tom Troy at: tomtroy@theblade.com or 419-724-6058.
Guidelines: Please keep your comments smart and civil. Don't attack other readers personally, and keep your language decent. Comments that violate these standards, or our privacy statement or visitor's agreement, are subject to being removed and commenters are subject to being banned. To post comments, you must be a registered user on toledoblade.com. To find out more, please visit the FAQ.