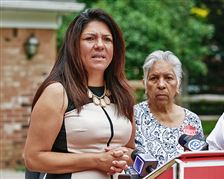 Anita Lopez, Democratic candidate for mayor of Toledo, discusses her personal finances at her south Toledo home, along with her mother, Minerva Lopez.
THE BLADE/DAVE ZAPOTOSKY
Enlarge | Buy This Image
Defending a credit history that shows late payments and more than $260,000 in personal debt, Toledo mayoral candidate Anita Lopez said Monday she borrowed to pay for renovations to move her parents into her house, and contrasted her situation with those of her three main opponents: men who have pensions or trust-fund incomes and no children at home.
"My parents were migrant workers who instilled in me work ethics. I've been honored that, as the Old South End has been deteriorating and my father's health has been deteriorating, I made the decision to move them in and to reconstruct my home so it was handicapped-accessible for my father," Ms. Lopez said, standing in front of her two-story house on Belvedere Drive in South Toledo.
Ms. Lopez, Lucas County auditor since 2007, released her financial details last week after similar releases by her rivals in the Sept. 10 mayoral primary, independent Councilman D. Michael Collins, independent Mayor Mike Bell, and Democratic Councilman Joe McNamara.
RELATED ARTICLE: Auditor Lopez misstates change in homestead tax exemption under new state budget
Of the four, she had the lowest credit score and the highest debt, and she was the only one whose seven-year credit report showed repeated late bill-paying.
Her credit score was 635, according to Equifax credit-reporting companies, using the FICO model that runs from 300 to 850. Using the same credit-reporting model, Mr. McNamara reported a score of 747.
Using the VantageScore credit reporting model that ranges from 501 to 990, Mr. Bell reported a score of 927 and Mr. Collins 916.
Ms. Lopez's credit report said she has up to 13 "open accounts," 11 of which have balances totaling $261,432.
In her 2011 tax return, she reported income of $79,127 from her auditor's salary and $7,000 in alimony for a total of $86,127.
Ms. Lopez is paid more than $94,000 as auditor. She said her tax returns show a lesser amount because her child care and medical expenses are paid pretax.
Ms. Lopez attributed her decision to move her parents, Minerva and Leandro Lopez, who are 73 and 74, in with her because of their physical conditions and safety fears about their old neighborhood.
She said her mother woke up in her former house on Thayer Street to find police inside, responding to a tip about a break-in there.
She said her parents sold the home to a neighboring gas station. Lucas County land records show they were paid $20,000 for the home in 2012.
Ms. Lopez said she had an open loan with Toledo Metro Federal Credit Union for which she owes about $34,060 and has a $831 monthly payment. The credit union paid off what she owed on a 2010 Jeep Commander and rolled that amount into a new loan that now includes the $23,000 spent in 2012 for the home renovations. The car became collateral for the loan, Ms. Lopez said.
'Normal level' of debt
She said her personal debt is not an indication that she would run up the city's debt, but rather shows her as a normal person trying to have a nice home for her two boys, ages 10 and 12, and her parents, and to pay off college tuition debt. Ms. Lopez is divorced.
"I think I've proven I can do more with less, as auditor, as mother, as caring for my parents. It's a normal level of debt. I'm still very credit-worthy," Ms. Lopez said. She also said it demonstrates her compassion.
"I've definitely been more compassionate than most elected officials. When the economy was struggling and citizens were struggling, as auditor I made sure we were not over-taxing citizens, and that ruffled a lot of feathers with many government entities," Ms. Lopez said.
When asked whether she based property valuations on property owners' financial situations or on objective real-estate assessments, she said she issued "fair and equitable values because the market crashed."
She lashed out at her opponents.
"My [credit] score does not relate to how I personally have run the auditor's office or how I would run the mayor's office," Ms. Lopez said. "If it did matter, why is the city of Toledo in the state it's in? Because Mike Bell, Mike Collins, and Joe McNamara all have excellent credit ratings and the city is struggling and they're the leaders of this community.
"Maybe they've taken care of themselves, but I'm not sure they've taken care of the rest of the city," she said.
Ms. Lopez noted that Mr. Bell and Mr. Collins enjoy government pensions, and said Mr. McNamara's disclosures are incomplete.
She said Mr. McNamara should disclose his wife's income and explain how he could afford to lend his unsuccessful 2010 Senate campaign $120,000 on a salary that, in 2011, at least, was $35,375.
She called for an investigation of Mr. McNamara's investments in foreign companies to ensure that none of them is with companies that the city has been wooing in China and India.
Opponents react
Mayor Bell took umbrage with Ms. Lopez's comment about the city struggling.
"I have been listening to her run her chops the last two months and she needs to quit hallucinating, because the city is running very well," Mr. Bell said. "The city came out of a $48 million deficit, we have added police and firefighters, and added 61 lane-miles of road [repairs] this year. ... I would be extremely concerned as a voter of someone who can't manage their own finances. How can you expect someone who can't manage something that belongs to them to manage something that doesn't belong to them?"
The mayor said Ms. Lopez is unfairly portraying herself as a victim.
"She is making $94,000 a year and that is in the upper echelons — more than the average person in Toledo — so using that as an excuse is not going to work," Mr. Bell said. "You just have to learn to manage your money."
Mr. McNamara declined to criticize Ms. Lopez's handling of her personal finances, and said he would be happy to respond to her questions about his own finances if she would agree to a one-on-one debate between the two Democratic candidates, something Ms. Lopez has refused.
He said the income his wife reported in her tax return last year was $46,638. Valerie Moffitt is assistant director of United North community development corporation. And he said life insurance from the 1983 death of his father, then-Lucas County Auditor Dan McNamara, paid for his college education, his house, and expenses to get started on his political career.
"I'd trade it all to have my dad back alive," said Mr. McNamara, who declined to disclose the insurance payout's value or how much of it remains.
Mr. McNamara said his foreign income came from stocks and mutual funds he reported to the Ohio Ethics Commission as well as on his tax returns. His 2011 tax returns shows $2,832 in gross income from other countries.
Mr. Collins also declined to discuss Ms. Lopez's financial record.
"When I released my credit score and my IRS report a week ago today, it was not my purpose to explore other people's financial situations," he said. "I'm not going to critique any candidate's financial situation — that would be the providence of the voter and not a person seeking political office."
Union support
Union leaders said Ms. Lopez's payment history and other problems in her personal finances do not diminish their support.
"She has a proven track record as an elected official both in the auditor's office and recorder's office," said Steve Kowalik, regional director of American Federation of State, County, and Municipal Employees Council 8. "We have been down that path before with Ray Kest — because he couldn't balance his own checkbook, he couldn't be mayor, but the funding plan he put together for Fifth Third Field was modeled and used as the same funding plan for [Huntington] Arena."
Concerns about runaway credit-card borrowing helped sink the mayoral ambitions in November, 2001, of Mr. Kest, the former Lucas County treasurer. Mr. Kest, who had touted his money-managing skills on the campaign trail, gave The Blade permission to examine his credit report. It showed Mr. Kest and his wife had $81,000 in debt on 10 credit cards.
"We are not going to let personal finances cloud our judgments," Mr. Kowalik said. "She has a proven track record with labor, she is very well-liked. We look at Anita as being a middle-class, single mother who is trying to make ends meet."
Lucas County Democratic Party Chairman Ron Rothenbuhler said candidates screened for the endorsement are asked the same questions.
"We don't ask for a [credit report] release, nor do we ask personal information," Mr. Rothenbuhler said. "We ask about things that may affect their candidacy."
He said nothing revealed about Ms. Lopez's personal finances is "fatal" to her campaign.
Blade staff writer Ignazio Messina contributed to this report.
Contact Tom Troy at: tomtroy@theblade.com or 419-724-6058.
Guidelines: Please keep your comments smart and civil. Don't attack other readers personally, and keep your language decent. Comments that violate these standards, or our privacy statement or visitor's agreement, are subject to being removed and commenters are subject to being banned. To post comments, you must be a registered user on toledoblade.com. To find out more, please visit the FAQ.