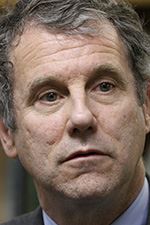 Brown
THE BLADE/ANDY MORRISON
Enlarge | Buy This Image
U.S. Sen. Sherrod Brown plans to co-sponsor a bill that would increase benefits and extend the solvency of the Social Security Trust Fund, which nearly 66 percent of Americans rely on for at least half of their income in old age.
The Ohio Democrat made the announcement Monday before 50 senior citizens at the Margaret Hunt Senior Center in South Toledo.
"Forty years ago or even 20 years ago, people in Toledo, Ohio, were likely to have a good pension, more likely to have some savings because they were not living on the edge as so many people do now," Senator Brown said. "Social Security was important then but it is increasingly important now because the other two legs of that stool have been partly sawed off."
The senator said the "Strengthening Social Security Act of 2013" would strengthen benefits by reforming the Social Security benefit formula; ensure that cost-of-living adjustments adequately reflect the living expenses of retirees, and improve the long-term financial condition of the trust fund.
"We should be debating retirement security, not how to balance the budget on the back of Social Security," he said. "Social Security has not contributed to the deficit, and it's not part of that, so we should debate how do we fix retirement security and responsibly pay for it, as our bill does."
The senator added: "We are pressuring politicians to do the right thing here."
Sam Burnett, a Midwest region board member of the National Alliance for Retired Americans, lauded the senator's effort.
"For the first time, we have someone in the Senate who just said his primary concern is that seniors will be taken care of," Mr. Burnett said. "His effort is going to be to protect it, preserve it, and build on it, and then pass it on to our kids."
Senator Brown said Social Security provides more than half of the income of nearly two-thirds of American seniors; for more than one-third of American seniors, it provides more than 90 percent of their income, and for one-quarter of American seniors, Social Security is the sole source of income.
Toni Shultz, 65, a retired nurse, said the senator's bill is needed.
"What we have coming in now is keeping up with the economy, so basically we are not able to afford the things that we need," Ms. Shultz said.
Contact Ignazio Messina at: imessina@theblade.com or 419-724-6171 or on Twitter @IgnazioMessina.
Guidelines: Please keep your comments smart and civil. Don't attack other readers personally, and keep your language decent. Comments that violate these standards, or our privacy statement or visitor's agreement, are subject to being removed and commenters are subject to being banned. To post comments, you must be a registered user on toledoblade.com. To find out more, please visit the FAQ.