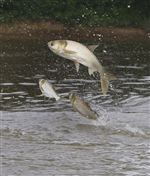 Asian Carp jump near a retention area of Wabash River in Indiana. Many favor a total separation of the Great Lakes and the Mississippi watersheds.
ASSOCIATED PRESS Enlarge
CLEVELAND — U.S. Rep. Marcy Kaptur (D., Toledo) got a round of applause on Thursday when she criticized the U.S. Army Corps of Engineers for the time it took reporting to Congress the most viable ways to fend off Asian carp from the Great Lakes.
"I wish I could say the U.S. Army Corps of Engineers understands the importance and urgency of the situation, but — alas — that does not seem to be the case," said Miss Kaptur, the ranking Democrat on the House Energy and Water Committee that oversees the Corps' budget.
"Indeed, the Corps of Engineers was negligent in addressing this issue. It took a bill in Congress to wake up the Corps from its hibernation. The Corps has done this region a disservice in failing to make a firm recommendation about the best course of action to prevent an Asian carp invasion. When the going got tough, the Corps — for whatever reason — punted," she said at a public meeting inside the Cleveland Public Library auditorium.
The meeting drew about 125 people. Those who attended — a combination of fishermen, businessmen, and public officials — fought rush-hour traffic and icy roads to get there.
Miss Kaptur and several other members of the Great Lakes congressional delegation have said they favor a complete hydrologic separation of the Great Lakes and Mississippi River watersheds by rerouting the Chicago Area Waterway System that connects them.
But they anticipate an uphill fight in Congress because the Corps stated in its long-awaited report that option would cost $18.4 billion and take 25 years. If approved, it would be one of North America's largest engineering projects.
At stake is the Great Lakes region's fishery, valued at $7 billion a year.
The project is pitched as more than one option to fend off Asian carp and other invasive species.
In Chicago, it is being touted as a major investment to reduce flooding and pollution threats that have existed for decades.
"We have to build a movement to save our Great Lakes," Miss Kaptur said. "We have to do the opposite of what the Corps did."
Corps officials running the meeting did not respond as she spoke, although they later said they understand a lot of Great Lakes residents are frustrated by the Asian carp situation and want faster action.
The Corps announced at the outset of Thursday's meeting it has slated meetings in Erie, Pa., for Jan. 24 and New Orleans for Jan. 31 because of strong interest in those areas. New Orleans wants to weigh in because of the possible effect the project could have on the Mississippi River and the shipping industry.
The next meeting is Tuesday in Ann Arbor. All meetings are from 4 to 7 p.m.
One of the first speakers Thursday was Ohio Attorney General Mike DeWine, who said he arrived "with a great deal of frustration" because of delays and because of litigation that Ohio, Michigan, New York, Minnesota, and Wisconsin initiated against the federal government and the state of Illinois over the matter. Illinois has resisted calls to temporarily close the Chicago-area locks, citing the need to save jobs.
"Some of us feel nothing is going to work except a complete separation. We do not want to be in a position someday where there is no more sport-fishing," Mr. DeWine, a Republican and a former U.S. senator from Ohio, said.
As he left the meeting, Mr. DeWine told The Blade he remains in favor of a complete separation, despite its costs and length of time it would take.
The Corps said during most of that 25-year construction period, new reservoirs and tunnels in the Chicago area would be built to prevent flooding and improve water quality.
Mr. DeWine also implored the White House to pick up the pace.
"Now that this study's finally done, it's time to do something. Let's not take another six months," Mr. DeWine said. "It's going to be expensive, but it's going to be more expensive if we don't [do a complete separation]."
Several Cleveland-area fishermen and property owners testified in favor of a hydrologic separation.
Sam Speck, a Republican who served eight years as Ohio Department of Natural Resources director under former Gov. Bob Taft, said the $18.4 billion price tag is not as enormous as it sounds, given that it could be phased in over 25 years.
"From everything I have seen to date, the most comprehensive approach is the one we need to take,"Mr. Speck said.
Larry Fletcher, Ottawa County Visitors Bureau director, said Ohio's tourism and economy is supported in large part by the fishing industry.
But Mr. Fletcher said the state's booming birding industry also would take a big hit if the fishing industry collapses because of the ecological connections between birds and fish. Lake Erie, he said, has become one of the world's Top 10 birding destinations.
Kristy Meyer, Ohio Environmental Council managing director of agricultural and clean water programs, said nearly a third of Ohio's $40 million tourism industry is supported by the state's eight Great Lakes counties.
"We need to move quickly. We need to move with interim steps [to fend off Asian carp] that will put a complete separation in place," Ms. Meyer said.
U.S. Sen. Sherrod Brown, a Democrat, and U.S. Sen. Rob Portman, a Republican, did not attend the meeting. A staffer for Mr. Brown delivered a statement in which he reiterated the senator's support for a separation of the watersheds.
Contact Tom Henry at: thenry@theblade.com or 419-724-6079.
Guidelines: Please keep your comments smart and civil. Don't attack other readers personally, and keep your language decent. Comments that violate these standards, or our privacy statement or visitor's agreement, are subject to being removed and commenters are subject to being banned. To post comments, you must be a registered user on toledoblade.com. To find out more, please visit the FAQ.