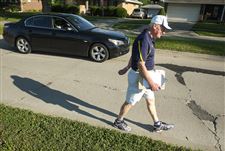 Former Toledo Mayor Carty Finkbeiner, 76, campaigns on Regina Parkway near Goodwood. He has not officially declared for the Nov. 3 mayoral election, but he isn't taking a chance on not working hard enough as a candidate.
THE BLADE/ANDY MORRISON
Enlarge | Buy This Image
If sheer passion for the job could determine the outcome of the special election for Toledo mayor on Nov. 3, count on former Mayor Carty Finkbeiner to be issuing orders again on the 22nd floor of Government Center after the votes are counted.
If the election goes to the candidate with the biggest and best-funded political machine, endorsed Democrat Paula Hicks-Hudson will continue in her current job for the next two years.
And if former Mayor Mike Bell and mayoral widow Sandy Drabik Collins can boost the visibility of their campaigns and start connecting with the large numbers of voters who supported Mr. Bell and the late D. Michael Collins in 2013, one of them could be mayor after November.
Not to discount city Councilman Sandy Spang and progressive activist Mike Ferner, the latest additions to the candidate ranks. Both have political successes in their recent or distant past — respectively — that make them competitors in a wide-open and unpredictable race.
It is doubtful that any valid case can be made for self-proclaimed prophetess of God Opal Covey's election — pause here for possible lightning bolt — so we won't try to stretch it.
Given a likely lower-than-normal turnout, the addition of voters turning out for a statewide ballot question to legalize marijuana, and the fact that the winning candidate only needs to be the top vote-getter out of seven, the mayoral election is not easily predicted.
"I can't handicap this particular race because there are so many factors," said Gary Johnson, a Lucas County Democratic activist and former member of the Lucas County Board of Elections, though he leaned toward the endorsed Democrat and incumbent having the advantage.
"We've got an issue on the ballot [legalizing personal use of marijuana] that will bring out a group of people that we really can't put our finger on as to how they're going to vote," he said.
The deadline for the seven candidates to file the required 750 valid Toledo voter signatures is Sept. 4. Of those seven candidates, Mr. Ferner and Mr. Finkbeiner have not officially declared.
The election is to fill the two years remaining in the term of the late Mayor Collins, who died on Feb. 6 after suffering cardiac arrest slightly more than a year after taking office.
Ms. Hicks-Hudson, as city council president at the time, became mayor automatically in accordance with the Toledo City Charter.
The city bade an emotional good-bye to Mr. Collins, who was well known as a police detective and city councilman. He was the first Toledo mayor to die in office in more than a century.
The upcoming election recalls the primary election of 1993, when two of the people running this year were on the primary ballot and went on to compete in the general. Mr. Finkbeiner eked out a victory over former city Councilman Ferner by 672 votes. Voters turned out to vote in big numbers in the 1993 primary: 65,498 out of 168,114 registered voters, or 39 percent.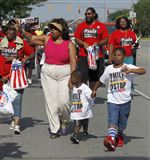 Toledo Mayor Paula Hicks-Hudson, endorsed by the Democratic party, waves during the African American Festival parade last month.
THE BLADE/LORI KING
Enlarge | Buy This Image
The most recent mayoral primary, Sept. 10, 2013, drew 23,957 voters — about 15 percent of the 164,645 persons registered, and less than half the 1993 turnout.
The Nov. 5, 2013, general election turnout was 30 percent.
Even though the general election will be conducted like a primary — open to an unlimited number of mayoral candidates — most observers expect a bigger turnout than the September primary because it will decide the city's mayor through 2017. Also, all six council district seats will be on the ballot Nov. 3.
But possibly more significant will be the turnout related to the ResponsibleOhio marijuana-legalization amendment.
The proposed constitutional amendment, Issue 3, would make Ohio the fifth state to legalize recreational and medical use of marijuana. It would also restrict the cultivation of marijuana to 10 pre-selected growers, an aspect of the amendment that has generated opposition even among many who want marijuana legalized.
The Republican-led General Assembly has responded with its own statewide amendment, Issue 2, aimed at invalidating the ResponsibleOhio amendment. High-spending campaigns are expected on both sides.
Mike Beazley, a former county Democratic chairman and now the administrator of Oregon, said, "there are no predictable elections with five or six candidates. That makes this election kind of fun and zany.
"It's going to be an opportunity for the campaigns to make a real difference," Mr. Beazley said. The winner will be the campaign that identifies, connects with, and then turns out its voters during the early vote period and on election day, he said.
He predicted turnout between the 2013 primary and general percentages, which were 15 percent and 30 percent.
"The fact that there's a state ballot question should drive voter turnout but it should be short of the November, 2013, election," he said.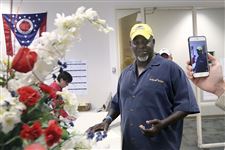 Bell
THE BLADE/KATIE RAUSCH
Enlarge | Buy This Image
Hitting the streets
While voter turnout may have diminished since 1993, the effort put in by Mr. Finkbeiner is not.
Mr. Finkbeiner, 76, was the only candidate to show up at a well-attended meeting on Lewis Avenue Thursday night to hear area residents' concerns about the condemned 32-acre apartment complex Riviera Maia. It's a fair bet that most of the 65 people there will vote on Nov. 3.
That neighborhood is in a precinct that had a better-than-average voter participation in the 2013 primary of 16.4 percent, and the voters seem open to rebels.
"You get a sense of what the issues are in each and every neighborhood of the city," Mr. Finkbeiner said afterward of his dogged outreach to voters.
He said he spent several days in the Five Points neighborhood and learned about the concerns, which he found to be "menacing behavior" by young people of old people and the shuttered Riviera Maia complex.
He said his constituents, as indicated by polling, are people 65 and older, Catholics, women, and Democrats. He opened a headquarters on West Laskey Road, possibly a bid to contest that territory with Mr. Bell.
Asked how much he might spend, Mr. Finkbeiner said a logical goal for him is $175,000 to $250,000, though he said he could probably get by with less.
"I'm aware that in the last few mayoral races the less funded candidate was the winner," Mr. Finkbeiner said.
He said his strategy as a candidate is run a strong "ground game" and shine in the debates, when they take place.
Five years since he left office, former Mayor Finkbeiner can't tell for sure the value of his brand, but he isn't taking a chance on not working hard enough.
The former mayor has been seen talking to motorists in traffic on city streets. He gave a speech at the Toledo Warehouse District Association on Aug. 18 endorsing merging city and county government, with the argument that the suburban communities should do more to subsidize the cost of running Toledo.
Mr. Finkbeiner can boast of a leading and even visionary role in Toledo's development of the last two decades, but he left office and didn't seek re-election in 2009 after a fiscal crisis brought on by a national recession and in which he temporarily laid off 75 police officers and narrowly warded off an attempted recall.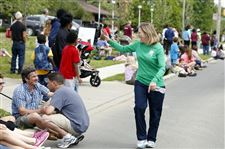 Sandy Drabik Collins, widow of late Toledo Mayor D. Michael Collins, participates in the Old West End Festival and the King Wamba parade in June. A political independent, Mrs. Collins has taken to social media to attract people to her campaign.
THE BLADE/AMY E. VOIGT
Enlarge | Buy This Image
Mr. Finkbeiner and Ms. Hicks-Hudson were introduced from the steps of St. Stephen's Church on Consaul Street during the Birmingham Festival last weekend, along with other politicians.
Other candidates did attend the festival — just not necessarily when the cameras were present. Mrs. Collins, 68, said she was there all three days, enjoying the Hungarian chicken and mingling with voters.
While Mr. Finkbeiner seems to attract notice wherever he goes, Mrs. Collins said she's been out in the neighborhoods, too. She's also on Facebook and is proud of the 719 "likes" on her page.
"I really think social media could make a difference this time and it doesn't cost a lot like TV," Mrs. Collins said. She declined to say how much she might spend, and said that based on a poll she conducted in April her constituency likely includes women over 55 and people who supported her husband.
In fact, Mr. Collins drew 55 percent of the vote in the Nov. 5, 2013, general election, or 28,159 votes. That's a formidable base if Mrs. Collins — who officially changed her name from Drabik to her husband's name in May — can tap into it. With the vote potentially splitting seven ways, even half of those votes could give her a runaway victory.
Mrs. Collins has held several high-level government positions. She is a retired lawyer who was the University of Toledo's vice president for administrative services and chief general counsel. She previously held positions for Ohio Republican Govs. George Voinovich and Bob Taft.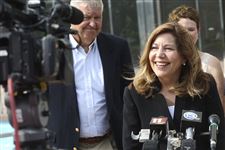 Councilman Sandy Spang is a question mark in the race because of her newness to the political scene. A successful small-business owner, she is running as a reform candidate.
THE BLADE/KATIE RAUSCH
Enlarge | Buy This Image
Geography a factor
Geography could be a factor on Nov. 3.
Mr. Finkbeiner, Mrs. Collins, and Ms. Spang all live in South Toledo in Ward 16, the River Road corridor, which had the highest turnout of the 2013 primary and general elections.
Ms. Hicks-Hudson, 63, of the Old West End, is the only candidate living in central Toledo, so while voter turnout in the central city typically is low, she has it all to herself.
Mr. Bell lives in Old Orchard, a high-turnout neighborhood anchoring West Toledo, and grew up in the Woodward High School neighborhood of North Toledo, where his parents, Norman and Ora, still live.
Point Place, where Mr. Ferner lives, had the fourth highest turnout of the city's 24 wards in the 2013 mayoral election.
Ms. Hicks-Hudson goes into the election with an Ohio Democratic Party determined to do everything it can to regain the office for an endorsed Democrat after two elections won by political independents.
She has stumbled politically, appearing to cave to the request of the Northwestern Ohio Building and Construction Trades Council of unions to support an ordinance mandating that all contracts involving city funds have a union contract, but is making changes in her office aimed at demonstrating who's in charge.
The state party is helping to pay for a full-time manager for Ms. Hicks-Hudson, experienced Columbus operative Ernie Davis, and the campaign is planning to spend at least $300,000. That will pay for a flood of direct mail advertising and television advertising.
She is holding fund-raisers that could include high-profile state politicians like U.S. Sen. Sherrod Brown (D., Ohio) and former state Sen. Nina Turner (D., Cleveland).
"This is important and for a lot of reasons for the Ohio Democratic Party, to make sure we have a truly Democratic elected mayor," Mr. Davis said, adding that having a Democrat as mayor will be important to winning Ohio for the 2016 presidential and U.S. Senate elections.
Ms. Hicks-Hudson said her constituency is Democrats and "people who care about moving the city forward." She said she's been campaigning but also has to give full-time attention to being mayor.
She ran unsuccessfully in 2005 for Toledo Municipal Court and was appointed and then elected in 2011 to represent Council District 4.
"I believe most definitely I have to ask people for their vote. I have to spend time running the city but I also have to spend time being where the voters are," she said.
The reason she couldn't attend the Riviera Maia meeting — though some of her top staff were there — was because she had a $1,000 ticket fund-raiser for business supporters held downtown at the Hylant Building.
The event organizer said the event will raise about $30,000, and was attended by business leaders including developer David Ball, ProMedica CEO Randy Oostra, and Matt Sapara, former city development director and now vice president for Mercy.
Name recognition
Mr. Finkbeiner and Ms. Hicks-Hudson both have deep links with the Democratic Party in Lucas County.
Vying for independent and Republican votes are Mr. Bell, Mrs. Collins, and Ms. Spang, all of whom are running as independents but who have some GOP backing.
A late entrant, former Mayor Bell, 60, was a popular fire chief and the city's second black mayor.
He lost in 2013 by, in the view of many, appearing to take his re-election for granted. Formerly a Democrat, he ran in 2009 as an independent rather than agree to support the Democratic Party's endorsed candidate.
He endorsed Republican Gov. John Kasich's attempt at undercutting public employee union power with the ill-fated Senate Bill 5. Last week, he acknowledged that cost him politically, and was something he now believes was a mistake. He kicked off his campaign late, using social media to let the public follow him live online.
Mr. Bell did not return calls for comment on Friday. Campaign spokesman Sam Melden said there is a lot of name recognition in this year's mayoral race.
"We really feel like the city is ready to respond to strong leadership and Mike is passionate about the city and he cares deeply," Mr. Melden said. "He believes if he shows that to the community, the community will respond."
Mr. Melden said about "three dozen" people are volunteering for Mr. Bell.
He said the former mayor is strongly supported by the business community and young voters.
"Funding is unclear," he said. "This campaign is a sprint so we are taking that one step at a time."
Mr. Bell received 21,721 votes in 2013's general election, a formidable number if even half of them turn out for him in this year's multi-candidate contest.
Also seen as a serious competitor is first-time member of Toledo city council member Ms. Spang, though her newness on the Toledo political scene makes her a question mark.
Younger, at 55, than any of her opponents, a successful small business owner who demonstrated political talent in her council run in 2013, Ms. Spang enters the race as the reform candidate. She said she attended five national governance conferences in 2015 to make her an expert in local government.
Ms. Spang said her constituents include small-business owners and people interested in economic development and entrepreneurship.
"The important thing is that your message emerge. I have a strong message of budget reform," Ms. Spang said. "I think this is not going to be a big money campaign and I don't think too many people are going to do television."
The latest potential entrant is Mike Ferner, an anti-war activist who has been arrested several times for protesting the Afghanistan and Iraq wars.
Convicted of defacing overpasses with slogans, he thought he would have to request a pardon from Governor Kasich of his felony conviction, only to learn that the state law prohibiting felons from holding public office only applies to crimes of deceit, theft, and fraud.
Most recently, Mr. Ferner, 64, an independent, has stepped forward as an opponent of the ProMedica project that will deposit 1,000 new workers in Toledo's downtown — a project that had city council's unanimous support and again set him outside of Toledo's political mainstream.
Mr. Ferner, who was elected to two-year council terms in 1989 and 1991, said he had 500 volunteers when he ran in 1993, and hopes to get at least 100 volunteers and a war chest of $40,000.
His constituency is going to be "people that feel that the city's getting railroaded and in turn is doing too much railroading itself to the citizens," he said.
Even further outside the mainstream is the candidate who claims God has promised her the mayoralty of Toledo. Ms. Covey, a Republican, who sells plants from her Broadway home, says her economic development plans envision a downtown amusement park and a focus on tourism that will yield "a pot of gold" for Toledo.
Ms. Covey, 75, contends election chicanery cost her in her four previous runs. She has never received more than 384 votes — fewer voters than the number who sign her petitions allowing her to continue to make the ballot every four years.
Staff writer Ignazio Messina contributed to this report.
Contact Tom Troy: tomtroy@theblade.com or 419-724-6058 or on Twitter @TomFTroy.
Guidelines: Please keep your comments smart and civil. Don't attack other readers personally, and keep your language decent. Comments that violate these standards, or our privacy statement or visitor's agreement, are subject to being removed and commenters are subject to being banned. To post comments, you must be a registered user on toledoblade.com. To find out more, please visit the FAQ.