Clinging to a small lead in the polls in his bid for one of Ohio's U.S. Senate seats, former Gov. Ted Strickland came to Toledo on Tuesday, where he picked up a strong ally.
Hailing Mr. Strickland as someone "always on the side of working families," Ken Lortz, director of United Auto Workers Region 2B, which includes all of Ohio, gave the Senate candidate the union's official endorsement for the 2016 election.
Mr. Strickland received the endorsement at UAW Local 12 hall on Ashland Avenue and was flanked by nearly three dozen UAW retirees during the event.
"Ohio workers cannot afford six more years of Rob Portman," Mr. Lortz said of Ohio's incumbent Republican senator. "We need Ted Strickland in the United States Senate."
Mr. Strickland, finishing up the day in Toledo after earlier stops in Lima and Findlay where he met, respectively, with Ford Motor retirees and Steelworkers members outside the Cooper Tire & Rubber plant, thanked Mr. Lortz for his union's support and pledged to fight for issues close to the UAW members' hearts, such as fair-trade agreements and health care.
"I'm running for the U.S. Senate because I think the Senate should not be a place where millionaires go to take care of the billionaires," he said, taking a shot at billionaires David and Charles Koch, who have become key backers of Mr. Portman.
Mr. Strickland had a six-point lead over Mr. Portman in polling that took place in June, but a recent poll showed the gap has narrowed to just three points, which statistically is considered dead even.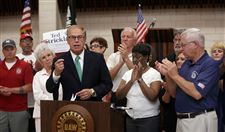 Former Ohio Governor Ted Strickland, at podium, who is running for U.S. Senate, is endorsed by the UAW during an announcement at UAW Local 12 Hall in Toledo Tuesday.
THE BLADE/LORI KING
Enlarge | Buy This Image
But Mr. Strickland said Tuesday at Local 12 that he was pleased to still have a lead, albeit miniscule, considering the Kochs' financial backing of Mr. Portman.
Their support includes the Kochs' Americans for Prosperity conservative political group that targeted the former governor with a recent $9 million ad campaign criticizing decisions he made when he ran Ohio.
"Actually, I'm feeling pretty good. The other side is beating me up pretty much — over $9 million dollars already spent. And yet, the latest poll shows me with a very small lead," Mr. Strickland noted.
"So I look at it this way. After millions of dollars have been spent, they brought me down two points and they brought [Mr.] Portman up one," he said.
He added: "I mean, the basic criticism of me is that Ohio lost jobs during the recession. Well, every state lost jobs during the recession.
"No governor can cause a national recession. And throughout the course of this campaign I hope we have a chance to talk about this thing," he said.
Contact Jon Chavez at: jchavez@theblade.com or 419-724-6128.
Guidelines: Please keep your comments smart and civil. Don't attack other readers personally, and keep your language decent. Comments that violate these standards, or our privacy statement or visitor's agreement, are subject to being removed and commenters are subject to being banned. To post comments, you must be a registered user on toledoblade.com. To find out more, please visit the FAQ.