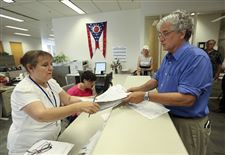 Mike Ferner files petitions to be a candidate for mayor of Toledo with Dora Anderson at the Lucas County Board of Elections One in Government Center in Toledo on Friday. Mr. Ferner is a former Toledo councilman.
THE BLADE/DAVE ZAPOTOSKY
Enlarge | Buy This Image
Former Mayor Mike Bell and former city Councilman Mike Ferner filed signatures Friday to become the last of seven candidates planning to run for mayor of Toledo on Nov. 3.
Mr. Bell, 60, a former city fire chief, state fire marshal, and mayor from 2010 through 2013, turned in 1,403 signatures two hours before the 4 p.m. filing deadline. He was broadcast live on the Internet through his social media followers.
"What [people] can expect is efficiency in government," Mr. Bell said after handing in his petitions.
"I want to do everything I can, I am a public servant by nature," he said. "What they can expect is more transparency through maybe social media outlets and being able to let people know exactly what we are trying to do and how we are doing it."
The former one-term mayor said government "needs to be straightened out again."
June Boyd collects the mayoral candidate petitions from former mayor Mike Bell at the Lucas County Board of Elections.
The Blade/Lori King
Enlarge | Buy This Image
Mr. Ferner, 64, a former city councilman, union organizer, and anti-war activist, said he wants to "heal the lake, fix the streets, and let people know that corporations are not people and money is not speech."
Mr. Ferner said he thinks he has the most aggressive plan for cleaning up Lake Erie. It starts with persuading the U.S. Environmental Protection Agency to declare the lake's western basin an impaired watershed, which he says would lead to lake polluters being identified. He said the other candidates' plans "don't hold water."
Both men are running as political independents. The candidates had to file at least 750 — and no more than 1,500 — signatures of Toledo voters. The Lucas County Board of Elections is to meet Sept. 14 to certify the candidates.
Already filed with the elections board are Mayor Paula Hicks-Hudson; former Mayor Carty Finkbeiner; Sandy Drabik Collins, a former University of Toledo general counsel; City Councilman Sandy Spang, and evangelist Opal Covey.
The special election this year is to fill the two years remaining in the term of Mayor D. Michael Collins, who died Feb. 6 a little over a year into his term.
Contact Tom Troy: tomtroy@theblade.com or 419-724-6058 or on Twitter @TomFTroy.
Contact Ignazio Messina at: imessina@theblade.com or 419-724-6171 or on Twitter @IgnazioMessina.
Guidelines: Please keep your comments smart and civil. Don't attack other readers personally, and keep your language decent. Comments that violate these standards, or our privacy statement or visitor's agreement, are subject to being removed and commenters are subject to being banned. To post comments, you must be a registered user on toledoblade.com. To find out more, please visit the FAQ.