COLUMBUS — Those enrolled in Ohio's expanded Medicaid program in partnership with the federal Affordable Care Act turned out to be older than expected.
Barbara Sears, Gov. John Kasich's Medicaid director and former state representative from Monclova Township, said Thursday she was a little surprised to see how the population skewed older.
"But when we knew we weren't getting the younger folks into the [federal Obamacare private insurance] marketplace, we knew they probably weren't getting into [the Medicaid expansion]," she said after speaking to the legislative Joint Medicaid Oversight Committee.
Ohio Medicaid Director Barbara Sears
The Blade
Enlarge | Buy This Image
"One of the things they used to say on committee when we were bantering expansion or not was you're not going to get an unmotivated, 20-year-old who perceives he's healthy to jump up to sign up for health care so he can get routine coverage," she said.
Another major finding in the newly released Medicaid study related to Lucas County. Thirteen percent of the entire population of the county between the ages of 19 and 64 are among the 700,000 additional people with coverage, more than in any other county in the northern half of Ohio, save for Mahoning with 14.4 percent.
In 2013, Mr. Kasich did an end run around fellow Republicans in the General Assembly to convince a quasi-legislative budgetary panel to agree to draw down billions in federal dollars to expand eligibility for the government health insurance of last resort for the poor, disabled, and infirm.
Income eligibility went from 100 percent to those earning 138 percent above the federal poverty level.
The latter translates into just under $31,000 for a family of four.
Ms. Sears, a rare Republican supporter of the expansion while in the Ohio House, said the expansion population is more likely to be male, above the age of 45, white, and employed than those who qualified for traditional Medicaid.
She said she was not surprised to see the high rate of expansion participation in Lucas County.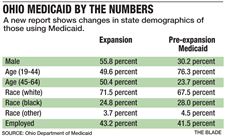 THE BLADE
Enlarge | Buy This Image
"It is my backyard, and we have a lot of industry up there that is depressed right now," Ms. Sears said. "There are a lot of folks who are unemployed, a lot of folks who had stopped looking for the same opportunities for employment that they had before — going to part-time jobs and other things. I hope that this allows people to get healthy enough that they can start to look for jobs and improve their opportunities."
However, some members of the committee were not impressed by the results of the $3 million state study that found the population expansion is changing its behavior by turning to primary-care physicians for routine care rather than emergency rooms and has either discovered or is taking better care of chronic conditions like diabetes.
"'Feel good' was probably what this report was designed to do," Sen. Bill Coley (R., West Chester) said. "I know it makes some people feel good. I'm not one of those people. ... Has there been some increase in the number of primary care physicians that are taking on Medicaid patients? I'm not seeing that out there."
Mr. Kasich's latest budget proposal anticipates that the expansion will largely continue as it has, despite the debate in Washington about repealing and replacing the Affordable Care Act to which it is tethered. The federal government currently pays 95 percent of the cost for the expansion population. That rate will drop to 94 percent next year.
In his latest budget, however, the governor again seeks federal permission to charge monthly premiums, estimated at $20 a month, of childless, nonpregnant adults among the 700,000 people in the expansion population.
He proposed a similar waiver two years ago, but lawmakers replaced it with a tougher personal responsibility plan that was rejected by federal authorities.
Contact Jim Provance at: jprovance@theblade.com or 614-221-0496.
Guidelines: Please keep your comments smart and civil. Don't attack other readers personally, and keep your language decent. Comments that violate these standards, or our privacy statement or visitor's agreement, are subject to being removed and commenters are subject to being banned. To post comments, you must be a registered user on toledoblade.com. To find out more, please visit the FAQ.