TEMPERANCE — Bedford Township officials are in the process of filling a vacant trustee seat, but not everyone is happy with how it's playing out.
Michelle Bork won a spot on the township board last November, receiving more votes — 9,477 — than any other candidate vying for four available spots. She resigned June 13 following her decision to move to Sylvania, about four months after the unexpected death of her husband.
A Bedford Township Board meeting in 2012 at the Bedford Township Hall in Temperance, Mich. The township has received 14 applications for a vacant seat on the board.
THE BLADE
Enlarge | Buy This Image
The Michigan Townships Association requires an appointment within 45 days, but it offers no other suggestions on how to handle a vacant trustee seat. Township Supervisor Paul Pirrone decided to take applications, and 14 people applied.
"To be the most transparent, we agreed the application process was the best way to go about it," Mr. Pirrone said. "I didn't want it to look like I just appointed somebody based on what I wanted."
Board members gave their ideas on how to proceed during a meeting Tuesday. The board ultimately decided each member will name their top three applicants, and those candidates will be interviewed at a special meeting Thursday at 6 p.m. An appointment will be made that night.
The entire board consists of Republicans, and Ms. Bork also ran as a Republican. Trustee Nancy Tienvieri said voters made it clear they wanted a Republican for the seat, and that should be strongly considered.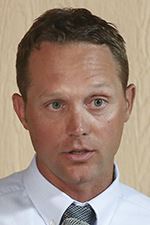 Township Supvervisor Paul Pirrone decided to take applications for a vacant board seat.
THE BLADE
Enlarge | Buy This Image
"Whether you like it or not, it's a partisan process," Ms. Tienvieri said. "I think that has to be heavily weighed. It's not who we want, it's about what do we think [the voters] want."
Trustee TC Clements admitted it's impossible to please everyone in the township with their decision, but he said everyone who tossed their hat in the ring should have a fair chance.
"We said, 'if you turn in an application and answer these questions, you will be considered,'" he said. "For us to now arbitrarily say, 'because you have a D behind your name you're no longer considered,' I think that's problematic."
Ms. Bork was one of several candidates backed by political action committee Citizens for Fiscal Responsibility. Steve Lennex, the PAC's chairman, ripped the board for not closing the door on Democrats.
"You guys have taken something that should be fairly simple and made it complicated," he said. "I do not have any confidence in the process. I can categorically say I'm looking at a bunch of Republicans, and the only one who gets it is Nancy, and maybe Paul. I don't know.
"Rest assured, if any of you run in a primary, one of the questions we're going to ask is, 'if a Republican seat is vacated, will you without hesitation support the appointment of a Republican to that seat?'"
James Nyhan ran for trustee as a Republican last year and is among the applicants.
The other applicants are:
● Elaine Adkins
● Dean Ansel
● Dale Decker
● Dee Ellsworth
● LaMar Frederick
● Joe Gore
● Dennis Jenkins
● Joshua Maddox
● Charles Mann
● Greg Robinson
● Linda Rohr
● Kevin Ruddy
● Heath Velliquette
The board did not request party affiliations from prospective candidates as part of the application process, township officials said.
The appointed trustee will finish the remainder of Ms. Bork's term, which is up for re-election next year.
Contact Jay Skebba at: jskebba@theblade.com, 419-376-9414, or on Twitter @JaySkebbaBlade.
Guidelines: Please keep your comments smart and civil. Don't attack other readers personally, and keep your language decent. Comments that violate these standards, or our privacy statement or visitor's agreement, are subject to being removed and commenters are subject to being banned. To post comments, you must be a registered user on toledoblade.com. To find out more, please visit the FAQ.