Todd Wolfrum, a Van Wert County commissioner, filed petitions Wednesday with the Lucas County Board of Elections to run against incumbent U.S. Rep. Bob Latta (R., Bowling Green) for a Republican congressional nomination this year.
Mr. Wolfrum, 46, would face off against Mr. Latta in the May 8 primary election for the 5th Congressional District, which includes all or parts of 14 counties in Ohio's northwest corner.
Wolfrum
The Blade
Enlarge | Buy This Image
Mr. Wolfrum is the second person to file for the GOP nomination in the 5th District. Robert Kreienkamp of Wayne, Ohio, in Wood County, was certified to the ballot in December. Mr. Kreienkamp is a retired television studio engineer at Bowling Green State University.
The filing was done in Lucas County because it is the most populous county in the district. The filing includes more than 90 signatures, most of which belong to Van Wert County voters.
Mr. Wolfrum has accused Mr. Latta of not representing a conservative agenda.
"My opponent is like most politicians, he was voted into office then became a puppet for the lobbyists. He goes along with the establishment and even refused to support Trump when he became the Republican candidate for president," Mr. Wolfrum said in his prepared statement. "I want to make an impact when I get to Washington and represent northwest Ohio, not hide behind legacy and the establishment."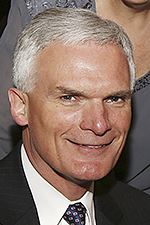 Latta
THE BLADE
Enlarge | Buy This Image
Mr. Latta, 61, who was first elected in 2007, is expected to seek re-election. He is a lawyer and a former Wood County commissioner.
Spokesman Drew Griffin said previously that Mr. Latta is "proud of his conservative record in Congress. He has the backing of the pro-life community, 2nd Amendment supporters, and conservative groups because he consistently stands up for the values of Ohio's 5th Congressional District."
Mr. Wolfrum said, if elected, he plans to Freedom Caucus, which is identified with the libertarian wing of the party.
A lawyer, Mr. Wolfrum is a graduate of the University of Toledo college of law and is in his second term as a county commissioner.
The winner of the May 8 primary will face the winner of the Democratic primary. J. Michael Galbraith of Maumee and James Neu, Jr., of Perrysburg have said they will seek the Democratic party's nomination. The filing deadline is Feb. 7.
Contact Tom Troy at tomtroy@theblade.com, 419-724-6058, or on Twitter @TomFTroy.
Guidelines: Please keep your comments smart and civil. Don't attack other readers personally, and keep your language decent. Comments that violate these standards, or our privacy statement or visitor's agreement, are subject to being removed and commenters are subject to being banned. To post comments, you must be a registered user on toledoblade.com. To find out more, please visit the FAQ.