38.89037
-77.03196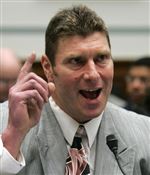 Former Steelers lineman Steve Courson testifies regarding NFL steroids policy.
CHARLES DHARAPAK / AP Enlarge
WASHINGTON - Legislation has been drafted to create uniform testing standards for all the major sports leagues as a way of containing the use of steroids and performance-enhancing substances.
"We think this is a critical next step, and we hope to introduce the legislation soon," said U.S. Rep. Tom Davis (R., Va.), chairman of the House Government Reform Committee.
The proposal is co-authored by Rep. Henry Waxman (D., Calif.), the ranking minority member of the House panel that is holding a series of hearings on what the various sports leagues are doing to rid their games of steroids. Sen. John McCain (D., Ariz.) also is involved in the new legislation.
"A single code would put everyone on a level playing field and help spread the message, especially to the youth of this country, that steroid use will not be tolerated," Davis said.
Yesterday's hearing was on NFL policies, which, despite their flaws and loopholes, are the toughest in pro sports. The session, which wrapped up in about four hours, lacked the friction of last month's grilling of Major League Baseball officials and players. In fact, committee members went out of their way to praise the NFL while criticizing baseball and its players union for failing to confront the problem responsibly.
"This is a breath of fresh air compared to what we heard from baseball," said Rep. Elijah E. Cummings (D., Md.)
Testimony about the pervasiveness of steroids was heard from a number of sources, from high school football coaches to former Steelers lineman Steve Courson. NFL commissioner Paul Tagliabue and union head Gene Upshaw also appeared, saying that a joint effort by management and players was the key to an effective drug policy.
"There is no room for this substance in our sport or our society," Upshaw said. "It was the players who said we don't need it in our sport."
Steroids are manufactured versions of testosterone and have been on the market since the late 1950s. They became a controlled substance by act of Congress in 1991, four years after the NFL initiated its testing program, and it is illegal to possess or distribute them without a valid prescription.
Tagliabue said 111 players have tested positive since testing began. Of that total, 54 were suspended and two who tested positive a second time elected to retire rather than take another suspension. The other 57 players who tested positive retired before getting hit with a suspension. The NFL conducts 9,000 tests a year.
But questions were raised about a CBS report that three Carolina Panthers got prescriptions for steroids before the 2004 Super Bowl, and Tagliabue promised to share the results of the NFL investigation with the panel.
The league said it is concerned about designer steroids that don't show up on tests and substances such as human growth hormone. HGH is banned by the NFL, but there is no test in place that can detect it reliably.
Several committee members pushed for a "zero tolerance" stand on performance-enhancers, not only for the integrity of pro sports but also to send a message to youngsters that the short-term benefits of such substances are outweighed by health and ethical issues.
Some lawmakers are pushing for U.S. sports leagues to adopt the standards of the World Anti-Doping Association. Concerns also were raised about the use of stimulants such as amphetamines.
The NFL recently tightened the threshold on levels of testosterone that show up in tests.
Courson, 49, recounted his story of steroid use, beginning in college at the University of South Carolina and continuing through his NFL days with the Steelers and Tampa Bay Buccaneers. He later suffered from weakened heart muscles and spent nearly four years on a waiting list for a heart transplant before he reversed the condition with diet and exercise.
Steroids appeared in the NFL in 1963 and were already entrenched when the Steelers began their run of Super Bowl victories in the 1970s, when there were no laws or policies prohibiting steroid use. While the Rooney family and coach Chuck Noll may have been aware of steroid use, Courson didn't fault them.
"I don't think they really understood what was going on. They were victims of a lack of policy," said Courson, who played for two Super Bowl winners. "It's hard to think Chuck didn't know. I don't think the coaches understood it. Pretty much every team in the league was using steroids back then."
Now a personal trainer, Courson said he had a love/hate relationship with steroids.
"You love what they do for you when you're training, but you hate the compromise you make," he said. "They affected my life in a negative way."
Getting the steroids issue out in the open is troublesome in many respects, but Courson endorsed the hearings and the attempts to rid them from sports.
"Nobody likes this," he said after testifying. "I never thought I'd live to see something like this happen."
The Block News Alliance consists of The Blade and the Pittsburgh Post-Gazette. Robert Dvorchak is a reporter for the Post-Gazette.
Guidelines: Please keep your comments smart and civil. Don't attack other readers personally, and keep your language decent. Comments that violate these standards, or our privacy statement or visitor's agreement, are subject to being removed and commenters are subject to being banned. To post comments, you must be a registered user on toledoblade.com. To find out more, please visit the FAQ.