Driver Joey Logano looks from his garage during practice for the NASCAR Sprint Cup Series auto race at Chicagoland Speedway in Joliet, Ill., Friday, Sept. 13, 2013.
ASSOCIATED PRESS Enlarge
ALLEN PARK, Mich. — Joey Logano fielded questions about his ability to maneuver a 3,400-pound precision car around a track at more than 200 miles an hour.
He discussed his training regimen, the specifics of the car he drives on NASCAR's Sprint Cup circuit, and his ability to maintain focus while driving at top speeds for at least three hours.
Then, the 24-year-old Middletown, Conn., native got to ask a few questions of his own, and admitted that he received some unsolicited advice from several players and coaches with the Detroit Lions.
"I had a million for them," Logano said. "I had a few good one-liners but I got marital advice and a whole bunch of stuff. But I got advice about confidence and the different types of confidence and where players are with that."
As part of promoting the June 15 Quicken Loans 400 at Michigan International Speedway, Logano and MIS president Roger Curtis visited the Lions training facility this week to meet players in a crossover of sports.
"The Tigers, the Red Wings, the Lions, they're here and they may not be playing year-round but there's a presence year-round," Curtis said. "We've got to do the same. We've got two 'home games.' To get our athletes in this market at times other than just the race weekends when they can interact the way Joey did or with some of the other drivers, it's really important for us to do that. And they get what it means."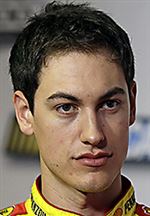 Logano
ASSOCIATED PRESS Enlarge
Logano is in his second season on the Sprint Cup circuit and currently drives for Detroit-based Penske Racing.
"There's a lot of similarities [between football and auto racing], but there's also a lot of differences," said Logano, who is second in the Chase grid standings and sixth in the Sprint Cup driver points standings. "Them focusing for a game and all that, it's really interesting to see that. They've had some big changes here with the coaching staff with the Lions and to hear how those changes go, it sounds similar to me with a crew chief change. The coach is like a crew chief. The quarterback's like a driver and how close they work together to build that chemistry. It's similar to what I had to go through last season with a team change."
Some of the Lions weren't necessarily familiar with stock-car racing although Lions tight end Eric Ebron had some insight.
"I've been in a NASCAR car before, so I understand the change in the gravity shift and the way it torques and everything like that," Ebron said. "It's pretty impressive when you actually get to talk to people who drive that fast. You feel like you're about to get thrown out of the car."
While Logano caught a few passes from Lions quarterback Matthew Stafford, Curtis discussed the upcoming Sprint Cup race, one of two to be held at MIS.
"You're not just getting the facility ready after a long winter, but you're still promoting and you're still out there trying to sell tickets and camping," Curtis said. "Everything that goes into a race weekend, ours is just magnified."
While the bulk of NASCAR's exposure comes through viewership as opposed to participation, even viewership has dipped. The Florida Times-Union reported in March that Nielsen television ratings had dropped in NASCAR's first four Sprint Cup races, even though the Profit on CNBC 500 in Phoenix on March 2 and the Kobalt 400 in Las Vegas on March 9 were the highest-rated national sporting events on television those two weekends.
"It's something our sport has always struggled with, because you don't go out in the backyard and play NASCAR with your dad," Curtis said. "It's not something you're exposed to, like you are with the stick-and-ball sports. That's why this is important for us to reach out and do these things."
Contact Rachel Lenzi at: rlenzi@theblade.com, 419-724-6510, or on Twitter @RLenziBlade.
Guidelines: Please keep your comments smart and civil. Don't attack other readers personally, and keep your language decent. Comments that violate these standards, or our privacy statement or visitor's agreement, are subject to being removed and commenters are subject to being banned. To post comments, you must be a registered user on toledoblade.com. To find out more, please visit the FAQ.