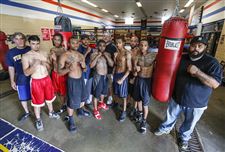 Glass City Boxing Gym team members from left: coach Dave Rayman, Elias Moreno, Angelo Snow, DeAndre Ware, Jr., coach Gabe Morris, Wesley Tucker, coach Ray Vargas, Jamal Brown, Jeremy Caughhorn, Tyler McCreary, and coach Lamar Wright, Jr. are ready for Friday's nine-bout card.
THE BLADE/ANDY MORRISON
Enlarge | Buy This Image
Loud popping noises and a sound similar to sandpaper being rubbed vigorously against a rough surface are heard almost daily coming from inside the Glass City Boxing Gym.
Gloves smashing against punching bags and helmet gear, as well as shuffling of feet on the canvas surface inside the ring, are responsible for the noises originating from the former fire station converted into a gym.
PHOTO GALLERY: Glass City Boxing Gym
All in all, the sounds make it pretty clear that some serious work is in progress.
Sonny Frederickson, Wesley Tucker, Deandre Ware — three boxers with stellar amateur careers — are among 10 who share the gym and other common interests.
Most notably, these former amateur boxing standouts are determined to emerge up the ranks as professional fighters. They're showcasing their talents in front of a hometown crowd as part of a nine-bout card on Friday at the Grand Plaza Hotel in downtown Toledo.
Frederickson, a 135-pounder, is scheduled to fight in the main event. He's 3-0 in his pro career (all first-round knockouts).
"It's my first time boxing back in Toledo and I'm just happy I'm fighting in my hometown in front of my family and a lot of support," said Frederickson, 20, who was still waiting through the weekend to hear who would be his opponent after his initial opponent was not able to keep the commitment.
Frederickson's amateur career ended with him owning a 119-18 overall record, including several tournament titles.
Eight of the nine scheduled four-round bouts will involve a Toledoan who trains at Glass City Boxing Gym, which is located just off the corner of Suder and Manhattan.
Wesley Tucker (2-0) will take on Kyle Rozweski (0-0) in a bout between 147-pounders. Ware (0-0) faces Pennsylvania's Nicke Browne (1-0) at 163 and Toledo's Elias Moreno (0-0) takes on Findlay's Jordan Espinosa (0-0) at 147.
Toledo's Angelo Snow (1-0) takes on Detroit's Tony Brooks (1-0) at 147 while Tyler McCreary, of Toledo, will make his pro debut against Indiana's Chris Tanners at 130. Toledoan Jeremy "The Boxing Barber" Caughorn debuts against Michigan's Terry Van Avery (1-2) at 154 while Jamal Brown, of Toledo, is also scheduled to make his pro debut at 135 against a yet-to-be determined opponent.
In the only bout of the night not involving at least one Toledo-based boxer, Bryan's Matt Montalvo and Findlay's Steve Smith are both debuting a 147-pound fight.
Glass City Boxing Gym owner Ray Vargas, who is also the father of 2008 U.S. Olympic boxer Devin Vargas, has worked at some point with many of those who recently turned pro. They've all spent some time in the gym dating back to their amateur careers.
He believes their working together and presence in the pro ranks will soon be felt beyond the Glass City limits.
"This is going to put us back on the map," Vargas said. "You've got a lot of talent with these guys. We've got guys coming from Monroe and Detroit coming here [to train] just because of the nucleus of this gym right now.
"These guys were good amateurs, but as pros they've excelled. They all push each other and they've all known each other for quite a while coming up through the amateurs. Everybody knows this is where you want to go if you want to beat somebody."
Lamar Wright Jr., who serves as the gym's pro coach, had worked with a few of the boxers while fighting as amateurs but was familiar with all of them. It was about a year ago he came up with the idea of bringing the group together and forming a sort of alliance among some of the city's newest pros. They agreed to train as a group under one roof with basically one shared goal in mind.
"I had a vision," Wright said. "You go around Detroit, California, and they've got all these big [boxing] programs, but my vision is to make Toledo one of the prime boxing spots. With all these guys, I know we can make it happen.
"I've got guys calling from New York and California and they actually want to send guys into our camp now."
A really good showing by the group as a whole on a fight card put together by local promoter Fred Vallejo could potentially do more for promoting their careers than any individual successes. It would offer proof that the group commitment is working well.
"It's a showcase and it will show that Toledo has talent," said Tucker, who trains daily prior to his second shift-job at Jeep.
Tucker, who had more than 200 amateur fights in his career, recorded knockouts in his two pro fights. He's sold on the group's team approach to pursuing their goals at the pro level.
"All of us have the talent that is needed and we all work together to make each other better," Tucker said. "We train together and spar together, [doing] whatever it takes to become world champions."
Ware, who started with the Toledo Fire Department earlier this year, juggles his training around his main job. A longtime amateur, he's looking forward to his first pro fight taking place at home before plenty of familiar faces.
"Hopefully I get a lot of support from my family and friends and from the fire department," he said. "It's a good thing to get my career started off here."
Doors open at 6:30 p.m. and the bouts are scheduled to begin at 8. Tickets range from $25-$40 and can be purchased online at risefights.net. For more information email info@risefights.net.
Contact Donald Emmons at: demmons@theblade.com, 419-724-6302 or on Twitter @DemmonsBlade.
Guidelines: Please keep your comments smart and civil. Don't attack other readers personally, and keep your language decent. Comments that violate these standards, or our privacy statement or visitor's agreement, are subject to being removed and commenters are subject to being banned. To post comments, you must be a registered user on toledoblade.com. To find out more, please visit the FAQ.